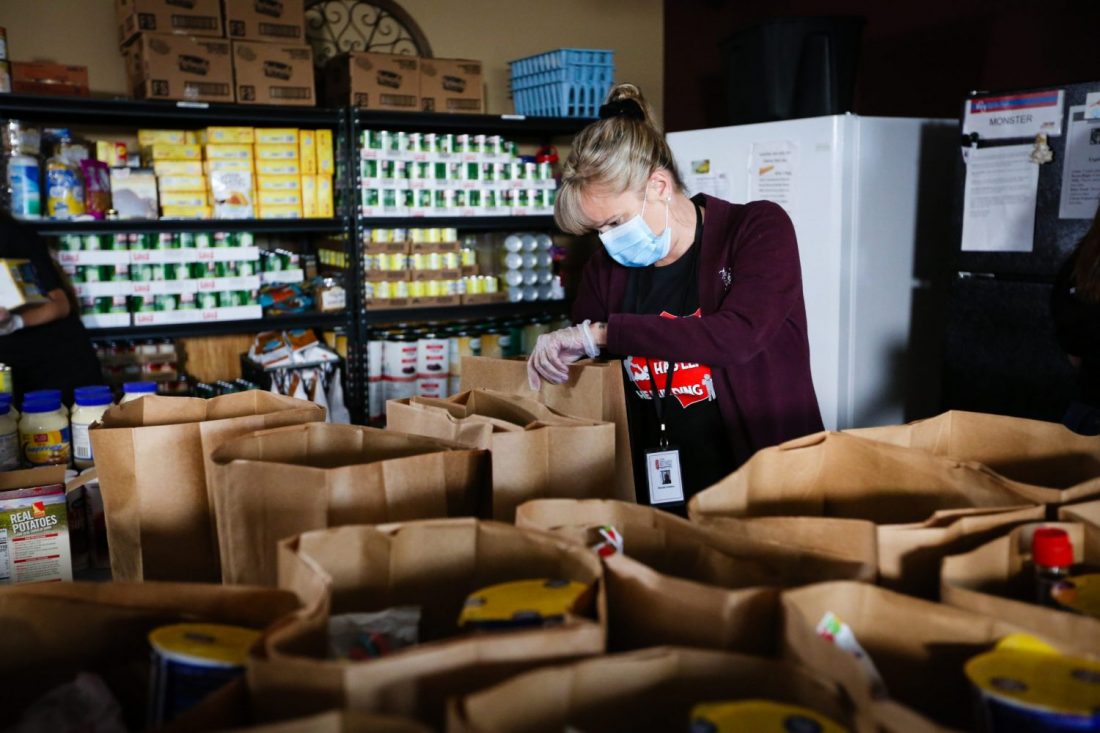 COVID-19 Salvation Army command updates: May 11
Western Territorial Commander Commissioner Kenneth G. Hodder held the 24th teleconference meeting regarding The Salvation Army's response to COVID-19 May 11 with members of the Territorial Executive Council, divisional leaders and key staff, who joined in via Zoom from throughout the West. 
With no announcements from Hodder and no questions at the forum, today's meeting consisted of updates from the Alaska, California South, Cascade, Del Oro, Golden State, Hawaii and Pacific Islands divisions.
Alaska Divisional Commander Major John Brackenbury reported the state is stabilizing its number of active COVID-19 cases, and that it is now in phase two of the government-issued five-phase reopening plan. Certain businesses can open as long as they follow safety guidelines, and larger gatherings can meet with 50 people or less as long as certain safeguards are in place. 
A couple of weeks ago, the division put together a task force to look at what those plans would entail, and corps and thrift stores are sending in plans to divisional headquarters (DHQ). Intrastate travel is easing, so the Army is able to move around more. Flights into Alaska continue to require passengers to quarantine for two weeks. Brackenbury noted the domestic violence hotline has seen a 52 percent increase since the pandemic's start. 
The Army is continuing its normal relief services in Alaska, and has increased rental and housing assistance based on the grant from the Alaska Can Do fund. The state has allowed the Army to continue the Department of Corrections (DOC) program even though going into the prisons isn't physically possible. Instead, the Army can continue the ministry through telemed.  The division's program department is working on a united graduation ceremony for Salvationist high schoolers. 
California South Divisional Commander Lt. Colonel John Chamness announced the beginning of demolition on the interior of the division's future headquarters in Carson, California, where it plans to move in several weeks. 
The division is opening the 400-bed Grand Hotel shelter with Project Roomkey today. Chamness said one of Hodder's videos from another shelter aided in securing the shelter. 
Chamness shared about several partnerships in the division, including Manscaped, a company that provides grooming products for men, that donated 100,000 cloth masks; Islands restaurant that is providing 1,000 prepared meals to Silvercrest residents; and Buca di Beppo which served 300 meals on Skid Row.  
Majors Trimmer are facilitating Zoom calls with officers with children five and under, officers who have adult children at home and empty nesters. Next week, a Zoom meeting will be held with officers under farewell orders and single officers. The Chamnesses visited corps in Murrieta, El Cajon, Kroc, San Diego Citadel, Escondido and Door of Hope. "Officers are reaching their limits for how long they're able to continue," Chamness said. 
Cascade Divisional Commander Major Nancy Dihle reported on the initial success of the first week of Operation Share Hope, that served more than 4,300 individuals in the Portland Metro area.
"We have been overwhelmed," Dihle said—in a good way. There has been significant volunteer interest, including companies who want to pay their employees to help in the food distribution efforts. "We couldn't be happier with the visibility, but also with community engagement."
On May 10, the division partnered with the Oregon Chinese American community for Chinese American Food of Love Day, which coincided with Mother's Day. Area organizations fundraised to provide 400 meals from local Chinese restaurants for those in five Army residential facilities. 
Dihle reported last week the pastoral care team did two days of Calm with officers. "It was wonderful, very positive," Dihle said. "Anything we can do to keep them energized and focused." 
Del Oro Divisional Commander Major Ivan Wild reported the Reno Adult Rehabilitation Program is looking to reopen May 18, with employees starting to come back and clean stores in Carson City and Reno.
The Divisional Youth Secretaries held a Zoom meeting for international camp staff, to check in with them to keep them connected to the Army. The DYSes are also keeping a small number of staff on standby for a possible traveling Vacation Bible School (VBS).  They are doing some training, getting material ready—even if it's for a day rally or a week of VBS.
The division sent out plans for reopening, though there are no hard dates, Wild said. On May 7, the division held its Big Day of Giving fundraiser, a 12-hour Facebook live event, featuring videos from different programs. Wild said the Army exceeded its goal, generating $283,000 from the fundraiser. The videos were also viewed by 6,000 people, increasing the Army's exposure.
Wild closed with an interesting statistic: In Sacramento during April 2019, the Army served 1,500 families. This year during April, it was 10,000 families, with 65 percent coming to the Army for the first time. "We are hitting a huge population that hasn't come to us before," Wild said.
Golden State Divisional Commander Major Darren Norton shared plans for the division's upcoming major food distribution event that will be held May 16 at the San Francisco Power Station. The location will allow the Army to do six lanes of drive-through for the 4,000 food boxes it plans to distribute.
Norton thanked the Adult Rehabilitation Center for being "terrific partners" throughout the pandemic. For the food distribution event, the foodboxes will be delivered to the ARC, the men will pack the boxes over the course of a week for the event. This comes in addition to the ARC's usual efforts of picking up the 1,400 meals the Army takes to homeless encampments from the caterer. 
Norton shared that The Salvation Army is in discussions with the city of San Francisco to use the Bayview Center for a COVID-19 testing site. At the Modesto Red Shield, the Army is operating in the kitchen, making 300 meals a day for those experiencing homeless who are sheltering in hotels.
The DYSes are connecting with youth and young adults, and put a worship service together on YouTube, featuring a message from accepted candidate David Cully. 
Hawaiian and Pacific Islands Divisional Commander Major Jeff Martin shared about the division's major food event that took place May 9. Martin said the Army served 700 cars in Oahu, resulting in about 7,000 meals, each box including See's candy, a rose, 10 pounds of meat and fresh produce. 
Alaska Airlines distributed snacks at the beginning of the line, and music from the Le Hui Foundation along with hula dancers added to the festivities. Across the state, the division served 12,000 meals including every island except for Kauai, where the Army provided meals to those experiencing homelessness. 
Foodland, a local grocer, launched "Meals of Aloha" in celebration of its 72nd anniversary. This is a matching gifts program created in partnership with The Salvation Army to provide meals to those in need. Foodland invites customers to participate by donating their Maika'i points, My Rewards Certificates, cash or even their 5 percent discount (on May 8) to assist in the feeding program.  
Thanks to grants by the Western Union Foundation and the Sullivan Family Foundation, customer donations will be matched dollar for dollar up to $300,000 for all gifts combined. The goal is to provide 120,000 meals or more to residents over the next few months.
The Army started a new homeless food outreach service in West Oahu, providing hygiene kits, masks and meals to go to about 100 people. The city and county has approached the Army for rent and utilities assistance through Aloha United Way. 
Hodder thanked the command leaders for all that they are doing, before moving to a Scripture reading from Psalm 62. "For anyone who has ever been under stress," Hodder said, before sharing David's testimony from when he was being attacked on all sides.
When we are under attack, we find sufficiency in Christ alone. We might be under the mistaken assumption that during a challenge, God is not enough.
"He is the only rock that we need," Hodder said before ending the meeting with a word of prayer.
HOW TO HELP:
If you'd like to make a monetary donation, please click here to make a gift.
Text 'GIVE' to 52000 to make a $10 donation to The Salvation Army. This will automatically add a one-time donation to your next mobile phone bill.
For information about volunteering, please visit volunteer.usawest.org.
To learn more about how to support The Salvation Army's relief efforts, please click here.