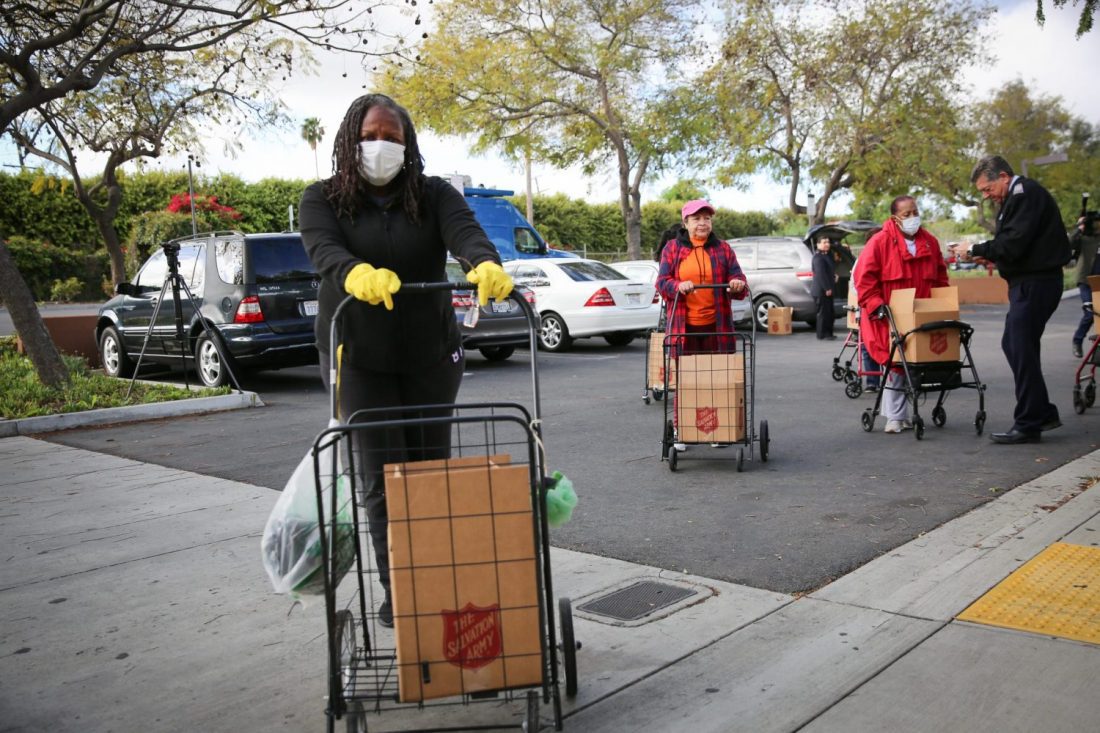 COVID-19 Salvation Army command updates: March 23
Western Territorial Commander Commissioner Kenneth G. Hodder held a teleconference meeting March 23 with members of the Territorial Executive Council, the sixth of such meetings regarding The Salvation Army's response to COVID-19. 
On March 20, Hodder announced plans for command heads to continue to meet via teleconference, but in a modified schedule: on Monday, Wednesday and Friday of the week of March 23-27. 
Before hearing updates from four commands, Hodder shared several announcements, including the creative ministry idea implemented elsewhere in the territory of ding-dong delivery, an altruistic version of ding-dong ditch: delivering food, ringing the bell and dashing away.
Leaders from the Alaska, California South, Cascade and Del Oro divisions then presented three-minute reports, including the biggest change and biggest need in the same order in which they presented last week.  
In Alaska, cases of COVID-19 have quadrupled since last week, Divisional Commander Major John Brackenbury said. This increase is believed to be a result of spring break travelers returning. As a result, The Salvation Army's food and meals services have quadrupled across the state. 
The Army is working with state and local governments in Alaska to meet needs, including efforts to utilize the military to get food and Personal Protective Equipment (PPE)s to more remote areas. 
In Anchorage, The Salvation Army's Older Alaskan Program (OAP) is taking the lead in feeding people living in a Native Alaskan senior facility. Also in the city, the Army has been requested to feed and manage a downtown hotel to house those who are on mandatory quarantine. 
In the California South Division, every corps has moved to online services, since last week. The division has created a tool to import videos into Sunday service, like traditional brass or contemporary music. 
Between March 20-21, the Army opened four new shelters for people experiencing homelessness in partnership with the city of Los Angeles, and California South Divisional Commander Lt. Colonel John Chamness said they were filling up.
In the Cascade Division, the need for food boxes has increased by 30 percent, and the need is great for diapers and diaper wipes. Divisional Commander Major Nancy Dihle said it was "heartwarming" Sunday to see the variety of church services offered throughout the division, the ministry of packing church in a box. "It was just amazing to watch that happen," she said. 
The division aims to launch a new ministry March 24 to help truckers transporting vital food supplies. Salvation Army canteens will be deployed to I5 North and South to provide coffee and basic needs to truckers who still travel the freeway. Large signs have been made that read, "The Salvation Army supports our truckers."
In the Del Oro Division, the Suisun City Kroc Center preschool is providing childcare for emergency responders. One Army facility has been made available to the Red Cross to set up a blood bank.
In Reno, Nevada, the reservation there has reached out to the Reno Adult Rehabilitation Program (ARP) and requested assistance with basic needs. As Majors Trimmer are still in quarantine due to their recent cruise, Lt. Joshua Dulay is holding down the fort. 
With the increase in needs, staffing has become a great need in the division. Workers from the Stockton and Oakland Adult Rehabilitation Centers (ARCs) have been deployed for social services efforts.  
"ARC has been a big help," said Del Oro Divisional Commander Major Ivan Wild.
Hodder expressed appreciation to all command heads for all they are doing to manage the work of The Salvation Army. He read from Hebrews 10:19-25: "A call to Persevere in Faith," before closing in prayer. 
"Use us now, this day, as your hands in a hurting world. Give us confidence and hope that we can share with others," he prayed.   
HOW TO HELP:
If you'd like to make a monetary donation, please click here to make a gift.
Text 'GIVE' to 52000 to make a $10 donation to The Salvation Army. This will automatically add a one-time donation to your next mobile phone bill.
For information about volunteering, please visit volunteer.usawest.org.
To learn more about how to support The Salvation Army's relief efforts, please click here.