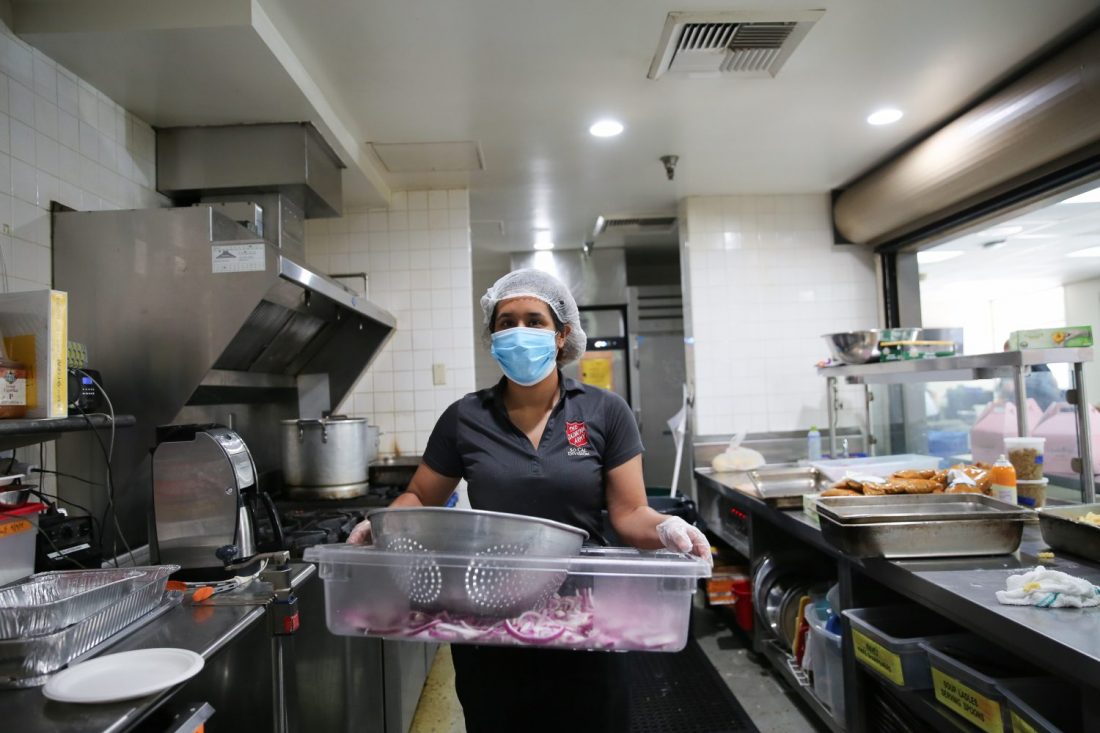 COVID-19 Salvation Army command updates: April 20
Western Territorial Commander Commissioner Kenneth G. Hodder held a teleconference meeting April 20 with members of the Territorial Executive Council, the 17th of such meetings regarding The Salvation Army's response to COVID-19. 
Divisional leaders and key staff joined the meeting from across the West by Zoom, and limited participants met in the Territorial Headquarters (THQ) boardroom while wearing masks.
Hodder shared that he and Commissioner Jolene K. Hodder attended and enjoyed virtual services in Fairbanks, Anchorage and Wrangell, Alaska, April 19. 
After a roll call of command heads, Hodder shared three announcements, noting this week's territory-wide donor town hall teleconference—with 110,000 participants expected—and 30-minute calls by division to allow advisory board members to ask questions of both the divisional leaders and the Territorial Commander. Finally, Hodder said the command briefings would take place twice next week, on April 27 and May 1. 
Four commands reported: the Alaska, California South, Cascade and Del Oro divisions.
Alaska Divisional Commander Major John Brackebury reported on The Salvation Army's assistance over the past four months in the state, including more than 47,000 meals and nearly 4,000 nights of lodging provided. 
The division distributed 14,000 pounds of donated food in Bethel, and has sent thousands of dollars in personal protective equipment to southeast Alaskan communities. 
Emotional and spiritual care (ESC) teams reached out to families of program participants, like the Clitheroe Center to make sure they are ok and extend assistance. 
In Haines, a woman named Porcupine Annie, whom the Army has assisted in the past, donated $1,000 to a local grocery store for The Salvation Army to use for food assistance locally. 
In the California South Division, divisional leaders Lt. Colonels John and Lani Chamness visited five corps in the Inland Empire on April 17 and will continue with corps in the South Bay this week. Regular calls with corps officers have served to both update and check in on them. 
The National Guard will be helping with food distributions in Santa Maria and Santa Barbara this week. 
The division has opened three hotel shelters, and is applying for another in Long Beach. In Anaheim, FEMA delivered 28 trailers to be used for isolation housing. 
Each unit will receive four gallons of hand sanitizer and branded masks this week.
A virtual fundraiser is planned for May 1, and the youth department is holding a Future Officers Fellowship call for prospective candidates via Zoom the same day. Twenty corps are holding weekly women's ministries meetings virtually. A Zoom call is also scheduled with retired officers. 
The Army will hold a food box giveaway in partnership with the Los Angeles Football Club at the Bank of California Stadium May 9. 
The Ray and Joan Kroc Corps Community Center in San Diego is distributing 300 meals every day, and received a $100,000 grant to provide rent and utility assistance. 
"What really strikes me is the extensive contact you've had with your officers," Hodder said. "What is their spirit like?"
Chamness said the officers are "tired and worn out, but we are trying to keep the morale up around the division and encourage them in the midst of this pandemic." 
In the Cascade Division, Major Nancy Dihle reported the Portland-area corps will close their individual food programs and instead will be offering combined drive-through distributions of food in shopping center parking lots in each of the four county areas.
"Combining these efforts will allow us to serve more people and be a bit more visible in the community," Dihle said. 
The Ray and Joan Kroc Corps Community Center in Coeur d'Alene, Idaho, is caring for 62 children of essential workers. Other members of the Kroc Center team are working to support the local food bank.
To date, the division has distributed some 21,000 meals, 7,500 food boxes and had 5,500 ESC instances.
In the Del Oro Division, Major Ivan Wild said the division partnered with Days for Girls volunteers to sew 1,500 masks for use in the division.
Women from the Chico Adult Rehabilitation Program (ARP) spent a few respite days at camp.
Wild said the division is working with Raley's Supermarkets to get Adult Rehabilitation Center (ARC) donation trucks on their properties.
In Santa Rosa, California, The Salvation Army asked chef Guy Fieri if he would help provide a convection oven at the corps. Fieri had it delivered and installed the same day.
Wild also shared that he teamed with leaders of the Golden State and California South divisions to draft a letter to the Governor. It will be sent today.
In closing, Hodder read from Colossians 3:1-4, 12-17. "This is my prayer for all of you and us today," he said.
Since, then, you have been raised with Christ, set your hearts on things above, where Christ is, seated at the right hand of God. Set your minds on things above, not on earthly things. For you died, and your life is now hidden with Christ in God. When Christ, who is your life, appears, then you also will appear with him in glory. 
Therefore, as God's chosen people, holy and dearly loved, clothe yourselves with compassion, kindness, humility, gentleness and patience. Bear with each other and forgive one another if any of you has a grievance against someone. Forgive as the Lord forgave you. And over all these virtues put on love, which binds them all together in perfect unity.
Let the peace of Christ rule in your hearts, since as members of one body you were called to peace. And be thankful. Let the message of Christ dwell among you richly as you teach and admonish one another with all wisdom through psalms, hymns, and songs from the Spirit, singing to God with gratitude in your hearts. And whatever you do, whether in word or deed, do it all in the name of the Lord Jesus, giving thanks to God the Father through him.
HOW TO HELP:
If you'd like to make a monetary donation, please click here to make a gift.
Text 'GIVE' to 52000 to make a $10 donation to The Salvation Army. This will automatically add a one-time donation to your next mobile phone bill.
For information about volunteering, please visit volunteer.usawest.org.
To learn more about how to support The Salvation Army's relief efforts, please click here.