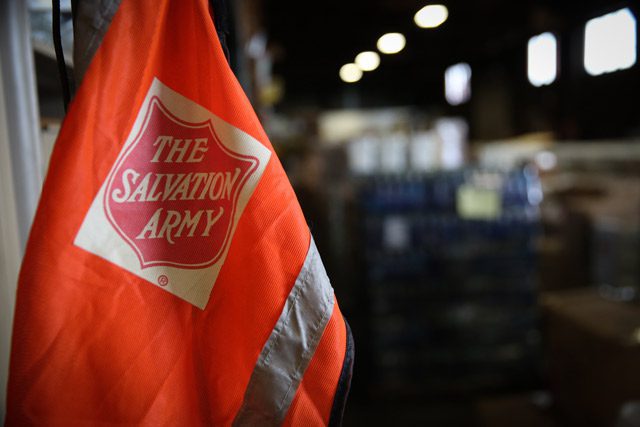 COVID-19: Cadets at Bell Shelter 

















Cadets from the College for Officer Training (CFOT) at Crestmont served at Bell Shelter in Bell, California, in its Emergency Disaster Services (EDS) warehouse March 17. Due to the coronavirus crisis, Territorial Commander Commissioner Kenneth G. Hodder announced that CFOT classes would be suspended as of March 16 and that the cades would assist California South's EDS response.
The cadets assembled containers for the division's corps with essential supplies including 24 cases of water (for 280 people), 48 cases of soup (for 200-plus families), two boxes of to-go containers for food distribution (for 400 meals), three boxes of hygiene kits, four boxes of tissues (for 500-plus people and four clean-up kits. Corps will be able to load the supplies directly into their EDS vehicles.
"I know that there's going to be a lot of need," said Cadet Amber Herzog. "I think being able to pre-stage out and get ahead of the demand for the corps is really important because then we are being proactive about it and when there's need we're able to just jump in our van and take it straight to them as opposed having to scramble and see what we have and then we're making sure each corps has what they need."
Several cadets commented on the personal impact of serving during the current crisis.
"Today I actually get to give back and be a part of helping society through this tough time, [when] in the past I used to take from society," Cadet Paul Chisolm said.
Cadet Ezequiel Hernandez agreed: "To help the community in the times of need—that's what we're called to do, to serve others. It's an amazing experience to be able to do that."
With reporting by John Docter
HOW TO HELP:
If you'd like to make a monetary donation, please click here to make a gift.
Text 'GIVE' to 52000 to make a $10 donation to The Salvation Army. This will automatically add a one-time donation to your next mobile phone bill.
For information about volunteering, please visit volunteer.usawest.org.
To learn more about how to support The Salvation Army's relief efforts, please click here.