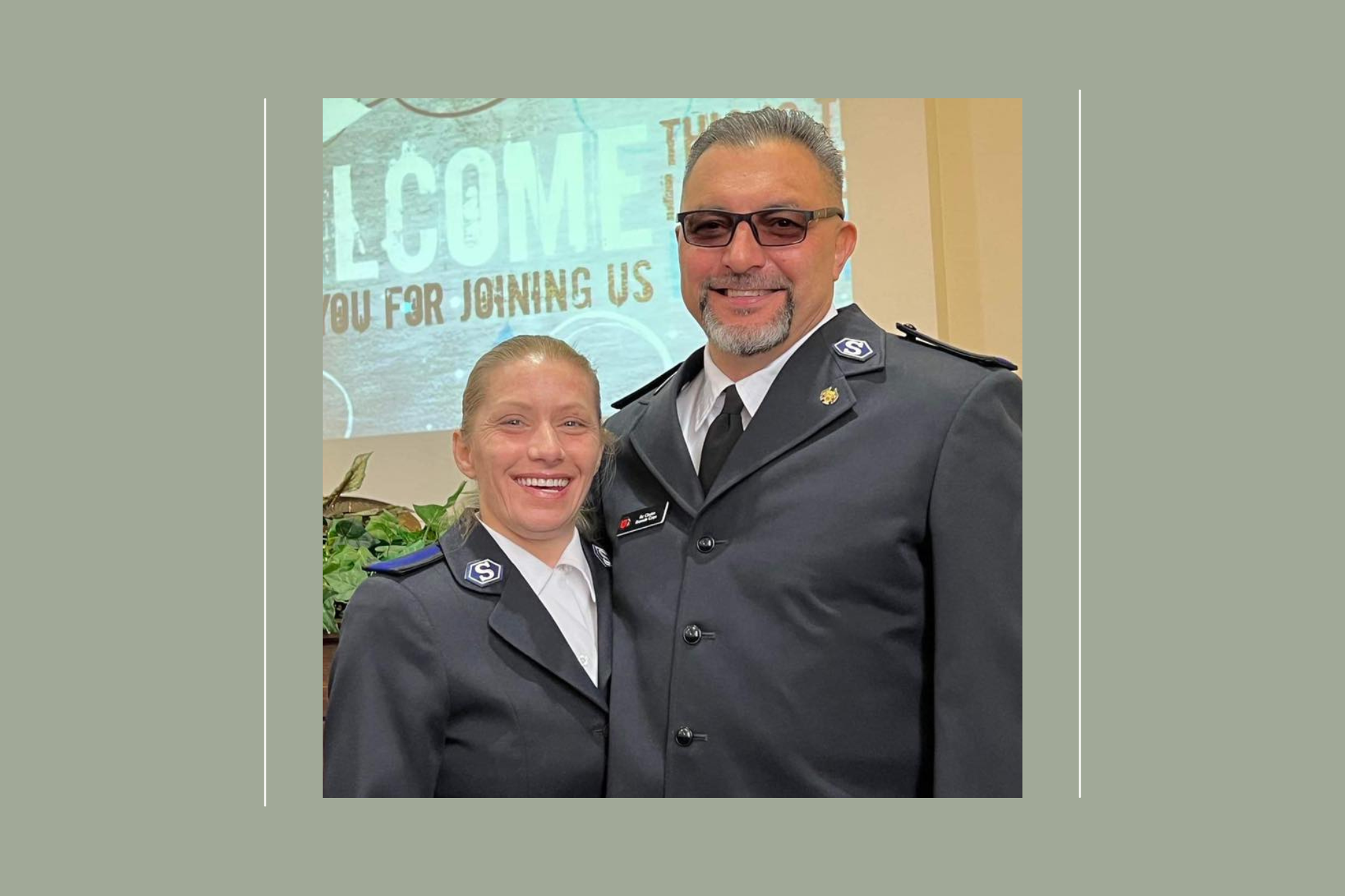 From a 'gateway' to a 'giveback': How one couple found love in community
Three and a half years ago, Candace and Ric Clayton said they could never have imagined their lives today–sober, married and serving the community together.
"If I would have written how my life was supposed to look in sobriety, I would have cheated myself," said Ric Clayton.
"I love it when he says that because it's so true," his wife, Candance Clayton added. "Our lives have changed so much from where we were, to where we are today."
Today, both Candace and Ric Clayton work as employees of The Salvation Army in addition to serving in ministry positions as soldiers of the Riverside Corps in California. Before finding each other in sobriety and later on marrying, the couple battled their addictions separately.
For five years, Candace Clayton said she experienced homelessness as she struggled with an addiction to heroin. "[I] abandoned my whole life and my daughter," she said. "Just a slave to the drug."
Similarly, Ric Clayton said he struggled with sobriety for "most of [his] adult life," which he said he spent the majority of in prisons and rehab. "I couldn't seem to stay away from that lifestyle," he added.
Yet, in the first few months of 2019, both found success in sobriety before meeting while volunteering at a Salvation Army food pantry. "I wasn't out trying to date, but God brought this woman into my life and I just knew," said Ric Clayton.
For those early in their recoveries, Riverside Corps Officer Captain David Cain said it's important to encourage how to pursue relationships "in a healthy way."
He added, "Ric and Candace are a beautiful example of going from a place of hurt and dysfunction into a place of being able to find hope for themselves…Now, they can model that for others."
Currently, the Claytons use their experience to help others by leading the corps' Rooted in Recovery meetings on Friday nights. Additionally, the couple assists in teaching the corps' soldiership classes, where they support congregation members who want to grow in their faith.
Riverside Corps Officer Captain Kelly Cain said she loves to watch the Claytons "serve in ministry at the place where they were served." David Cain added, "They're a giveback in action," touching on the corps strategy to bring people from "gateways" to "givebacks."
A gateway, he described, is an initial point of contact with The Salvation Army during a moment of "crisis." From a gateway, people are invited to "growth points," like worship services and recovery meetings. They are then encouraged to "discover [their] purpose" by "giving back" through volunteering or taking on positions of leadership.
By moving through these steps, David Cain added, the Claytons have demonstrated how this strategy works and now they can "create that transformational community for others."
"We found a home with the Riverside Corps and the Army and it's been amazing," said Ric Clayton. "I've never felt more at home in my life and I'm 41 years old," added Candace Clayton.
After getting engaged in August 2021, the couple said they first considered going to Las Vegas to get married, but quickly changed their minds after receiving pastoral counsel from the Cains.
Through pastoral counseling, Kelly Cain said she and her husband can walk "the journey of life with people" by giving them "a safe place to share their feelings, thoughts and concerns."
Initially, the Claytons had planned for a two-year engagement in order to figure out their next steps. However, once the couple both found employment and housing, they decided to move the wedding up to July 16.
David Cain officiated the wedding and said how their marriage served to mark a "significant moment in their story of grace and restoration."
"I thank God and I'm so grateful for the life that we have together," said Ric Clayton.
"I couldn't even ask for a more beautiful wedding," said Candance Clayton, mentioning how their adult children served as the maid of honor and best man while their grandchildren took on the roles of the flower girl and ring bearer.
"They are a perfect example of what happens when you choose to trust the Lord," said Kelly Cain.
Together the couple keeps God "at the forefront" of their marriage and decisions in life, said Ric Clayton. "As long as we do these things, we get to enjoy everything he gives us," he added.
As the holiday season draws near, the newlyweds said they are looking forward to spending Christmas together with their families. "We're excited to celebrate our first Christmas in our home—I never thought we'd be able to say our home…It brings tears to my eyes," said Candance Clayton.
Their story, Kelly Cain said, is "a beautiful example to everyone in our congregation that it doesn't matter how old you are or what your life experiences are…There's hope."
---
Do Good: