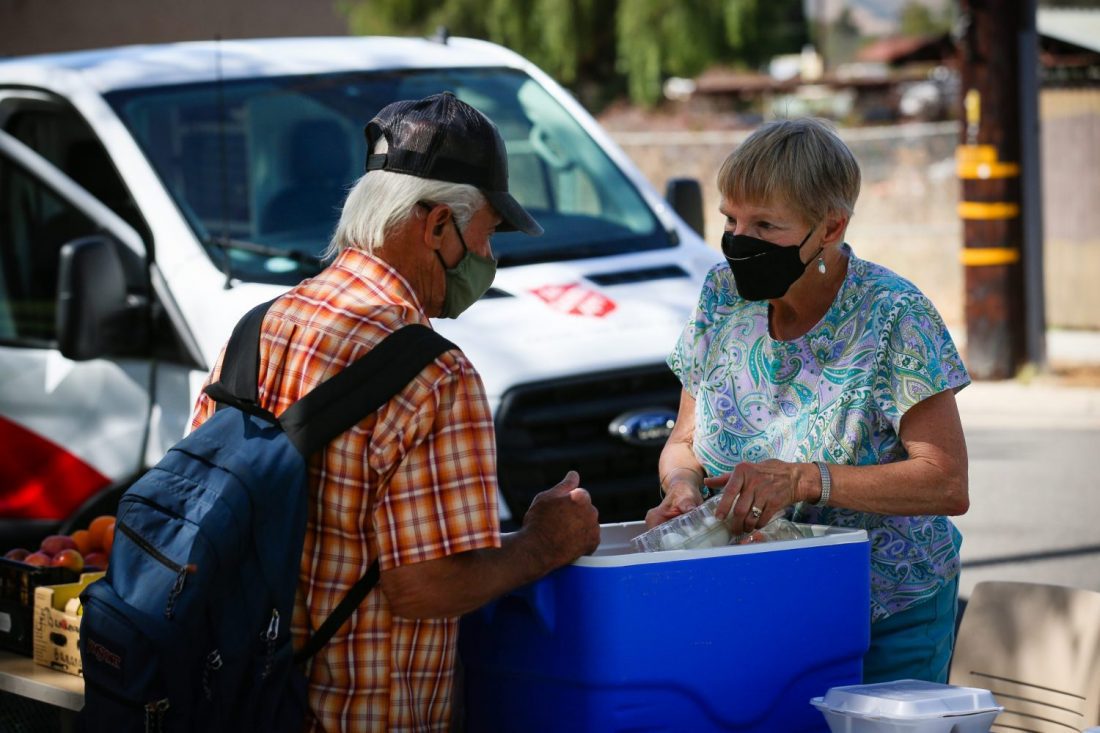 San Bernardino Street Level van brings resources to those in need
When the Street Level van rolls up to a shaded parking area at Sylvan Park in Redlands, California, Community Engagement Specialist Theldor Watley is drawn first to an RV parked underneath a large oak. 
"People are living in there," she says, acknowledging that over time, it becomes easier to spot the signs of people living out of vehicles. "Who would bring their RV to a park?"
The Street Level van serves as a critical touch point for those experiencing homelessness in San Bernardino County, California, and is part of The Salvation Army's plan to expand its services for that population there, funded through a partnership with Dignity Health, Community Hospital of San Bernardino and St. Bernardine Medical Center. 
"Dignity Health is humbled to be able to support the San Bernardino unhoused population through providing grant funding to The Salvation Army and its Street Level van program, which ultimately reaffirms our commitment to the dignity of each person and the communities we serve as a whole," said Dan Murphy, Dignity Health Inland Empire Foundation Chief Philanthropy Officer. 
Once the van parks, people recognize it and emerge from not only the RV, but the other vehicles parked nearby. Among them, a woman, who exits from the public bathroom asking, "Do you have any hygiene kits?" as she approaches the van. 
Watley supplies her with the hygiene kit and a package of wet wipes, as others like Erin, who lives in the RV walk over. For Erin, who's lived in the RV for three years, the park is home, and she works to keep both herself and the area clean because of it. 

"Everyone's got their stories of, I guess you would call it, 'unfortunate circumstances' that landed us this way. It just is what it is," she said, as she received hygiene items. "But for the most part, we're good people."
San Bernardino County is the largest county in the contiguous United States, and has a population of more than 2 million, according to 2019 U.S. Census data. While much of the county is comprised of rural land, San Bernardino Corps Officer Major Edward Markham said there is a significant population of those experiencing homelessness that's growing due to factors like the pandemic—and the resources can't keep up. 
"Right now, The Salvation Army of San Bernardino is the largest homeless shelter and transitional living shelter in two counties," Markham said, referring to San Bernardino and Riverside counties. "I can only hold 100 people a night. That's the largest in the whole area."
Markham said The Salvation Army is currently searching for a space in the area that he hopes will become a transitional living shelter for families as well as a homeless shelter. 
"The struggle that comes after that is that there's not a lot of resources available for them to move forward," he said. "They can get food stamps, they can get medical assistance, they can get a bottle of water and a sandwich handed out to him but they can't seem to locate housing, they can't seem to locate some type of sheltering program, because there's just not enough shelters and there's just not enough supportive programs that are that are moving people in that direction. We're hoping to change that." 
And the Street Level van is a key part of the process. 
The San Bernardino Street Level van is part of a homeless outreach initiative launched in Seattle in 2019 that helps to build relationships with those living on the streets, connecting people with resources with the long-term goal of achieving housing. 
In 2020, The Salvation Army secured more than $1 million in grant funding from Dignity Health to expand the program to four California communities: Central Valley, San Joaquin County, San Bernardino and Central Coast (including San Luis Obispo, Santa Barbara and Ventura counties).
Through giving away donated goods like Bombas socks, food, water and hygiene supplies donations, the Street Level team builds connections with those experiencing homelessness. 
"They use those kinds of things just to try and develop a relationship," said California South Division Community Integration Services Director Lisa Anderson. "It often takes a few contacts before the people are really willing even just to talk to them…the staff members that we have there are really good at developing those relationships and just being of service to the people and meeting them where they're at, meeting their most emergent needs…to just develop that relationship that can hopefully can lead to more intensive services." 
When people feel more comfortable, the team can then take their contact information and work to connect them with other services. And so far, Anderson said more than 42 contacts have been made, with 19 people in case management. Of those 19, 18 families have been housed. 
When Watley reaches the point of collecting the names and contact information of people experiencing homelessness, she follows through. Many individuals she encounters are skeptical of giving their information because of how service providers in the area have failed to follow through in the past. She wants to be different. 
"I always call them," she said. 
---
Do Good:
Did you know The Salvation Army served 31 million Americans last year fighting hunger, homelessness, substance abuse and more—all in a Fight for Good? Where can you help?

Take our quiz

to find your cause and learn how you can join in today.