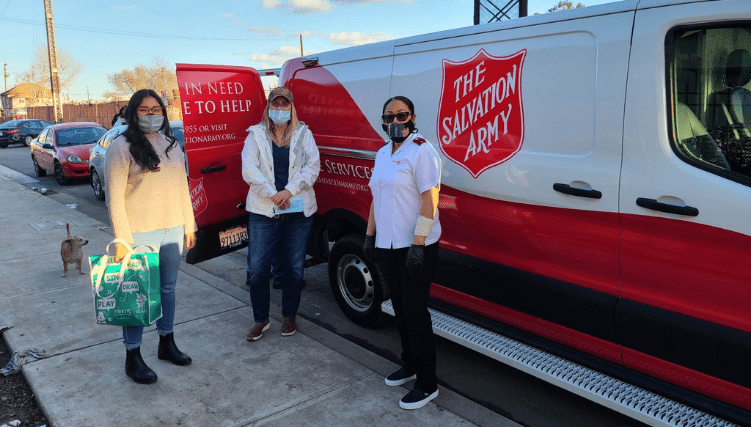 Street Level outreach van becomes go-to resource in California's Central Valley
As soon as The Salvation Army Stockton Corps found out it had been selected to lead a Street Level mobile homeless outreach program, the team got right to work. Before even receiving the van from Dignity Health for the program, the corps was becoming an essential resource to those experiencing homelessness in San Joaquin County, California. 
"We started to build relationships with community partners who were doing homeless [outreach] to see what they were doing and figure out how we were going to incorporate the vehicle," said Lieutenant Juan Oregel, Salvation Army Stockton Corps Officer. "I grew up here in Stockton. Returning back home was really heartbreaking. I know…it's heartbreaking everywhere, but I think when you see areas [where] as a child you would ride bikes…and people are living [there], it was really heartbreaking. It [made me] want to investigate and get to really know and understand more of what the city was going through." 
Rather than duplicate any existing efforts or services, Oregel and the Street Level outreach team made connections with county and city officials and community agencies. From conversations with them, they identified the gaps existing in homeless outreach for San Joaquin County that they could tackle.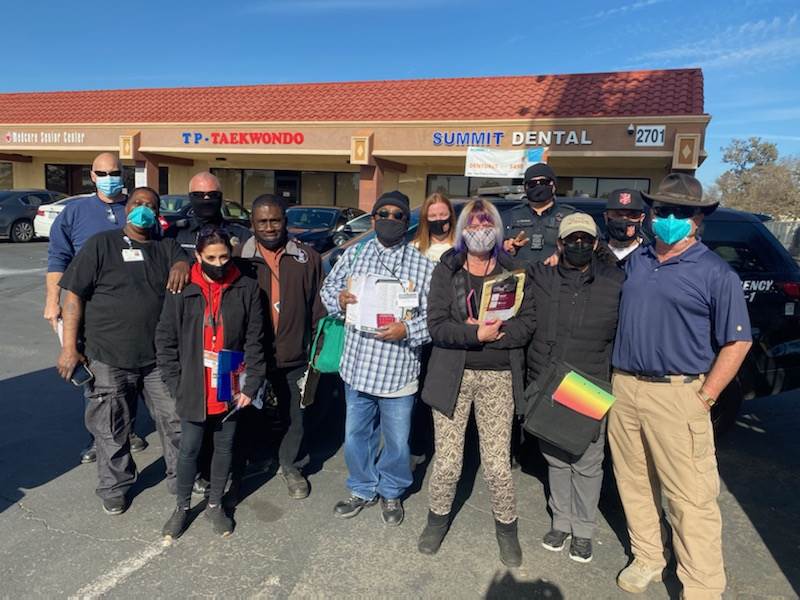 "We spent that time joining other outreach efforts in the county and getting to know all the different agencies working towards [combatting] homelessness, and seeing what they're doing and trying to identify where there might be gaps and how we can fill those gaps and link [people to] those resources," said Melinda Ramirez, Street Level Outreach Program Director for The Salvation Army in Stockton. 
So as soon as they received their Street Level van in February, they hit the road and started conducting regular outreach efforts at encampments, safe parking lots and shelters all over San Joaquin County—including Stockton, Tracy and Manteca—to meet these needs and provide on-to-go case management to get people off the streets.  
"Success is not just getting people housed," Ramirez said. "It's a slow progression for a lot of people and it's doing the steps necessary to get to the point that they're housing ready. We have to build trust with people." 
In just two months since the program launched, they've housed 13 people (including six households), gotten identification cards for 25 people, and connected 12 individuals to federal benefits like Medi-Cal and food stamps. They've also distributed essential items like meals, hygiene supplies and clothing. 
"Our goal is to reach people who aren't being reached already, bridge that gap, and connect them with resources that they wouldn't otherwise have access to with the goal of housing," Ramirez said. "Any sort of improvement is a success. Once you show someone their situation can improve, it gives them hope. Any little success is just a huge score and builds their spirits and confidence."  
Some weeks, they join other larger groups of agencies in their outreach efforts. Other weeks, they go out on their own to find new encampments and areas to serve. And being a mobile service is especially important as cities in the county like Manteca and Tracy are at least a 30 to 90-minute commute to Stockton—which serves as a hub for most essential resources for the homeless population. 
"Stockton is the seat of the county and it's where all the services are," Ramirez said. "When you're homeless and don't have a vehicle or gas, [you] can't or don't take advantage of the resources in the county. It's important for us to go out to those outlying cities in the county and reach out to them. The resources don't get to them any other way."  
The van has become a beacon of hope for individuals facing homelessness in the county. 
"Now that we have the new van with the big Salvation Army logo on it, they see us a block away and they're already coming out waiting for us," said Sean Mefford, Salvation Army Stockton Street Level Community Outreach Specialist. "They're willing to talk to us. People know that we're there to try to help them." 
But the work doesn't stop here. The Street Level mobile outreach team also serves the community in other ways—distributing food boxes and other essential items to migrant field workers in the community and meals for Salvation Army Stockton Silvercrest residents. They're also present at community events, passing out meals and establishing more connections for partnerships and resources for their day-to-day outreach operations.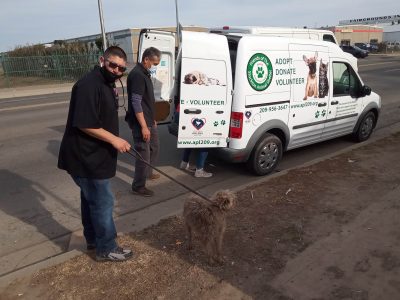 "[It's about] having the community see that there is a purpose behind this van," Oregel said. "We're just trying to use this outreach in so many different ways. It has opened up so many doors that we didn't even imagine." 
Establishing that presence is paying off because the Street Level Outreach Team is now receiving calls with referrals for assistance in the county and other agencies are asking to join them on their regular outreach days to offer additional services.  
"Everyone's excited. When we can't make it with the larger group that goes, we get a phone call and a text asking, 'Are you guys coming with us, where's the van?'" Ramirez said. "They miss us when we're not there for sure." 
Oregel wants the community to feel like the van doesn't just belong to The Salvation Army, but to the community as a whole.  
"It's a Salvation Army vehicle, but I continuously tell them, 'This is yours, too…What can you use this vehicle for? Call us up. Let us know,'" Oregel said.  
Ramirez is proud of what they've been able to accomplish so far and optimistic about the future. As affordable housing is a struggle in the county, she hopes to connect with landlords in the community to make it easier to secure housing for people transitioning out of homelessness. She also wants to expand their reach—even across county lines. 
But in the meantime, she is happy to see the impact they are having in the county. 
"I love the faith people have in what we're doing," Ramirez said. "We've shown them that we can get things done and that we are essential to all the community."
---
Do Good:
Are you best suited to join the Fight for Good in disaster relief? Mental health? Social justice?

Take our What's Your Cause quiz

and discover where you can make the biggest impact today. 

It's because of people like you that The Salvation Army can serve more than 31 million Americans in need each year. (

That's almost one person every second, every day.)

Your gift helps The Salvation Army fight for good all year in your community. It's an effort to build well-being for all of us, so together we rise. And that good starts with you.

Give to spread hope

with a donation of funds, goods or time today.