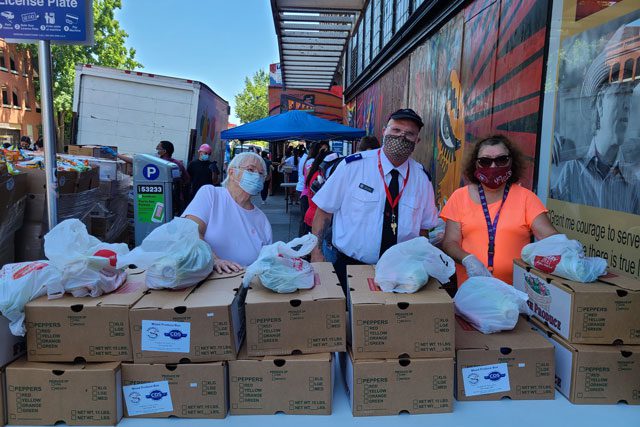 Stockton Corps begins outreach to migrant field workers
The corps conducts monthly visits to deliver food boxes.
By Vivian Lopez–
Among the essential workers who continue to do their jobs during the pandemic are migrant field workers, whose work ensures that grocery stores have produce to sell and people have fresh fruits and vegetables to eat.
Many of these workers, however, were ineligible to receive COVID-19 relief benefits or services, including the stimulus checks that millions of American households received, since "nonresident aliens" did not qualify according to the U.S. Internal Revenue Service. They also cannot receive unemployment benefits or food stamps.
The Salvation Army stepped into this gap. This summer, in Stockton, California—located in the agricultural San Joaquin Valley—the Stockton Corps partnered with the Coalition of Mexican American Organizations and other agencies to host a Free Food Giveaway for Field Workers event. Approximately 275 families attended the event and received food boxes. Essential supplies like facemasks, as well as COVID-19 testing and other resources, were also available to them on-site.
"We just felt that with so much going on in this world with COVID-19…[migrant field workers] were being overlooked. We wanted to respond to them and show them that we do care for what they do," said Lt. Juan Oregel, Stockton Corps Officer. "They are essential workers. Without them, there wouldn't be fresh crops and fruits…That was what started it all."
The event was just the beginning of The Salvation Army's migrant worker outreach in Stockton. Every month, Oregel—and, at times, Stockton Corps staff and volunteers—visit designated migrant field worker housing communities in the area with food boxes for distribution. The goal is to grow awareness of the corps programs and services available to them.
"I try to go over there so we can establish a relationship and…a presence," Oregel said. "If we can take a burden off of them and find a way of helping them, then they will have some relief."
Community partners from the event are grateful for The Salvation Army's outreach to the migrant field workers and their households.
"The support of The Salvation Army Stockton Corps is invaluable," said Gracie Madrid, President of the Mexican Heritage Center. "Without their support, many migrants and their families would go hungry during this pandemic."
Oregel knew how important it was to reach out to this community because he grew up in Stockton with family members working in the fields.
"My grandfather [came] to the city of Stockton, leaving Mexico to find hope in the U.S. He worked in the fields," Oregel said. "It was natural for us to run into the fields and eat fresh fruits and vegetables. Coming back to Stockton, all of those memories came back and I started to think of this as an opportunity we have to serve [migrant field workers]."
So, in addition to the monthly outreach, Oregel plans to host another food distribution event. This time, the plan is to hold the event at the migrant field worker housing communities.
"We're trying to set it up to go to them to make it easier because of transportation," he said. "We also want to set up COVID-19 testing, so that they are able to get tested because they are living within a close community. If one were to get it, all of them could get it. Getting to a testing site can be hard for someone who doesn't have transportation."
Oregel has high hopes for the future of The Salvation Army's migrant worker outreach, including welcoming them to corps worship services, their kids to day camp, or even taking camp to them.  
"Right now, we're in the stages of building a relationship and getting to know them," he said. "We want to be more than a food box. Our hope is to be able to minister to them, and, as time allows us, to get to know them better."






HOW TO HELP:
If you'd like to make a monetary donation, please

click here to make a gift.

Text 'GIVE' to 52000 to make a $10 donation to The Salvation Army. This will automatically add a one-time donation to your next mobile phone bill.

For information about volunteering, please visit

volunteer.usawest.org

.

To learn more about how to support The Salvation Army's relief efforts, please click here.