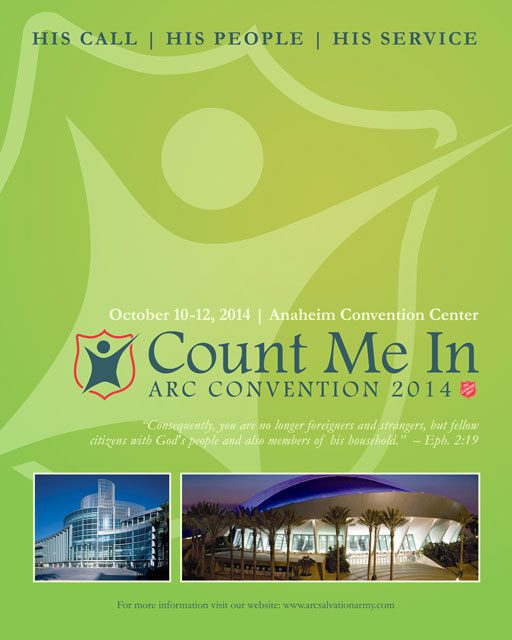 "Count Me In" registration now open
Registration for The Salvation Army Adult Rehabilitation Center's (ARC) "Count Me In" 2014 Convention opens today.
The event's planning committee expects 5,000 to attend the three-day Congress, which will be held at the Anaheim Convention Center in Southern California from Oct. 10-12, 2014. Registration is open to ARC beneficiaries, alumni and their families, Advisory Council and Board members, staff, volunteers, community partners, and anyone interested in getting involved in the ARC.
There will be more than 20 workshops, geared toward both those in recovery and leaders in recovery ministry. Some of the planned sessions include:
Big Book Comes Alive – Ken Hinge
Every Man's Battle – Stephen Arterburn
Women in Recovery – Maria Durso
Personal Discipleship & Evangelism – Michael Collins
Marriage Enrichment – H. Norman Wright
The 13th Step – Oscar Roan
Relapse Prevention – Terrance Gorski
Faith Into Action – Rob Noland
You can register at events.usawest.org. Tickets are $50 for adults and $25 for children. The maximum family cost is $150.  There is no cost for active beneficiaries. You can follow event updates on Facebook.