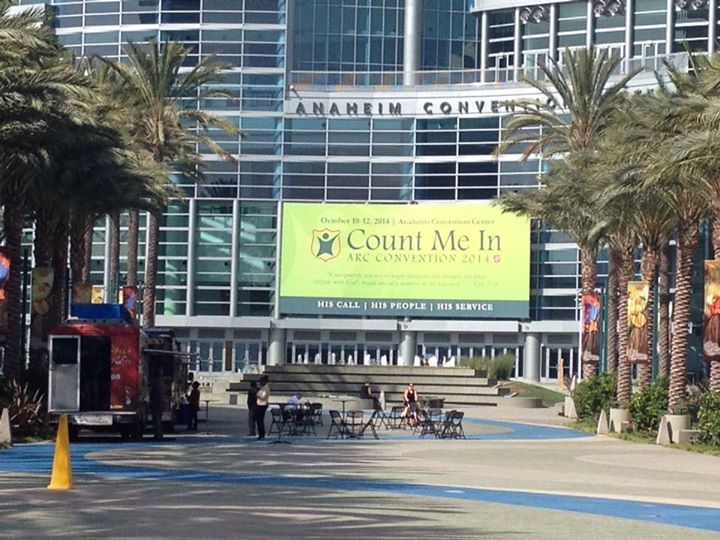 'Count Me In' draws over 5,100
Historic convention moves West closer to integrated ministry
After his second DUI, Brandon Dougherty knew he needed a change of scenery. Everything familiar—his friends, his vices, his life—was in Orange County, Calif.
Dougherty received a court order to attend The Salvation Army Pasadena (Calif.) Adult Rehabilitation Center (ARC). He graduated from the program in 2012 but still considers The Salvation Army family—something "Count Me In" reaffirmed.
"This was exactly what I needed," Dougherty said. "I'm so fired up."
The Western Territory celebrated "Count Me In," its first-ever event celebrating the ARC and its emerging partnership with corps ministry, at the Anaheim Convention Center in Southern California from October 10-12.
Over 5,100 active ARC beneficiaries, alumni, family members, administrators, volunteers, corps officers and soldiers attended the festivities, which were nearly two years in the making. From workshops on the 12-step program to music by Lincoln Brewster, the weekend offered all in attendance ample opportunity for prayer, fellowship, education and worship.
All 24 ARCs in the West were represented, along with 35 corps, two adult rehabilitation programs, LA Social Services, the College For Officer Training at Crestmont and officers from the USA Central and Eastern Territories.
More than 1,700 active beneficiaries traveled from as far as Hawaii and Alaska, and over 2,400 alumni and family members also attended, including over 300 children.
"This is history in the making," said Western Territorial Commander Commissioner James Knaggs.
Major LeAnn Trimmer, ARC business secretary for the Western Territory, said she wants the event to be remembered as a Salvation Army event, as opposed to an ARC one.
"Somewhere along the line, ARCs and corps have kind of separated," said Trimmer, who also co-led a workshop on developing a corps recovery ministry. "We want to help people understand that recovery's not just going on in the ARCs. It's in the pews, the seats of their churches. This is about all of us; not just a portion of The Salvation Army. This was not just an ARC event; it was about recovery in The Salvation Army."
The idea for the convention developed as part of the territory's Harvest Initiative, an effort to bridge the gap between the ARC and corps. A main objective of the Harvest Initiative is to provide better aftercare for graduates once they leave the program. The sobriety rate of an ARC graduate after 12 months is 30 percent, roughly three times the average. Of those that connect with a Salvation Army corps, however, 86 percent are sober after 12 months.
The threefold approach to better aftercare includes corps officers building relationships with beneficiaries, providing temporary housing to alumni and helping them secure employment upon graduating.
Due to the "fluidity" of the programs, planning committee members worked right up until before the convention to get as many beneficiaries as possible involved.
The welcoming ceremony commenced on Oct. 10 as Knaggs promoted ARC Commanders Man-Hee and Stephanie Chang to Lt. Colonels for their service at ARC command.
"My promotion is really a recognition for all ARC Command officers in this ministry," said Lt. Col. Man-Hee. "I wanted every single person sitting in this arena to come to the altar at one point or another, make the new commitment or renew their commitment with the Lord…Commissioner Knaggs' vision of all the recovery community gave a really clear direction for all of our officer and staff that we must walk closely with the corps officers and provide better program for family members." For families in attendance, the convention featured a childcare and youth track called "Count Me In Too!"
Dr. Steven Arterburn, author of "The Life Recovery Bible" and host of the nationally syndicated Christian counseling talk show "New Life Live," delivered a keynote speech. After sharing his own testimony, he implored those in attendance to be more Christlike and less like themselves.
"If you serve others, it doesn't matter what the consequences are," Arterburn said. "You'll serve anyways…When you leave this weekend, you will be more surrendered to the God who loves you than you've ever been before. And will God be able to count on you?"
He added that being in recovery does not prevent anyone from doing God's work.
"You never know what God will call you to do," he said "It's so surprising that he usually uses people that are disqualified to do some of the most major things in the world. You're an alcoholic? He chooses you to be team captain in your area to run one of the most fantastic recovery groups ever."
Saturday's "Empowering Day" lineup allowed beneficiaries and alumni to learn from recovery experts, including Maria Durso and skateboarder Christian Hosoi. The convention featured over 20 workshops, targeting both individuals in recovery and leaders in recovery ministry. A few highlights included: "Turning Street Smarts to Success" by Scott Harkless, "Women in Recovery," by Maria Durso, "Faith into Action – Connecting to a TSA Ministry" by Rob Noland, "Prayer and Meditation in the Christian Tradition" by Tracy Hughes, and "Using your Story to Reach Others" by Josh Cowing and Kathy Lovin, which helped those interested work on a brief and memorable testimony appropriate for video.
Sunday concluded with Knaggs enrolling 150 soldiers and adherents into The Salvation Army. An offering held for the Joyville Children's Home in the Philippines raised $8688.04, exceeding its goal of $7,000. This amount will be matched by the Southern California division.
"We'd never done this before," Trimmer said. "The biggest challenge was the sheer enormity of it. Our guys were out working really hard to make sure that they were able to get everyone down here."
Paula Ibarra, another 2012 graduate who is now working as an administrative assistant at the Pasadena ARC, said it was great to reconnect with so many people who helped her through her recovery.
"It was so amazing seeing all of these people actively trying to make their lives better," she said. "It was amazing seeing the progression of how many people were going to the mercy seat. The big, white cross on the floor was overflowing with people seeking God, the first night. By the Sunday morning worship, the whole floor became the mercy seat."
The planning committee will hold a debriefing session Nov. 3 to discuss areas of success and improvement and the possibility of holding another convention in the future.
"I think we have a long way to go," Trimmer said, "but I think corps officers here are getting excited about the possibilities. We would like to do another one."