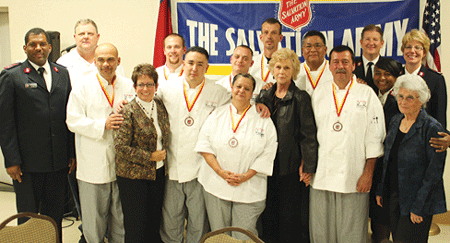 Cooking to success
Lodi's culinary arts rehabilitation program graduates its 10th session.
Lodi's (Calif.) Hope Harbor Culinary Arts program recently celebrated its 10th graduating class, recognizing eight students who received diplomas after completing a 16-week course.
"I'm very proud of them," said Barry Crall, Hope Harbor Culinary Arts chef instructor. "To see what God has done in their lives is a blessing. More than 90 percent are working right now, and around 72 percent have found work in the [restaurant] industry. I say it works."
Crall has been the instructor for all five years of the program's existence, assisting 62 students to graduation. He says the majority of his former students have found success in their professional careers.
One of the newest graduates, Betty, added her new name to the ever-growing success rate.
"I got all types of culinary skills from this program," she said. "I want to work in a restaurant as a prep cook."
Betty, who has battled to overcome 35 years of addiction to drugs and alcohol, came to the culinary program after a stay at The Salvation Army's Adult Rehabilitation Center in San Francisco.
"I had to change my life," Betty said. "I got tired of being sick and tired. And this program helped me to get my faith back. I got my self-esteem back, and I got my children back in my life again."
The 25 hours-per-week program offers a wide range of academic activities, directed hands-on training in a state-of-the-art kitchen, community field trips to a variety of food service operations, and one-on-one mentoring provided by industry professionals.
"It feels good to see a program providing real skills and hope for a future," said Corps Officer Captain Tory Ross. "But we're also happy to see students like Betty now have a spiritual foundation. They don't have to fall into bad habits; they can actually turn to God now."