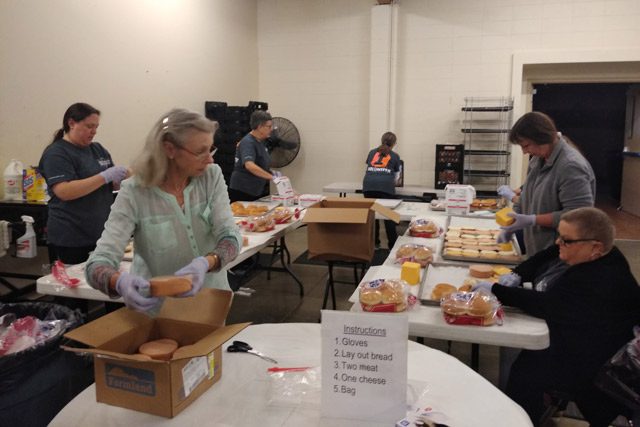 Community Table Route evolves and prepares for growth in Billings
The Salvation Army serves an average of 300 meals, six days a week in the community.
By Vivian Lopez – 
Ten years ago, The Salvation Army in Billings, Montana, took over the Community Table Route program from the Montana Rescue Mission. It has come a long way since its inception, when it distributed soup and sandwiches from a single van to community members in need.
Today, the program uses two vans—run by volunteers—assigned to different routes across the city. Combined, they make 18 stops around Billings from 5-6:30 p.m. every Monday through Saturday, serving nutritious, hot meals four days a week and sandwiches two days a week. Each night, volunteers hand out an average of 300 meals.
"Word has spread of course. It's certainly grown," said Darlene Johnson, the Billings Corps finance and human resources clerk who oversees the program. "Anyone who comes to the van can get a meal."
According to Lt. Colin Pederson, Billings Corps Officer with his wife, Felecia, most of the program's funding comes from a local donor; the rest is from the corps' budget.
While the program does serve many clients experiencing homelessness, the bulk of those lining up for meals are from low-income families.
"They're paying their bills and they're trying to make it, but it's still not enough between paying the rent and buying food," Felecia Pederson said. "It helps them not have to have that worry."
The goal, Johnson said, is "to try and feed as many people as possible."
Seeing an increasing need, Pederson is hoping to add a third route to the program to serve even more people.
"There's still an amazing amount of hunger happening in our community," she said. She believes that while a need is being met with the program temporarily, it's also accomplishing more permanent results.
"It gets us out in the community so people see the visible effects of The Salvation Army and realize it is something they can get behind," Pederson said. "Another thing that it does, is connect us with people who might need help and have nowhere to go."
The experience can be eye-opening for the volunteers.
"I had no clue that these pockets of need existed," said volunteer Della Gardner. "It can be heartbreaking to see people living in cars with plastic bags covering the windows. But people are appreciative of what they are receiving and honorable about what they need, not taking more than they can use or need."
Pederson recalled when a volunteer team in one of the vans saw a woman on the street. When they stopped and offered her a meal, they discovered that she had been thrown out on the streets by her boyfriend. The corps was able to get her on a bus to be reunited with family and friends. 
"[The volunteers] get to know the people," Johnson said. "They love what they do. Otherwise, they wouldn't do it."
The corps program has regular volunteers, along with additional volunteers from Montana State University Billings. Students volunteer on the routes and see for themselves the need within the community.
Some of the clients have started attending worship services at the corps, Pederson said.
Ultimately, Pederson wants the Community Table Route program to bring hope to those struggling in the city.
"Church is about getting outside of the walls, and meeting people where they're at," she said. "We want to let people know that they're not alone. Whatever they need, we can extend that to them as well."