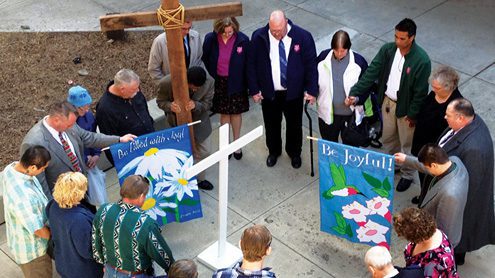 Community finds 'Easter in the Courtyard'
Reno Corps reenacts the events leading up to the first Resurrection Day.
"Easter in the Courtyard" at The Salvation Army Reno (Nev.) Corps started as a way to fill the time between the family Easter breakfast and the 11 a.m. worship service.
In 2012, many neighborhood families—about 275 people with corps members—showed up on Easter Sunday.
"We noticed that the kids had a lot of energy and the parents wanted to do something meaningful as a family on Easter morning," said Major Janene Zielinski, corps officer with her husband, Michael. "These observations led to the idea of using the corps' courtyard to 'stage' events leading up to the first Resurrection Day as an outreach to the community."
With so many young children excited and restless, the Corps Council planned purposeful sights, sounds and movement to keep families together and engaged, while explaining the real meaning of Easter this year.
The council planned four vignettes, to be performed by council members and other interested corps members, each with a corresponding symbolic activity. The story of Jesus praying alone will be narrated and acted out. Guided by corps cadets, families will then enter an area of the courtyard with a firepit, where a narrator and actors will tell the Bible story and visitors will be invited to reflect on Peter's feelings after he had denied Jesus. They may take a twig, remember a time when they let somebody down, and drop the twig into the fire as they listen to Bible readings reminding them of God's forgiveness. Then they will come across three crosses and the story of the penitent thief.
"When they see and hear Jesus speaking to the thief on the cross, people are going to want to pray," said Adherent Jeff Mitchell. "We better be ready to pray with them."
Families may plant flower seeds and construct their own crosses to leave as a reminder to all who pass by of just how much God loves them. Finally, visitors will enter the Garden Tomb to find it empty, with Christ risen.
"I'm so excited about this! God is blessing Reno Corps with people stepping out in faith to do new things," said Corps Council member and Young People's Sergeant Major Barbara Pengilley.
After each Sunday service in March, the committee met for prayer and planning.
"We expect this to be a meaningful time for those who attend," Zielinski said, "as well as a wonderful time for 'hands-on' involvement and fellowship."