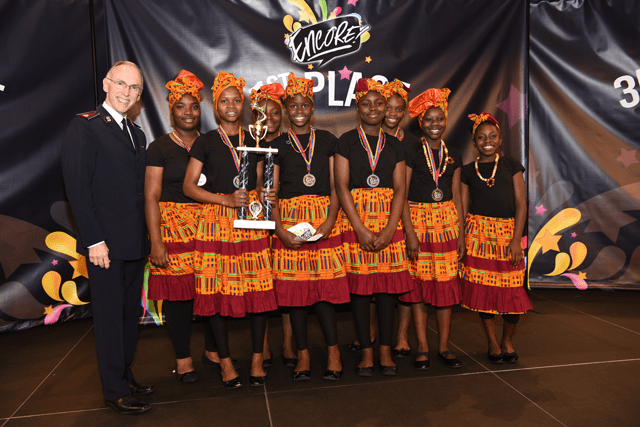 Commissioning: 8th annual Encore celebration
The 2019 Encore performances, celebrating the creative expression of Western Territory youth, took place June 8 in Cerritos, California, both at the Performing Arts Center and the Sheraton Hotel, with almost 600 young people participating.
"My main concern is that these young people are doing this where they come from," said Territorial Music Secretary Neil Smith prior to announcing the award winners. "We have almost 600 here today. In two years, at the 10th Encore, we'll have 1,000 kids here."
All Encore performers received a medal to commemorate their participation. This year, for the first time, the first, second and third place finishers all received trophies and had a photo taken with Territorial Commander Commissioner Kenneth G. Hodder.
Singing Companies
| | | |
| --- | --- | --- |
| Name | Corps | Place |
| Singing Company | CFOT | 1 |
| Singing Company | Sacramento Citadel | 2 |
| Singing Company | Clovis | 3 |
Beginning Band
| | | |
| --- | --- | --- |
| Name | Corps | Place |
| Beginning Band | Centennial | 1 |
| Beginning Band | Sacramento Citadel | 2 |
| Beginning Band | Cathedral City | 3 |
Junior Band
| | | |
| --- | --- | --- |
| Name | Corps | Place |
| Jr. Band | Phoenix Citadel | 1 |
| Jr. Band | Concord | 2 |
Timbrels A
| | | |
| --- | --- | --- |
| Name | Corps | Place |
| Timbrels A | El Cajon | 1 |
| Timbrels A | Phoenix Citadel | 2 |
| Timbrels A | Tri-Cities | 3 |
Timbrels B
| | | |
| --- | --- | --- |
| Name | Corps | Place |
| Timbrels B | El Cajon | 1 |
| Timbrels B | Colorado Springs | 2 |
| Timbrels B | Medford | 3 |
Brass Solo 1
| | | |
| --- | --- | --- |
| Name | Corps | Place |
| Emma Dove | Yakima | 1 |
| Valery Kim | Sacramento Korean | 2 |
| Joseph Parks | Cathedral City | 3 |
Brass Solo 2
| | | |
| --- | --- | --- |
| Name | Corps | Place |
| Maddie Madsen | Gresham | 1 |
| Morgan Jones | Concord | 2 |
| Conner Brown | Pasadena Tab | 3 |
Brass Solo 3
| | | |
| --- | --- | --- |
| Name | Corps | Place |
| Andrew Smith | Tustin Ranch | 1 |
| Kaylynn Jones | Concord | 2 |
| Zachary White | Mesa Citadel | 3 |
Brass Solo 4
| | | |
| --- | --- | --- |
| Name | Corps | Place |
| Rhys Jones | Concord | 1 |
| Sean Pease | Centennial | 2 |
Vocal Solo 1
| | | |
| --- | --- | --- |
| Name | Corps | Place |
| Charlotte Wood | Pasadena Tab | 1 |
| Austin Halverson | Juneau | 2 |
| Emily McKaigg | Concord | 3 |
Vocal Solo 2
| | | |
| --- | --- | --- |
| Name | Corps | Place |
| Paige Hansel | Caldwell | 1 |
| Abbigail Hartt | Suisun Kroc Center | 2 |
| Jacob Dove | Yakima | 3 |
Vocal Solo 3
| | | |
| --- | --- | --- |
| Name | Corps | Place |
| Shannon Johnson | Concord | 1 |
| Oscar Sanchez | Santa Clara Citadel | 2 |
| Wodin Jormelu | Medford | 3 |
Vocal Solo 4
| | | |
| --- | --- | --- |
| Name | Corps | Place |
| Glory Soriano | Seattle Temple | 1 |
| Alina Smith |  Phoenix Citadel | 2 |
Drum Set 1
| | | |
| --- | --- | --- |
| Name | Corps | Place |
| Chen Su | San Gabriel | 1 |
Drum Set 2
| | | |
| --- | --- | --- |
| Name | Corps | Place |
| Oliver Cowing | Pasadena Tab | 1 |
Drum Set 3
| | | |
| --- | --- | --- |
| Name | Corps | Place |
| Ryan Johnson | Concord | 1 |
| Moses Leviticus | Federal Way | 2 |
| Tyler Halverson | Juneau | 3 |
Snare Drum 1
| | | |
| --- | --- | --- |
| Name | Corps | Place |
| Karson Li | Tri-Cities | 1 |
Snare Drum 2
| | | |
| --- | --- | --- |
| Name | Corps | Place |
| Callum Smith | Tustin Ranch | 1 |
Snare Drum 3
| | | |
| --- | --- | --- |
| Name | Corps | Place |
| Ryan Preston | Las Cruces | 1 |
Drum Line
| | | |
| --- | --- | --- |
| Name | Corps | Place |
| Drum Line | Tustin Ranch | 1 |
Guitar 1
| | | |
| --- | --- | --- |
| Name | Corps | Place |
| Daisy Castillo | West Adams | 1 |
| DaShane Hartle | Farmington | 2 |
| Ester Angel | Sacramento Citadel | 3 |
Guitar 2
| | | |
| --- | --- | --- |
| Name | Corps | Place |
| Yilan (Tracy) Liang | San Gabriel | 1 |
| Jennifer Aguilar | West Adams | 2 |
| Reilley Halverson | Juneau | 3 |
Guitar 3
| | | |
| --- | --- | --- |
| Name | Corps | Place |
| Oscar Sanchez | Santa Clara Citadel | 1 |
| DJ Ferguson | Tustin Ranch | 2 |
Piano 1
| | | |
| --- | --- | --- |
| Name | Corps | Place |
| Kevin Li | Tri-Cities | 1 |
| Kaiying (Amy) Liang | San Gabriel | 2 |
| Emma Dove | Yakima | 3 |
Piano 2
| | | |
| --- | --- | --- |
| Name | Corps | Place |
| Peter Koenig | Medford Corps | 1 |
| Yilan (Tracy) Liang | San Gabriel | 2 |
| Jacob Dove | Yakima | 3 |
Piano 3
| | | |
| --- | --- | --- |
| Name | Corps | Place |
| Zachary White | Mesa Citadel | 1 |
Piano 4
| | | |
| --- | --- | --- |
| Name | Corps | Place |
| Christopher Xiong | Clovis | 1 |
| Jeah So | LA Korean | 2 |
Drama Solo A
| | | |
| --- | --- | --- |
| Name | Corps | Place |
| Emma Dove | Yakima | 1 |
| Danica Willet | Roseville | 2 |
| Shannon Rafferty | Fountain Valley | 3 |
Drama Solo B
| | | |
| --- | --- | --- |
| Name | Corps | Place |
| Jordan Lawler | Helena | 1 |
| Oscar Sanchez | Santa Clara Citadel | 2 |
| Olivia Mauk | Suisun Kroc Center | 3 |
Drama Solo C
| | | |
| --- | --- | --- |
| Name | Corps | Place |
| Rebecca Ainios | Sacramento Citadel | 1 |
Dance Troupe A
| | | |
| --- | --- | --- |
| Name | Corps | Place |
| Dance Troupe A | San Jose | 1 |
| Dance Troupe A | Kahului | 2 |
| Dance Troupe A | Redlands | 3 |
Dance Troupe B
| | | |
| --- | --- | --- |
| Name | Corps | Place |
| Dance Troupe B | Phoenix Citadel | 1 |
| Dance Troupe B | Lihue | 2 |
| Dance Troupe B | Clovis | 3 |
Dance Solo A
| | | |
| --- | --- | --- |
| Name | Corps | Place |
| Melinda Jude | Sacramento Citadel | 1 |
| Grace Vesselee | Phoenix Citadel | 2 |
| Arieta Vesikula | CFOT | 3 |
Dance Solo B
| | | |
| --- | --- | --- |
| Name | Corps | Place |
| Alice Ramirez | Tustin Ranch | 1 |
| Jasmine Rodrigues | Las Cruces | 2 |
| Falo Yacarogovinaka | Sacramento Citadel | 3 |
Dance Solo c
| | | |
| --- | --- | --- |
| Name | Corps | Place |
| Nicole Reimers | Redlands | 1 |
| Haika Mrema | Suisun Kroc Center | 2 |
| Litzy Guzman | Santa Fe | 3 |
Drama Troupe A
| | | |
| --- | --- | --- |
| Name | Corps | Place |
| Drama Troupe A | Santa Fe | 1 |
| Drama Troupe A | San Louis Obispo | 2 |
| Drama Troupe A | Clovis | 3 |
Drama Troupe B
| | | |
| --- | --- | --- |
| Name | Corps | Place |
| Drama Troupe B | Caldwell | 1 |
| Drama Troupe B | Tucson AMPHI | 2 |
| Drama Troupe B | Clovis | 3 |