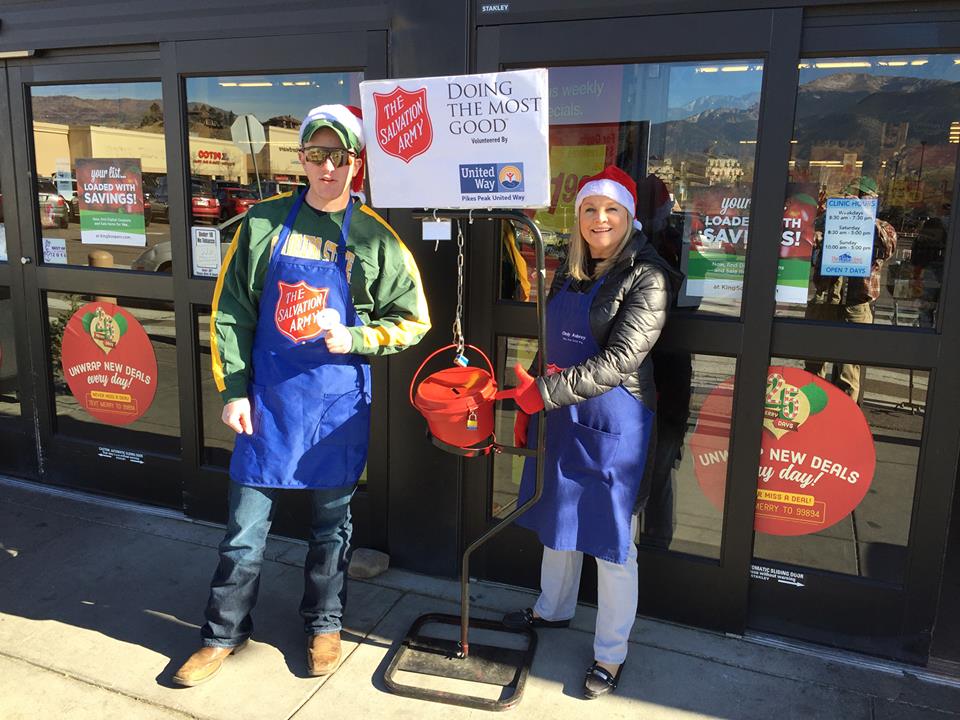 Colorado Springs CEOs stand kettle
Twenty-six CEOs and business owners from El Paso County, Colorado, rang the bell for The Salvation Army on Dec. 18, raising $30,000. The third annual CEO Ring Day surpassed its $20,000 goal by 50 percent in just two hours.
Some of the participants rang the bell at a store location of their choice, while others opted to ring in front of their own businesses. Each participant received a personalized bell ringing apron and a custom Red Kettle Stand sign.
"It was wonderful to participate again this year," said Scott Turner, one of the participants. "The people in our community are so giving and caring. It was indeed a blessing."
Participants included Blazer Electric Supply Company 2.0, Nunn Construction Inc., Blakely + Company, The Behr & Behr Team at The Platinum Group Realtors, Safelite Auto Glass, Pikes Peak United Way, Air Academy Federal Credit Union, AMR – Colorado Springs/El Paso County, Tri-Lakes Garage Doors, Colorado Springs Utilities, Rampart Supply, Buy Sell Impact, Hallenbeck Coin Gallery, Colorado Springs School District 11, Rocky Mountain Bank, Spear Builders, Express Employment Professionals, First General Services Sunflower Management, The O'Gara Group and more.
The event helped The Salvation Army get back on track of its fundraising goal, after an area Red Kettle was stolen last week. The funds raised will help provide food and shelter to those in need across El Paso County. According to Captain David Kauffman, El Paso County Coordinator, it's all about giving them "hope and help."
"At The Salvation Army we feed, shelter and restore," Kauffman told KOAA News 5. "I believed in that message when I signed up 14 years ago, and that's what keeps me going."