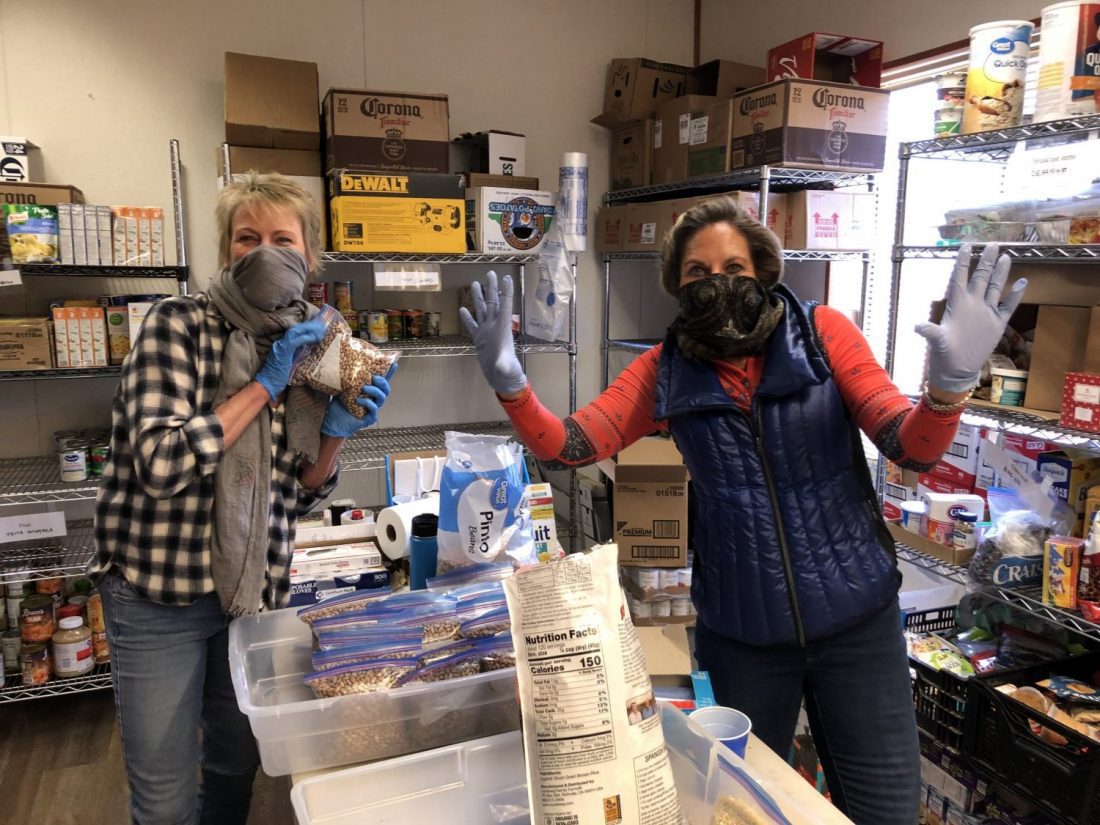 Colorado mountain community helps others together
'God's angels' at work in COVID-19 hotspot
By Caramie Petrowsky–
At one of the most vulnerable moments for Eagle County, a small mountain community considered a national hotspot for COVID-19 with 429 confirmed cases as of April 9, the Vail Valley Salvation Army is stepping up to help as much as it can, as fast as it can. 
That's in large part thanks to the support of the local community, said Tsu Wolin-Brown, who has been with the Vail Valley Salvation Army for 37 years, the last 16 as the center's coordinator. The number of food boxes going out of The Salvation Army's food pantry has tripled in recent weeks, Wolin-Brown said, and they've absorbed the surge even with less volunteers than usual because of the social distancing mandates. She's thankful that they've been able to keep up—at least for now.
"Normally we reach out to funders and foundations for grants," she said. "The wonderful thing is that right now, funders are reaching out to us."
Eagle County, the local Rotary Club, U.S. Bank, Holy Cross Energy and others have contacted her with donations or interest in donating. An anonymous donor purchased $4,000 worth of meat from the local Costco because the food pantry was running low. A generous donor from the Ritz-Carlton, Bachelor Gulch leadership team donated a truckload of food from Feed the Children. Food poured in from local restaurants as well as the Four Seasons and when Vail Ski Resort shut down in mid-March, truck-loads of food arrived. Additionally, the Food Bank of the Rockies has replenished the food pantry.
"We're just trying to make sure we can keep enough food on the shelves," Wolin-Brown said.
Additionally, The Salvation Army is feeding first responders "so they don't have to cook through all of this," Wolin-Brown said. "We're also getting lists of people who are under quarantine from the public health department and delivering boxes of food to those people."
East Vail resident Bernadette Blair and her husband, Ryan, are two such people blessed by the food delivery. Bernadette suspects the pair had COVID-19 for a week or so each in mid-March, though they were unable to get tested because their symptoms weren't severe enough to warrant a trip to the hospital. Though they're now feeling better, neither of them has jobs to which to return.
"We both got laid off. It's a rough time but we're still very thankful and blessed," Bernadette said, especially for the groceries The Salvation Army delivered to their doorstep two weeks in a row. 
"I don't know how to budget the money we have left so the groceries really helped us to have some money to save for rent," she said, calling the Salvation Army volunteers "God's angels."
For Seth Ryan Levy, a Gypsum resident and father of three, the Vail Valley Salvation Army swooped in when his family was in a similar vulnerable state. Levy went into isolation after learning a close friend who he'd had prolonged contact with was in the hospital with COVID-19. Thankfully he was able to move into his parent's empty home, but it had very little food in it. He was so grateful for what happened next, he posted about it on his Facebook page:
"This beautiful Sunday morning I want to give a huge shout out to the Vail Valley Salvation Army. When they heard I was going into isolated quarantine in a house without most basics—butter, milk, etc.,—within hours they sent a huge care package to my doorstep with enough food to keep me fed for the entire two weeks. The peace of mind that offered me and my family is huge and I know they are doing the same for others. Thank you Vail Valley Salvation Army for all you do for people in Eagle County."
Those messages are common.
"A lot of people are thanking us up and down," Wolin-Brown said. "Many people are coming for help who have never had to ask for help before."
And the requests aren't just for food—there have been tons of rental assistance requests as well. People are first screened by Eagle County to see if they qualify for state or federal aid.
"We're taking it on a case-by-case basis," Wolin-Brown said. "We're trying to set some guidelines because we know that even with the money we have coming in, it won't be enough to help everyone."
Hundreds if not thousands of people have been self-isolating in Eagle County, including Wolin-Brown herself, who currently has pneumonia while working tirelessly from home for weeks to keep The Salvation Army running smoothly.
"It's harder to do things remotely but I've been amazed at how much the community has come through for us," she said.
HOW TO HELP:
If you'd like to make a monetary donation, please click here to make a gift.
Text 'GIVE' to 52000 to make a $10 donation to The Salvation Army. This will automatically add a one-time donation to your next mobile phone bill.
For information about volunteering, please visit volunteer.usawest.org.
To learn more about how to support The Salvation Army's relief efforts, please click here.