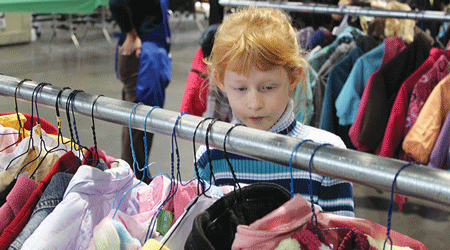 COATS FOR KIDS
Keeping Sacramento warm
The Salvation Army partners with local news station to distribute coats to those who need them.
The Salvation Army in Sacramento, Calif., and News 10 partnered again to host the 21st annual News 10 Coats for Kids Distribution day on Dec. 30, 2011, from the main distribution center at Cal Expo and at eight other sites. Volunteers handed out over 15,000 coats across Northern California. Participating corps included Fairfield, Grass Valley, Lodi, Modesto, Roseville, Sacramento, Stockton, Woodland and Yuba-Sutter.
Although the program's name indicates coats only for children, plenty of adult coats were available and every person who needed a coat received one.
The Roseville Corps included a free giveaway table for the kids. Maya, 3, who was already excited about her new coat, was thrilled when she also got to choose a Tinkerbell costume.
The alliance between The Salvation Army and News 10 operates smoothly. News 10 handles the publicity and marketing of the event, while the collecting, storing and distribution falls on the corps. The Army supplies collection containers, trucks and volunteers, and also announces the event to families who receive Christmas food boxes and toys.
Each year there is a designated company sponsor. This year it was Tri-Counties Bank. Typically, the sponsor collects coats in their own bins and The Salvation Army corps collect and store them until the day of the event.
"I continue to be amazed by the gratitude we see in the eyes of the people we help," said Stefanie Vrapi, Del Oro divisional public relations director. "News 10 Coats for Kids is another platform that allows The Salvation Army to reach out and provide communities with basic needs. There is nothing more basic than a warm coat to help families get through the cold winter months comfortably. News 10 is a wonderful partner and we are happy to be part of this much-needed campaign."