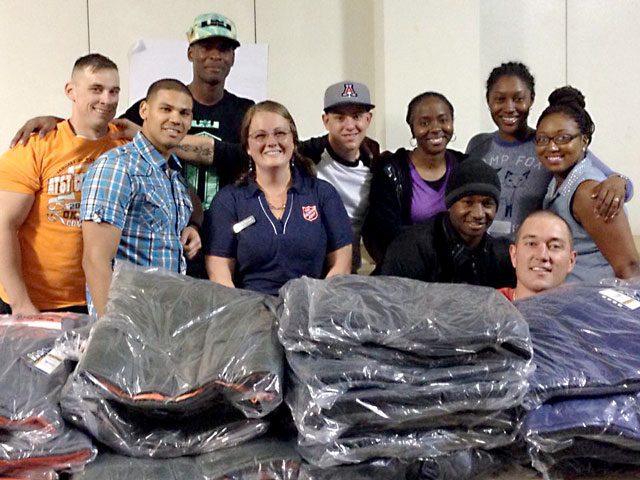 Keeping Alaska's kids warm
The Salvation Army and partners Fred Meyer and Lynden Transport with Totem Ocean provide new "Coats for Kids" across Alaska.
By Sonya Senkowsky – 
For the fourth year, Fred Meyer—in a continuing collaboration with The Salvation Army Alaska Division—is providing new coats for children throughout Alaska through the Coats for Kids program. The program helps prepare Alaska's neediest schoolchildren for success—and eases the minds of struggling parents and guardians. More than 4,500 Alaska students are due to receive free winter coats this year.
"A coat is a crucial safety item in Alaska, and the kids are so delighted to get brand new garments," said Major George Baker, Salvation Army Alaska divisional commander. "This generous donation will help make back-to-school shopping a little less stressful for thousands of needy families throughout the state."
This year, Fred Meyer has donated $50,000 worth of new coats, to be distributed throughout Alaska; over the past four years, the company has donated more than $200,000 of coats, as well as other support.
"This program is one way we can make a difference in the Alaska communities that have been so supportive of our stores," said Melinda Merrill, manager of community affairs for Fred Meyer Stores. "It is our pleasure to give back in a meaningful way. Every Fred Meyer associate who helps with the program is warmed by the joy on these kids' faces."
The shipment from the Fred Meyer warehouse arrived in Anchorage Aug. 6, courtesy of Lynden Transport in cooperation with Totem Ocean Trailer Express (Totem Ocean)—and was unpacked and sorted with the help of Fred Meyer volunteers. Lynden Transport, with Totem Ocean, donated the shipping costs of the coats from Fred Meyer's distribution center in Chehalis, Wash., to Anchorage. Lynden Transport is also donating shipping to communities throughout Alaska. Additionally, Fireweed Cleaners donated dry-cleaning for another 200 gently used coats donated by the public.
The first batch of coats was distributed in Anchorage Aug. 13 at a combined Helping Us Give School Supplies (HUGSS)/Coats for Kids public event at Sullivan Arena. That event occurs annually through a longstanding partnership between the Anchorage School District and multiple organizations, including Catholic Social Services, Lutheran Social Services and The Salvation Army.
Providing school supplies and coats this time of year can be crucial for children in need, said Salvation Army Major Nila Fankhauser. "Children cannot do well in school if they are ill‐prepared," she said. "They cannot succeed if they do not have the proper tools or if they are cold on their walk to school."
Coat distribution events throughout the state will be announced in individual communities as they are scheduled. Any coats not distributed at planned events are reserved for emergency needs throughout the winter.
The Salvation Army is currently coordinating distribution with Lynden Transport to the following Alaska communities: Cordova, Fairbanks, Kodiak, Angoon, Ketchikan, Haines, Hoonah, Juneau, Kake, Klawock, Petersburg, Sitka and Wrangell. New coats will also be made available in Mat‐Su and Kenai locations and elsewhere as needed.
More information can be found here.