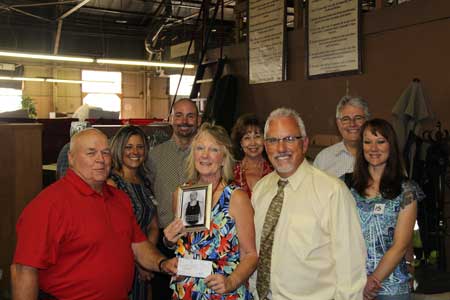 CLEAR donates $5,000 to the Denver ARC
By Ron McKinney, Captain—
The Coalition of Loveland (Colo.) for Education, Awareness, and Resources in the Fight Against Methamphetamine (CLEAR) donated $5,000 to the Denver Adult Rehabilitation Center to support its ministry to individuals in recovery.
"Through board discussions, it was decided to give the money [from its annual fundraiser] to The Salvation Army Denver ARC because the program is Christian based, and free for individuals trying to attain sobriety," said Cindy Gray, CEO of CLEAR, who made the donation in memory of her son, Mitchell, who died from a meth overdose in 2007.
CLEAR holds an annual fundraiser—Mitch's March Against Meth—to raise awareness of meth use, lend support to families and friends of meth users, and celebrate recovering individuals.
Gray became aware of The Salvation Army's ARC program when she met Justin Sessions, an ARC alumnus. Since then, she has shared her story with Denver ARC beneficiaries on several occasions.
CLEAR is a Colorado non-profit organization created in 2006 by John Giroux and Scott Eastman of Loveland. The organization's volunteers have made presentations to thousands of students, organizations and groups to educate people about the devastating effects of meth use and to try to prevent potential users from ever trying meth.