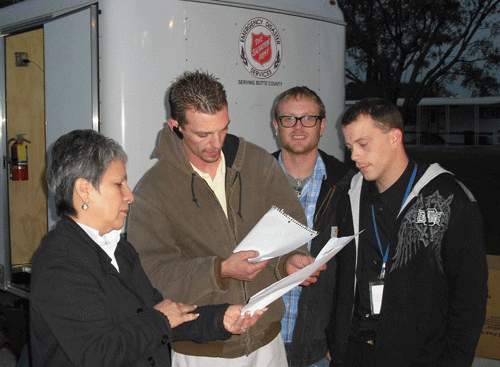 Chico Corps sustains seniors following power outage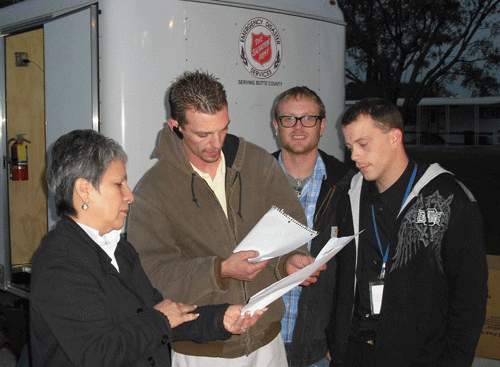 By Jodene Setera
Due to a recent electrical outage in Chico, Calif., a mobile home community tailored to elderly and senior residents suffered a Thanksgiving blackout that lasted more than three days. The Salvation Army received a call regarding the outage to more than 300 units and the Emergency Disaster Services unit immediately deployed with hot beverages.
Volunteers went door-to-door to determine who would need meals delivered, if there were any special dietary needs, and to reassure residents that The Salvation Army would be there until power was restored.
Alumni from the Adult Rehabilitation Program (ARP) responded, providing the vehicles to deliver food, routing and mapping the park, cooking the meals, and devoting the weekend to this effort. Tony Salzmann, one of the first men to graduate the Chico Adult Rehabilitation Program and a key EDS team member, provided support to Captain Darren Stratton, incident commander.  At one point there were more than 20 volunteers comprised of ARP employees, church members, ARP beneficiaries, alumni, EDS team members and advisory board members serving breakfast, lunch and dinner.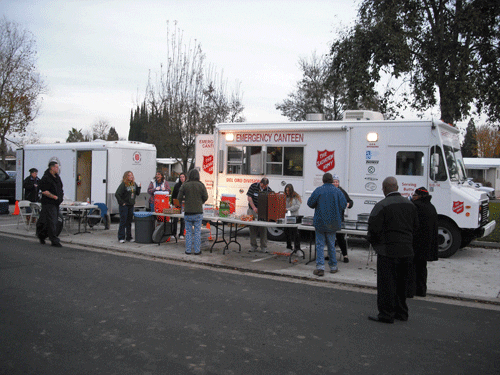 Boxed lunches, hot soup and a turkey dinner were served throughout the day and delivered to the homes of those who were unable to assemble at the canteen. The advisory board served the Sunday morning breakfast while services were held across town at the corps. Volunteers were rotated in and out until power was completely restored to all units.
"It was encouraging for me to see that once again we have board, staff members, current program beneficiaries, soldiers and donors all pitching in to provide relief for those who need it—all factions of the Army working together for one purpose," Stratton said.