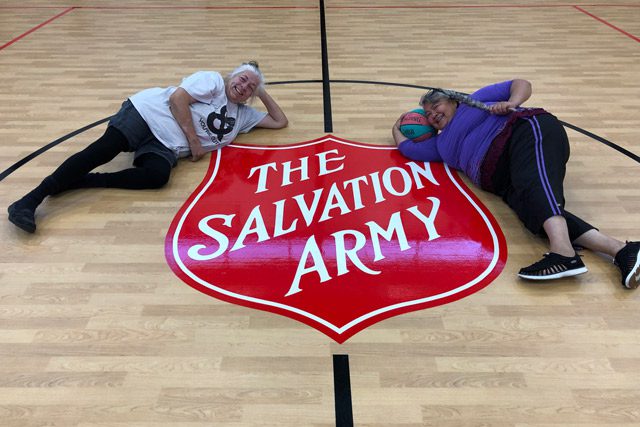 Chico adds seniors program
'Morning Owls' helps seniors socialize, exercise and learn.
By Vivian Lopez –  
When the capital campaign started for the new corps building in Chico, California, one of the biggest needs was a recreational space—particularly for the area's underserved aging population. The corps formed the Morning Owls program, named for the more mature and wise participants who connect in the morning. It offers an affordable space for older adults to exercise, learn and socialize three mornings a week.
"There are no paved streets in our area. So, if you're an older adult and you use a walker or if you're prone to falling, you can't go out and walk like your doctor has recommended in order to maintain health," said Captain Arwyn Rodriguera, Chico Corps Officer.  
And since last year's Camp Fire destroyed the homes of many older adults in Paradise, many moved to Chico—making the need for the program even greater.
"The most impacted population [from the Camp Fire] is seniors, and one of the primary needs in the community is a gathering place…in order to re-establish relationships," Rodriguera said. "Their meeting areas…all burned down. There is a need for connection within that group for depression, and to maintain a healthy lifestyle."
Morning Owls sessions are $1.25 and start off with an exercise activity, integrating a socialization component—from optional Bible study sessions, coffee time, movie days and bingo. Community partners are also being brought in to teach topics like insurance, crafting, history, technology, cooking and more.
"We do things to just engage the mind, the body and the heart," Rodriguera said. "The goal would be to establish…their second home that's affordable, safe and meaningful."
And when it comes to programming within Morning Owls tailored to Camp Fire survivors, plans are in the works to form partnerships to offer grief or group counseling. This will be open to all participants. 
"We want to give people a place to process, and when you couple that with exercise and with a spiritual component it creates healing," Rodriguera said.
To encourage them along the way, there will be program challenges—like Milestones for Steps as a starting point to get the older adult participants active.
"They're going to have their own personal goals whether it's socialization, education, the spiritual component and the physical component, but if we can create a sense of community and they can support each other in the phase of life that they're in, that's a good thing," Rodriguera said.
 Catherine Burns decided to attend for exercise, fellowship and support.
"It's wonderful, affordable, and doable," Burns said. "I want to take better care of myself. It's good to start the process."
Pat White said she's been waiting for something like Morning Owls for a long time.
"I want to keep walking. I don't want to use a walker or cane," White said. "Hopefully my overall health will improve and I can lose a few pounds."
Ultimately, Rodriguera wants to provide a community for older adults through Morning Owls.
"A lot of people feel displaced, lonely and isolated. If The Salvation Army can lovingly serve this vulnerable population at the highest level, that's good," Rodriguera said. "I would really like to see the participants in the program develop relationships where they have friendships that extend beyond the two hours a day, three days a week—where they have a support network and they have accountability when it comes to their health."