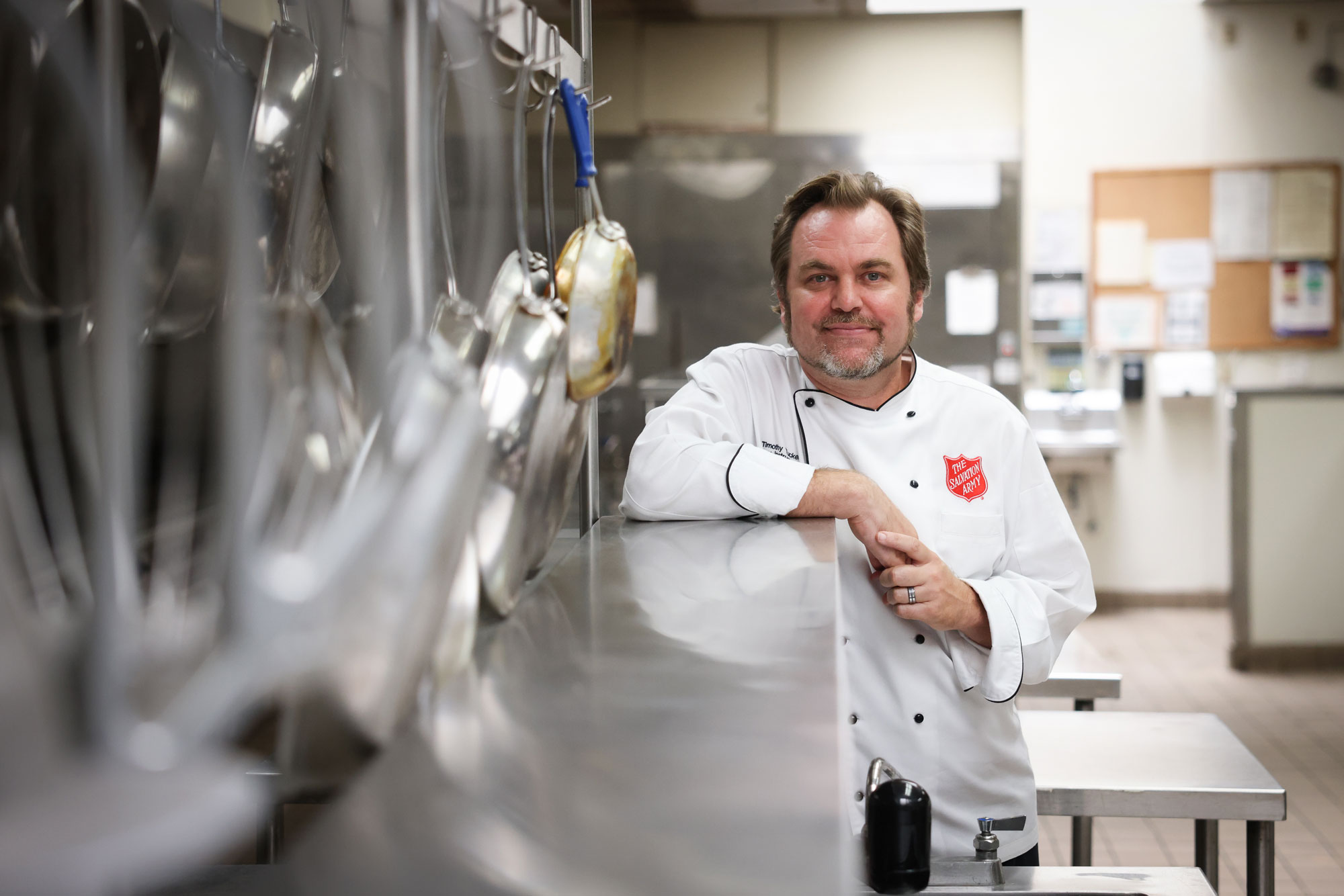 Chef gives culinary students the 'tools to succeed' after Salvation Army programs
Chef Timothy Tucker's Culinary Training Academy is a key part of The Way Out initiative.
Chef Timothy Tucker knows his Culinary Training Academy has the potential to renew lives; he's witnessed it.
Currently as Director of Culinary Training for The Salvation Army Golden State Division, he assists individuals as they rebuild their lives through The Way Out initiative, the San Francisco Salvation Army's recovery-focused homeless initiative. On a case-by-case basis, The Way Out helps move clients through recovery, transitional housing and workforce development.
"We're kind of like brother and sister," Tucker said about the Culinary Training Academy's role in The Way Out. "There's the housing component, and then we are the next step of giving someone a skill. We help prepare them with both life skills coaching and tons of hands-on cooking."
The Culinary Training Academy (CTA) launched in 2022, with most students coming from Salvation Army Adult Rehabilitation Centers (ARCs) or from the San Francisco Harbor Light Center, which provides rehabilitation programs and transitional housing. CTA's third semester began Oct. 3, with 14 individuals. That's the number Tucker likes to enroll; it allows for individual attention.
The 10-week, 250-hour program meets Monday through Friday from 9 a.m.-2 p.m. and aims to give students both the life skills and culinary arts skills needed for employment in a professional kitchen. During and after the program, The Way Out provides wrap-around services to assist students with housing and employment. Both CTA and The Way Out services are free of charge.
Tucker has been in the kitchen most of his life. His passion for cooking grew out of necessity, when his parents separated. It became his way of dealing with a difficult time. His own journey helps him relate to his students today.
"The theme of our culinary program is that a lot of these people have hit tough times, and then they're kind of spinning around," he said. "When that happens, you have to figure things out."
Early on, cooking helped Tucker figure things out, and his skills grew in a high school culinary vocational program and eventually in Sullivan University's culinary program. Later, he worked as a chef at an organic farm outside of Louisville, Kentucky, where he developed his culinary philosophy of cooking with healthy, unprocessed foods—of understanding food as medicine.
When he learned the value of eating healthy, he soon realized the people who were eating this way were those who had means.
"And so my thought was, can you bring it to The Salvation Army? Can you make that available to the shelter? And so we did," Tucker said. "That's where the current concept came from: Can you help people get really nutritious meals from scratch?"
CTA is the third Salvation Army program Tucker has facilitated. He developed programs at the Center of Hope in Louisville, and then at the Boston Ray and Joan Kroc Corps Community Center. In those two locations, over 250 students successfully graduated. He moved west in 2022 when he was approached about starting the academy in San Francisco.
Over time, Tucker has honed his teaching skills to reach people on all levels. Sometimes, students show up with years of culinary experience.
"I came into the class with 20 years experience," said Sean Jennings, a graduate of the spring 2023 class who came to CTA after completing the ARC program. "Chef Timothy was able to work with me on my experience level…When everybody was doing knife skills, I knew I had the knife skills already, so he made me do it with my opposite hand. He would always challenge me, and it opened up my eyes to a whole other aspect of cooking."
Tucker said he's become known for throwing an occasional curveball at the students to keep them engaged.
"I've learned in 15 years of teaching to set the bar really high," he said, and the results show. The course's graduation rate is about 90 percent over the eight years of the program, which Tucker said is better than that of similar programs.
"You can't fake it when you get your job. So we set that standard now," he said. "At the end of the day, we're only as good as our students, as the stuff that they do."
And graduates are doing great things in San Francisco. Jaime Fimbres is giving back to The Salvation Army, as chef at the Harbor Light Center. Jermaine Simpson interned at Osito, a Michelin-starred restaurant in San Francisco; he now works at Homebridge as a caregiver and recently got his own apartment—a goal for many students who live at the Joseph McFee Center, The Way Out's transitional living center. And Jeff Cristobal is employed at Osito.
"Chef Timothy encouraged me to pursue things that I thought I wasn't qualified for," Cristobal said. "That's the biggest thing…that you will do amazing things even though you don't believe you can."
Tucker appreciates it when graduates stop by to encourage current students.
"We stop what we're doing, and we hear the fantastic things that they're doing," he said. "There's things they could tell the class that I can't, ways they can connect."
Tucker hopes to grow the San Francisco program by spreading the news about it to obtain more support and partnerships. In recent years, he's witnessed a societal shift, with more people identifying as "foodies," and with the farm to table movement. People seem interested in food and healthy eating.
His ongoing motivation, though, is the students.
"I'm lucky I can be a part of watching someone grow in a positive way," Tucker said. "You don't change people, but you can provide a vehicle that people can hop into and show them the way they can go. You can give them tools to succeed—and that's what we do."
---
Do Good:
Caring Magazine is a magazine from The Salvation Army for people who care. People like you! Subscribe to the list and join 25k+ people who care. You'll get weekly inspiration in the Do Good Digest sent right to your inbox.