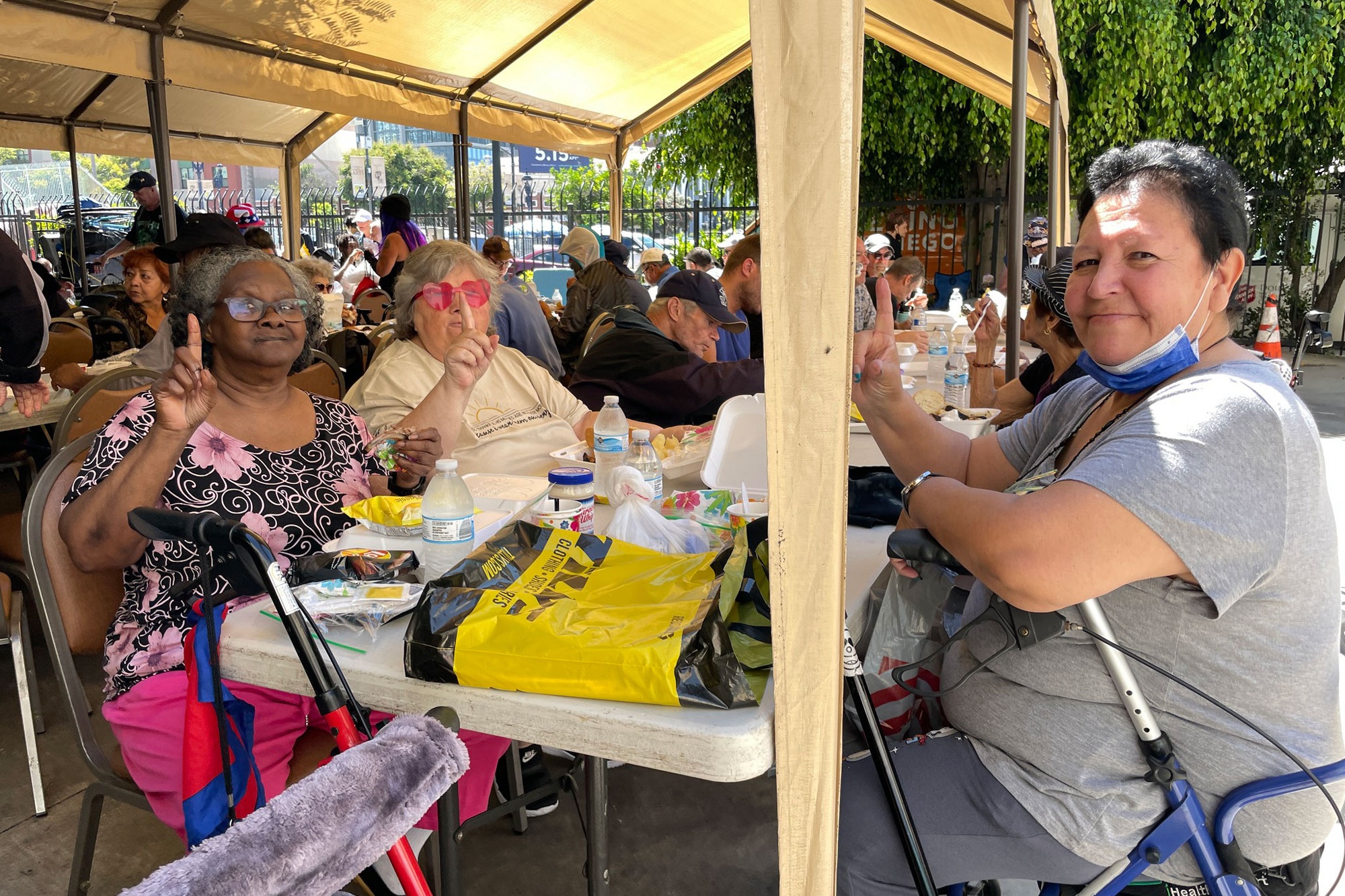 How The Salvation Army nourishes the San Diego community through food and fellowship
A monthly barbecue event unites locals while meeting basic needs, filling plates and souls.
A hum of conversation filled the air as guests at The Salvation Army San Diego Centre City Corps community barbecue gathered, enticed by the smell of grilled food and an opportunity to converse with neighbors.
This monthly event turns no one away— it's a free meal that invites people to come and unwind while aiming to nourish the body and the uplift spirit through connection. At the event, the Centre City Corps patio comes to life with live music, a prayer table and an array of donated clothing items for guests to choose from.
According to the event's creator, San Diego Centre City Corps Officer Captain Jeremy Alexander, it's an opportunity to come together with a primary focus on addressing the basic need for food.
"I like to follow the core principles of soup, soap, and salvation," he said. "It's about providing a meal for someone, no questions asked."
Alexander is a graduate of The Salvation Army's San Bernardino Adult Rehabilitation Program (ARC), a 180-day residual work-therapy program where he overcame a 30-year struggle with addiction and is now 12 years sober.
He said serving as a Salvation Army officer allows him to distribute some of the love and support he received during his journey with recovery with those in the community.
"My experience through the ARC was life-changing," he said. "It helped me find my grounding and allowed me to build upon this foundation where I'm in a place to help others."
The program provides spiritual, social and emotional support to aid individuals on their path toward sobriety.
"I saw what life could be like without substance dependency, and I was saved by many," he said. "That changed everything for me. I wanted to help others navigate that same path."
For Alexander, the idea of the barbecue was to have a place where individuals could feel safe and united, regardless of their situation or struggles.
"Everyone here represents a family," Alexander said. "There are so many needs that are prevalent right now, but if we can do the bare minimum of providing a glass of water and a meal, that can show someone that someone does care."
According to San Diego Communications Manager Jake Minger, around 20 volunteers contribute to the event's success, with ARC program graduates and beneficiaries managing the grill and additional staff and volunteers packing between 400 to 530 meals at each lunch.
"We're here to spread love through meeting basic needs," Minger said. "And what better person to be behind it than Captain Jeremy, who can empathize with some of the struggles individuals face?"
Alexander began to coordinate the community barbecue two years ago when he was appointed as San Diego Centre City Corps Officer, drawing from his prior role at The Salvation Army Oceanside Corps, which introduced him to a situation that sometimes happens with food donations: surplus food.
"I just want people to experience a moment of God's love." – Captain Jeremy Alexander
"Once I came to San Diego, I knew how much food the Oceanside Corps was receiving and figured we could work together to distribute the food in San Diego, reach more people in need and be sure everything is used," he said.
Now, the Oceanside Corps supplies around 10 boxes of food each month to feed individuals at the barbecue, who are often experiencing homelessness and uncertain where their next meal will come from.
In June 2023, The Regional Task Force on Homelessness revealed the number of individuals facing homelessness in San Diego increased by at least 14 percent compared to the previous year.
"Homelessness and hard times can sadly happen to anyone," said San Diego Women's Auxiliary President and barbecue volunteer Dee Ammon.
"To be out here serving while having fellowship is very heartwarming and fulfilling to me," Ammon said. "It's something I look forward to every month."
According to Ammon, she sees Alexander's presence at the event boosting engagement and fostering a sense of comfort and connection among the guests. "He knows how to bring people together," she said.
As attendees enter the barbecue, they recognize Alexander as a familiar presence and often exchange warm greetings and a hug. Many are regulars—whom Alexander knows on a first-name basis.
"I appreciate his ability to set this up and invite us in," said a resident of the nearby Silvercrest residence—a home for low-income seniors that The Salvation Army runs. "He will treat you like family and make sure you leave with enough food."
According to Alexander, the event's attendance has increased over time, primarily through word-of-mouth in the community.
"At first, we would do a prayer walk down the block to invite people to the barbeque," Alexander said. "Now, people are coming to us and asking when it's going to be, and they look forward to it."
Retired Major Edward Covert, who met Alexander upon his intake at the San Bernardino ARC, said he is happy to see him serving in this way, applying what he learned and experienced at the ARC to deliver support and guidance to others.
"People really seem to connect with him through shared experience," Covert said. "I would say he represents the highest level of success you can achieve through the ARC."
For Alexander, serving the community is a calling that has become second nature.
"I feel honored to be in a place where people come to me for spiritual guidance," Alexander said. "I just want people to experience a moment of God's love."
---
Do Good:
Being a nice human always has a place in your day. But how to go about it? Join 25k+ people who care and find weekly inspiration from the Do Good Digest right in your inbox.
Need some extra motivation to do good today? Follow Caring Magazine on Instagram for inspiring stories, podcasts and more to get you in the Fight for Good.
How do you want to experience your life? What do you want your life to reflect? Get the Joy-Filled Toolkit now and make a plan for joy with a printable 12-week joy planner and mini-workshop podcast to help you create a season of intention.