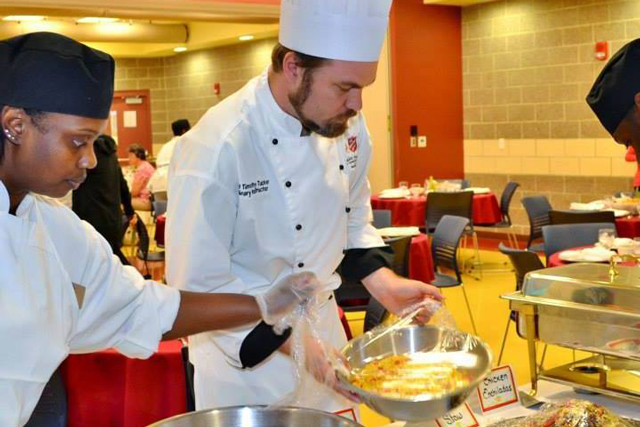 Chef treats food as medicine
Culinary Arts Program teaches healing through a healthy diet.
By Erica Rucker –

Chef Timothy Tucker had a vision to help others through food.
He created a Culinary Arts Program at The Salvation Army Center of Hope in Louisville, Kentucky, in 2005, and expanded the program to the Ray and Joan Kroc Corps Community Center in Boston in 2014.
Featured on CNN and in
USA Today
, the 10-week program teaches knife skills, food terminology, kitchen safety standards, recipes and teamwork. Students work with guest chefs, compete in cook-offs with classmates and prepare healthy food for community events.
Tucker's road to the kitchen started with studying business management in his hometown of Springfield, Illinois.
"I always felt the need to get out of town," he said. "I had every intention of going to culinary school but I was kind of biding my time."
He eventually attended Sullivan University's culinary arts program and worked as a private chef for the former CEO of Texas Roadhouse, GJ Hart. Tucker wanted to work in the nonprofit sector, though, and met Theodore Dues, then executive director of the Louisville Salvation Army social services.
Dues believed The Salvation Army had a duty to not only feed people but also to heal them, and that included teaching people to use food as medicine. He was looking for a chef who would improve the lives of the people who came to The Salvation Army for help and he found that person in Tucker.
"When I started, the focus was getting food of healthier quality and treating the food as medicine," Tucker said. Whole Foods Market offered The Salvation Army large amounts of fresh and organic food. Tucker recalled getting "garbage bags full of stuff."
He recalls the difficulty in getting clients accustomed to the fresh food.  
"It was very much a struggle at the beginning," he said. "We were able to replace doughnuts with fresh fruit and organic milk. It didn't really go over that well. A lot of people got upset."  
But despite the resistance, Tucker used his culinary training and business management skills to create the culinary arts training program.
Former student Jackson Hodges went on to earn a full scholarship to Sullivan University, and he now runs The Salvation Army program that Tucker created.
Tucker wrote
"
Destination: Chef: A Culinary Training Program Guide to Becoming Food Service-Ready in Ten Weeks," which he plans to use as a teaching manual.