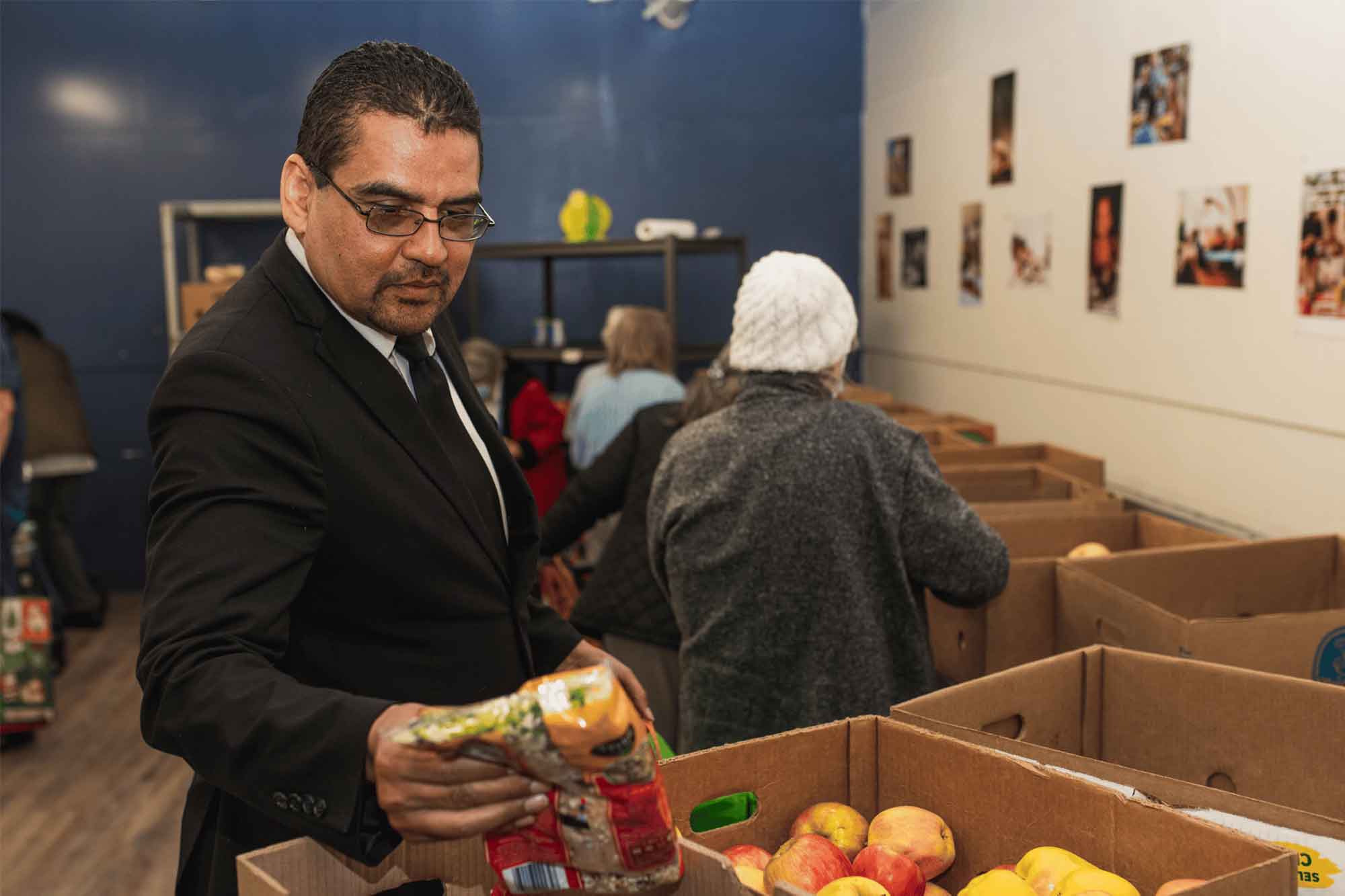 How The Salvation Army's food pantry helped one man get back on his feet
Staff at The Salvation Army Seattle White Center Corps know Robert Frederiksen by his name—and his smile.
"He's always got a really positive attitude, which really rubs off on everybody," said Janeece Talbot, Seattle White Center Corps Senior Center Director.
Talbot said she first met Frederiksen about five years ago, before the COVID-19 pandemic hit, when he found himself moving in with his elderly mother along with his daughter and son-in-law who were about to have a baby. His mother's home was just down the street from the White Center Corps, and money was tight.
"I got desperately ill with diabetes and became hospitalized for a long period of time," he said. "I went from being employed and able to keep my kids in Nikes to being without a job, without a home and with a massive medical bill."
He said his mother wasn't getting enough food for herself, let alone all of the people who were now living with her.
That's when he turned to The Salvation Army's food pantry in White Center, an area near West Seattle. There, a self-serve food pantry provides groceries to anyone who comes for help, along with other goods that might be available at the time, like diapers or pet food.
"It worked out almost right away," Frederiksen said, recalling he first heard about the food pantry from a friend of his mother who had gone there before. "It was a few hundred feet from the door, so to walk over there and stand in line and get some food, it was an obvious thing to do."
He said eventually his daughter was able to receive food stamps due to her pregnancy, which changed the dynamic some, but before that, he said without the White Center Corps food pantry, "We wouldn't have been eating."
He said after visiting the pantry a couple times, he realized it was open every day. "We could feed the entire family just by going over there," he said.
The food pantry opens twice a day, five days a week, and both Janeece Talbot and White Center Corps Social Service Director and Pathway of Hope Coordinator Bill Talbot said there are no restrictions on how many times a week people can come for food.
Because the pantry operates as a food rescue program, meaning The Salvation Army doesn't purchase food but instead recovers healthy, perishable food from local partners for quick distribution, the Talbots said people often come daily to see what's fresh.
"They like it because they get to pick their own food," Janeece Talbot said. "So many people have religious restrictions or are vegetarian or have allergies."
Bill Talbot said each month about 3,000 food bags go out from the pantry, representing service to some 1,200 people. During the pandemic, Janeece Talbot said the pantry had to close its doors for self-shopping. Still, The Salvation Army continued to distribute food bags every day. They also continued to see Frederiksen, who would come daily for a bag of fresh fruit.
"People who come here really need to come here," Bill Talbot said, adding that many could be classified as "working poor"—what the Center for Poverty and Inequality Research classifies as individuals who spend at least 27 weeks a year in the workforce but have incomes below the poverty level.
He said he knows couples who come to the food pantry who are both working minimum wage jobs and are both under the poverty level. For most workers in Seattle, the minimum wage is $18.69 an hour, according to Seattle's Office of Labor Standards. Outside the city, the rates vary. The state of Washington's minimum wage is $15.74 an hour, according to the Washington State Department of Labor and Industries.
Meanwhile, the fair market rent for a one-bedroom apartment in the Seattle-Bellevue metro area is $2,100 in 2023, according to the U.S. Department of Housing and Urban Development (HUD).
"We tell them to come here before you go to the store. We might have what you need," Janeece Talbot said, adding that often retailers will give the White Center Corps household items, so the pantry can distribute odds and ends like soap, body wash and laundry soap. All of the efforts and the daily contact have resulted in the staff at the pantry building strong connections with members of the community, Bill Talbot said.
"We try to create an atmosphere that makes people feel comfortable and family-like," he said, adding that the pantry is not just for food, but a public market of information; staff often connect visitors with information on services from the corps or other agencies. "We make it a personal thing. We let people know that we love them and that they can come every time."
Frederiksen agreed. "They know everybody's names," he said. "It's almost a personal connection you develop with the staff there."
From daily conversations with Frederiksen, Janeece Talbot said they built a relationship and got to hear stories about his grandchildren. As a result, she said the pantry was able to start providing things to make his life a little better.
Then, Frederiksen volunteered at the pantry.
"He's just a fabulous volunteer," Janeece Talbot said. "He did a great job sorting and cleaning… he was always ready to help. He's just a lovely person."
Now, Frederiksen said he's in a better place. He's gotten a job as a chauffeur and that's helped him make ends meet. Still, he said he visits the pantry weekly—for his mother.
"My mother still won't have any food if I don't go there," he said.Frederiksen credits his ability to work his way back into "a life worth living" to being able to build on the foundation from the stable source of food given to him and his family from the White Center Corps food pantry.
"The Salvation Army gave me the ability to get back on my feet and take care of my family," he said, "which I would not have been able to do otherwise."
---
Do Good
Your story, your voice, matter.

Join in our free course today

and dive into the email workshop and related workbook to find your voice, own your story and share it with others.  

Watch this video

to learn about how The Salvation Army's culinary academy helps people set new paths in Napa, California.