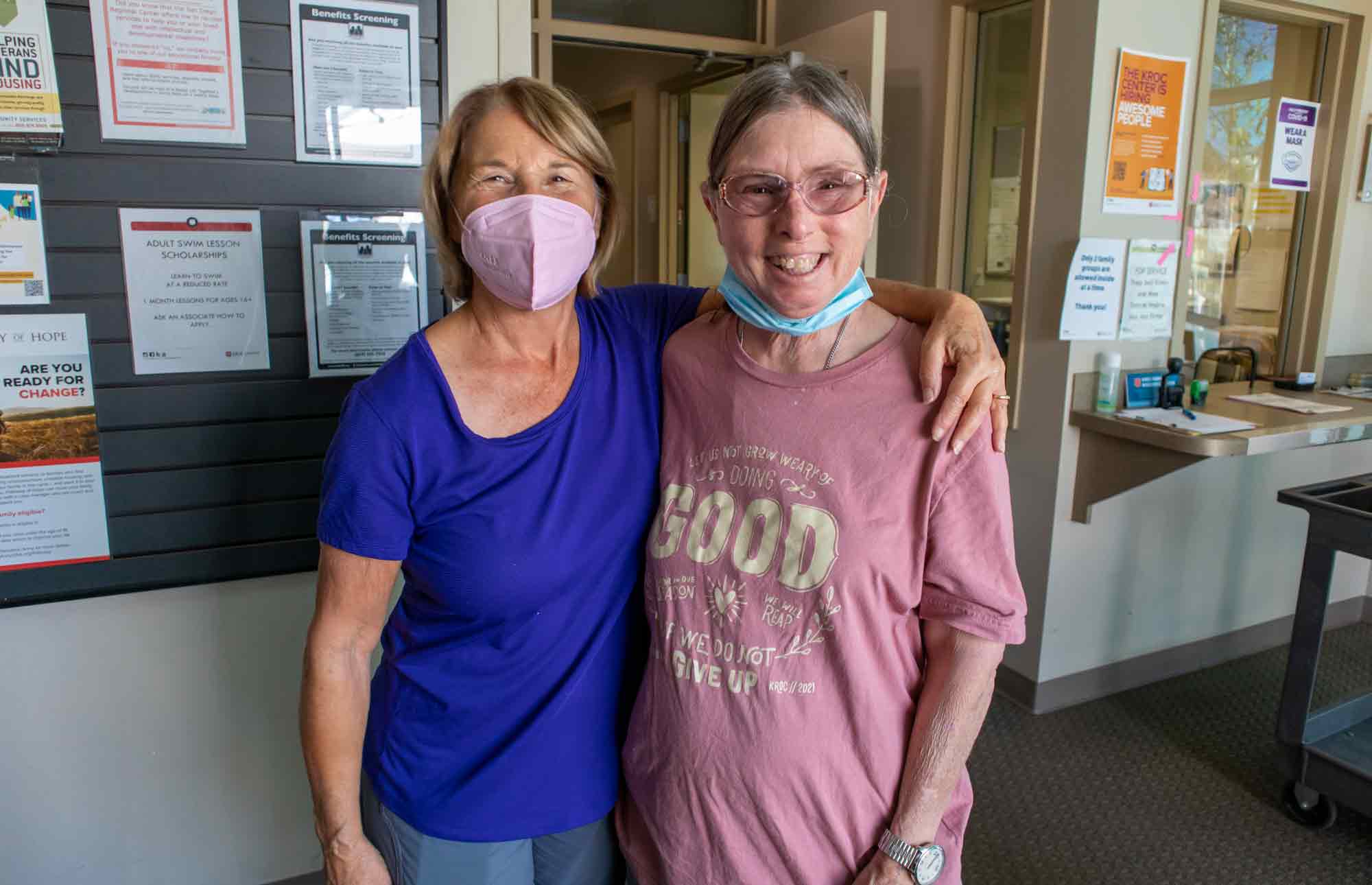 San Diego volunteer helps others 'feel the love of the Kroc community'
When the COVID-19 pandemic struck in 2020, Gail Muncie lost her volunteer position at a Norco, California, hospital when it suspended its volunteer program in hopes of slowing down the virus.
"I loved helping people there," said Muncie, who had volunteered at the hospital for 30 years. For the 68-year-old, who was born deaf, losing that volunteer gig left her at loose ends.
"Gail has volunteered much of her adult life," said Paul Maley, her brother-in-law. "In addition to her [time] at the hospital, she has also assisted with a Sunday school class for children with special needs in Corona [California]. One of Gail's greatest strengths is her ability to jump in and be helpful when someone invites her to do so."
Realizing Muncie was getting antsy, Maley and his wife, Sharon—Muncie's sister—suggested Muncie move in with them in San Diego, where Maley works at The Salvation Army San Diego Kroc Center. Maley told Muncie she could help out there when the center resumed its volunteer program.
Muncie began volunteering at the Kroc Center in June 2021, and as of February 2023, she is close to surpassing 1,000 volunteer hours. Currently, she works in the Family Resource Center three days a week, Tuesday, Thursday and Friday.
"She honestly builds the bulk of our food boxes every single week," said Janet Higley Reade, Community Volunteer Manager for the Kroc Center. "We serve about 40 families a week; it ebbs and flows. She's like a rock star."
In addition to preparing the food boxes, Muncie helps deliver them to the recipients. And because many families come each week, Muncie has gotten to know them and their needs.
"On Fridays, food distribution day, she likes visiting with the families," Reade said, adding that Muncie cares about what she places in those food boxes. "She's figuring out their food insecurity…and wants to make sure she gets a good amount of vegetables in the box. I think she's thinking through what the family can make from the items she's packed."
Muncie helps with other projects like counting donations of food and toys, stapling packets of paperwork and shredding papers. Reade said Muncie gets excited when she has shredding to do; there's something satisfying about it. But it's the food boxes that matter the most.
"Giving out clothes and food to people has helped me learn about those who don't have as much as I do," Muncie said. "It has helped me understand them and care about them more. I definitely want to keep volunteering and helping others."
Within the Kroc Center community, Muncie is having an impact. "Some of my co-workers are beginning to learn sign language and I really like that," she said. One of those working on sign language is Reade.
"Janet has been taking online tutorials to learn sign language to better communicate with Gail while they work alongside each other," said Stacy Dertien, Director of Volunteers and Community Engagement for The Salvation Army in San Diego. "This is just one of the many ways that Janet thinks outside of the box to engage all people in doing the most good for The Salvation Army. Her genuine care for the success of volunteers and clients alike is truly remarkable."
Reade said she's noticed a lot of the people who frequent the center wave to Muncie and know her by name. "And the volunteers that work with her—they're all having her teach them different sign language…Gail gets a kick out of reminding them to fill out their timecard. It's funny—they'll comment, 'We better go fill out our timecard or Gail's going to chase us down to do it."
Muncie has made other friends at the Kroc Center, too. Reade says she goes to fitness classes every day she volunteers. "She loves her tribe of friends that take the classes with her," Reade said.
Reade said for those coming to the Kroc Center for the first time, it's important they see volunteers of all ages and abilities. "It shows them that we are a place where everyone is welcome," she said. "The Kroc Center wants to make sure that anyone who walks through our doors feels the love of the Kroc community."
---
Do Good:
Have you ever found yourself wanting to volunteer but unsure of what to do or how to go about it? Here's the key: You can make an impact in the Fight for Good with whatever time and skills you have. Whatever your interest, there is a you-sized need for goodness in the world. Get the guide on How To Be An Impactful Volunteer with 9 habits to make a difference when giving back.
Subscribe to the Do Gooders Podcast and tune in for good ideas. Get inspiration from the experts on how to do good and find meaning along the way—and join thousands in making an impact for good right where you are.
Read about another way the San Diego Kroc Center impacts the community.