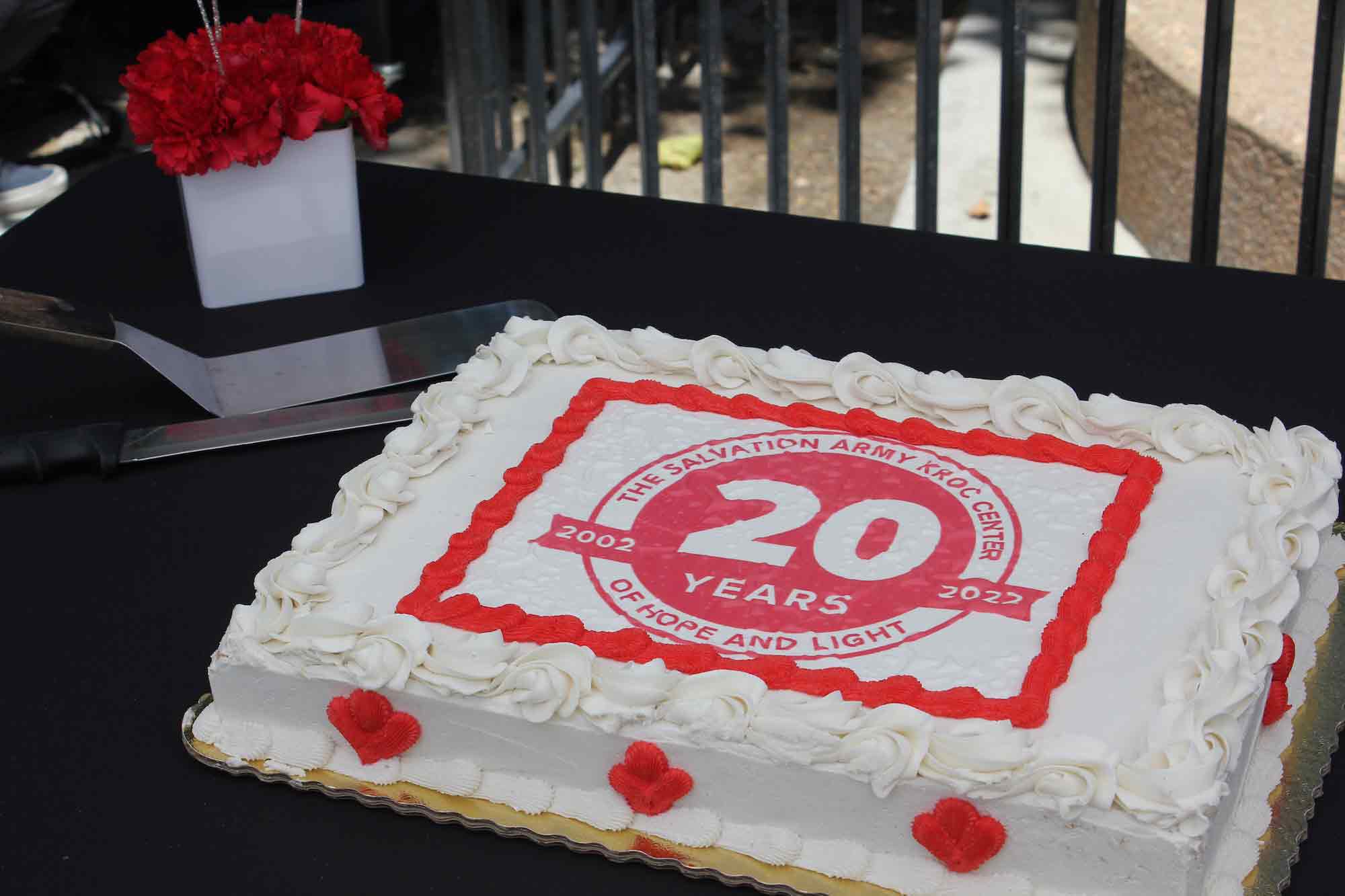 San Diego Kroc Center celebrates 20 years
The Salvation Army Ray and Joan Kroc Community Center in San Diego, California was the first of its kind when it opened its doors to the public in June 2002. Now, 20 years later and 26 Kroc Centers have been built around the country to continue to spread hope and provide opportunities for families.
"Today we celebrate Joan's vision and we celebrate what happens when we as a community get together to impact the lives of others," said Northwest Divisional Commander Lt. Colonel Cindy Foley in her invocation as a part of the San Diego Kroc Center 20th anniversary event on June 26.
"She had a huge vision and trusted The Salvation Army with $87 million to make that happen," said current Kroc Center Administrator Major Rob Birks. "State of the art facilities, open to all, available to all—children, families that couldn't afford this place, could be here and utilize all the facility has to offer."
Kroc's grandaughter, Amanda Latimer, joined the celebration as a special guest speaker.
Entertainment featured children from Kroc Junior Theatre who performed a musical and dance number from their 2022 Spring Musical, Shrek Junior.
Keynote speaker Alex Montoya, who was recognized as a 2022 Community Hero at the San Diego County Fair, shared his personal story while touching on the Kroc Center's legacy.
"Today we are here to celebrate hope, specifically we're here to celebrate light and hope and the light and hope that this place brings to our community and to our lives," said Montoya, emphasizing how we as people are "called to be the light."
Presenting the proclamations, the Mayor of La Mesa (California) Dr. Mark Arapostathis spoke directly to Joan Kroc. "Your vision is being honored every day by the people that work here, that they honor you and your name, but also your vision to serve the community," he said.
"We're so fortunate to have this center and to be working with The Salvation Army," Arapostathis said. "Magic happens here and it happens every day and it happens because of the people that put the time in. So, on behalf of all the cities in the state and in the county, thank you Salvation Army. Thank you, Ray and Joan Kroc Center."
Lts. Colonels John and Lani Chamness, California South Divisional Commander and Divisional Director of Women's Ministries, respectively, joined Birks to name the Kroc Stars. Awards included: "All Star" Jashad Avery, "Volunteer Star" Jason Bennett, "Heart of the Kroc" Yvonne Jones, "School Partner" Rolando Elementary School, and the highest honor, The Salvation Army's Others Award to Peggy Umphres.
Kroc Center Advisory Council member Steve Gilbert said in the next 20 years, the center will continue to "develop and implement programs and services designed to break harmful cycles" while promoting the healthy growth of youth and families.
"I love Joan Kroc's original vision, and I love The Salvation Army's mission," Gilbert said. "In a truly amazing partnership, you can see Joan Kroc's vision and The Salvation Army's mission coming together in people's lives every single day."
Following Gilbert's speech, Birks asked all advisory council members to stand in appreciation. "We value each one of you and your wise counsel to us," Birks said.
To conclude, Birks left the audience with a few words of "thanksgiving and challenge."
Former Kroc Center officers were asked to stand in recognition of their hard work and dedication, including the first Kroc administrators, Lts. Colonels Cindy and Tim Foley.
Birks then gave thanks to the Kroc Centers directors—the first being Steve Bireley and current Clarissa Glasco. Next, thanks were given to Kroc Center staff, both former and present, and more than 6,200 Kroc Center members. Lastly, Birks gave thanks to former Kroc Center Project Director Art Stillwell, retired Commissioners Debi and Don Bell and Adrian Finley—all of whom, Birks said met with Joan Kroc to "catch the vision" of the center and how it aligned with The Salvation Army's mission.
The challenge, Birks said "is to stay involved and engaged" whether that be with The Salvation Army or another service-oriented organization. "There's enough pain and suffering to go around for anyone that wants to address those things—so you're needed," he said. "And I want to be so bold to say you might just need us."
---
Do Good: