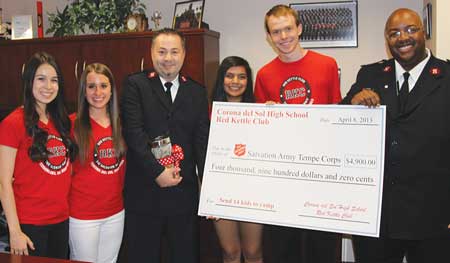 Challenged to challenge
Students multiply a generous gift to send underprivileged kids to camp.
By Marlene Klotz-Collins
National Advisory Board (NAB) member Frank Vizcarra presented Corona Del Sol High School (Tempe, Ariz.) Red Kettle Club (RKC) President Katie Wilkinson with five $100 bills at NAB's January meeting in Phoenix. Then, he challenged her and the other RKC officers to grow the money.
"I was so impressed with what they had done that I felt compelled to give them money as a reward and a challenge," Vizcarra said. "I wanted to see what they would do and how they would choose to use it."
Three months later, on April 8, RKC officers presented Tempe Corps Officer Captain Robyn Bridgeo a jar filled with coins, checks and bills totaling $4,900––a nearly tenfold increase of the initial investment designated to send 14 underprivileged kids to music camp this summer.
"I've never seen anything like these students," Bridgeo said as he accepted the gift. "The opportunity Mr. Vizcarra presented and [the RKC officers'] response will touch lives in ways that they will never know. I am blown away, so grateful."
The students employed a variety of fundraising tactics, including calling, visiting and writing friends and family members to encourage them to match individual $100 donations. They even contacted the local Rubio's Mexican Grill to donate a portion of one day's sales to the challenge.
One RKC officer, Braedon O'Meara, encountered an inspired, elderly woman while fundraising door-to-door. As she dug deep for change, he said she spoke of her delight in doing so "because of all the good work of The Salvation Army."
Vizcarra learned of the challenge's success at a NAB meeting in Boston, 11 days after the presentation to Bridgeo.
"We should never underestimate the ability of our young people to do amazing things if they are given the freedom to do so," Vizcarra said. "This whole experience has already, and will ultimately touch many lives. In reality, I have received the biggest blessing of all."
Lt. Anthony Barnes, Southwest divisional youth secretary, said the success of the initiative reflects the power of individuals.
"One businessman, one student who had an idea to start a club, one school principal who gave the nod," Barnes said. "In every way, this challenge, this club, everyone involved along the way and those individual students who will receive an opportunity of a lifetime––it all comes down to the power of one."