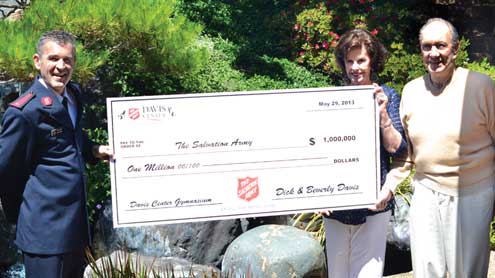 Cathedral City Corps receives $1 million donation
Money to be used to build a corps youth center
By Vivian Gatica
Longtime donors Dick and Beverly Davis donated $1 million to the Cathedral City Corps (Calif.) fundraiser to build a new youth center facility for its thriving after-school program.
"We believe in the children," Dick Davis said. "[We] can't have a growing country if the children don't have a legitimate education."
The goal of the fundraiser is to fund the construction of a 10,000-square foot building that would include a gymnasium and three classrooms for the corps' Tutor, Enrich, and Mentor (TEAM) after-school program.
The Davises started donating to The Salvation Army in Cathedral City in the 1990s, and were the major funders of the new corps facility. In 2005, the new building was dedicated and named the Dick and Beverly Davis Corps Community Center.
"We believe in giving to others," Beverly Davis said. "We started to donate when the corps was still small, and it just progressed from there."
The corps must raise $3 million in order to begin construction on the youth center. While 35 percent of the money has already been collected, the corps hopes to reach the fundraising goal by August 2014.
"If we are to foster a generation of leaders for the world of tomorrow, we must be willing to invest in the youth of today," Corps Officer Lt. Sean Kelsey said. "This fundraiser has the potential to change lives."
The future youth center would give the highly demanded TEAM program an expanded space to reach out to more elementary students, as well as  provide athletic, music and arts classes that have been cut from local schools.
"Both Dick and Beverly Davis have a heart for this community and see a need for intervention in the lives of children and their families," Kelsey said. "The new facility would provide a place for learning, sports, and other recreational activities away from the influences of gangs, guns, and drugs."