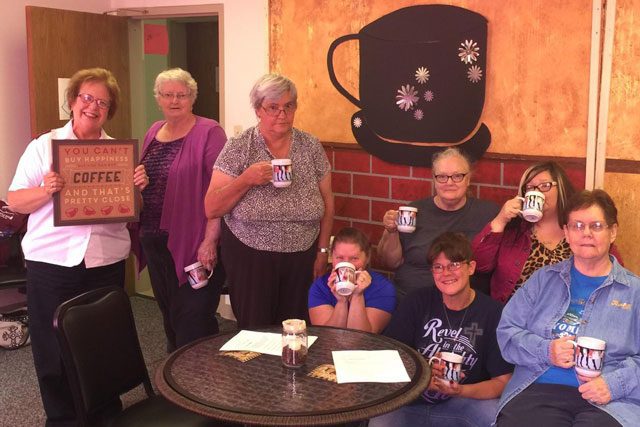 Casper women find 'Solid Ground'
New Bible study attracts women in Wyoming community.
Women at the Casper (Wyoming) Corps seized an opportunity when they transformed an empty room at the corps into a café-like meeting space. They call it "Solid Ground."
It's become a place of joy and fellowship for our women," said Envoy Rose Mertz, In-Charge at Casper Corps with her husband, Envoy James Mertz.
The women meet Friday mornings to discuss the Bible, share concerns and offer supportive prayer. Currently, they are going through the book "Calm My Anxious Heart," by Linda Dillow.
"We are being strengthened with spiritual caffeine," Mertz said.
The group is not just for corps women, but instead is open to all women in the community looking for encouragement and support based in God's Word.
Jamie, a single mother of two sons, was one of those women. She turned to The Salvation Army when her life fell apart. For 16 years, Jamie owned and operated a successful janitorial service, which thrived due to several government contracts. She lost those contracts six months ago when the government, looking to cut its budget, awarded the contracts to another company.
"My life came to a halt fast," Jamie said. "I felt like a failure."
She turned to The Salvation Army for help.
"I found hope and faith through the Bible study in the coffee shop," she said.
Jamie also participated in the corps' Pathway of Hope program. Working with a case manager, she learned budgeting strategies and coping skills.
"This has really taken some of the overwhelming stress off my shoulders," she said. I have gained a beautiful friendship and family through Pathway of Hope and the church…I am learning to let go and let God into my and my children's lives; through God all things are possible."
Mertz said Jamie and her sons now attend Sunday meetings at the corps.
"It was so inspiring to see God bring her peace in the midst of some terrible storms in her life," Mertz said. "We are excited to see how God is using Solid Ground to reach the women in our community. The gospel is still life-changing—and it goes pretty good with a cup of coffee."