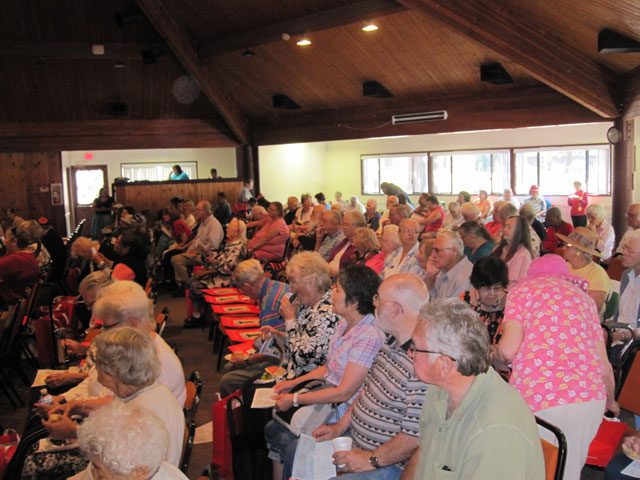 Cascade Division Senior Jamboree
Delegates consider "Unlocking Doors to a Brighter Tomorrow."
The Cascade Division held its Senior Jamboree Aug. 18 with 155 delegates-the largest group in Jamboree history-at Camp Kuratli at Trestle Glen in Boring, Ore.
Divisional Commander Lt. Colonel Judy Smith rallied the seniors and made introductions at the opening session. A Disney video, "Love is an Open Door," highlighted the camp's theme, "Unlocking Doors to a Brighter Tomorrow." The meeting also featured Hawaiian music and dance (with audience participation) and an old-time sing-a-long with Cowboy Bill and Blue Horizon. Divisional Women's Ministries Secretary Major Harryette Raihle, at her comedic best, gave the challenge, "Key to Surviving Life."
Along with united sessions, delegates could attend workshops such as Keys to Psychological Wellness with Dr. Michael Smith, Chunky Blessing Books with Debra Tomlin, Letting the Real You Shine Through with Greg
Joseph, and a Scripture and Salsa cooking demonstration with Lt. Jared Arnold. Other activities included Just for Fun Bingo-with lots of prizes-led by David Swanson and a nature walk conducted by Julie Concannon.
The closing session featured the video, "A PEP Talk from Kid President," a blessing report from Smith and others, and a Hawaiian dance to "Amazing Grace." Major Miriam Keene, assistant divisional women's ministries secretary, issued the gospel challenge, "Door #1, Door #2, Door #3," reminding the seniors how choices determine an individual's course.
"What a powerful day," Keene said. "The Lord provided a beautiful day, tasty food, new experiences and friends to fill our precious seniors' hearts and lives.