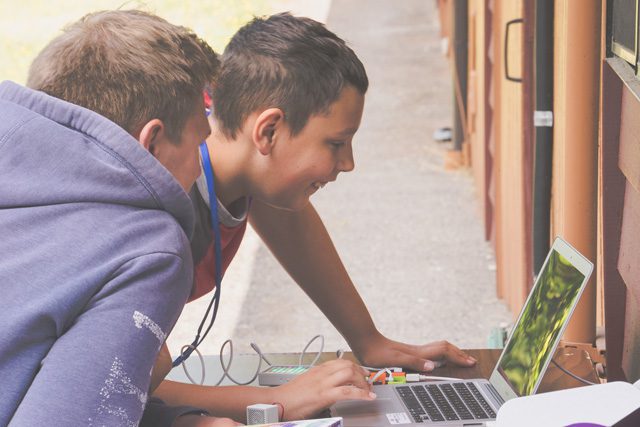 Cascade Division adds STEAM camp
By Hillary Jackson –
What better way for kids to learn about aerodynamics than by building protective containers for eggs and throwing them off a balcony?
That was the philosophy behind an engineering activity at Camp Kuratli's first ever STEAM camp, held July 3-7, in Boring, Oregon.
"The kids had a blast with it," said Lt. Joshua Hamilton, Cascade Divisional Youth Secretary. "Every single kid accomplished the mission and no eggs broke, so we kind of had to reevaluate how to do that to make it a little bit more fun."
Camp staff ended up telling the kids if their egg didn't break, they were allowed to go back to the balcony and chuck their egg into a trashcan below.
While this might sound like something out of a science class, it's actually part of an elective campers sign up for. After realizing not all kids love sports, the Cascade Division tried something new: embracing education through science, technology, engineering, the arts and math (STEAM) as camp electives.
After facing some initial pushback from corps who thought the change would mean kids would spend camp in the classroom instead of swimming or climbing the rock wall, Hamilton explained the STEAM programming was simply a change in elective choices—the traditional camp elements would still be there, too.
The result? Higher attendance than the division's traditional Salvation Army camps.
Hamilton, who studied engineering in college, wrote to the president of the local chapter of the American Society of Civil Engineers explaining the vision for the camp, and it resulted in members coming out to lead a class, purchase supplies and offer financial support.
"I did not learn about engineering until, I think, I was in high school, and that ended up being my college undergrad, but if I had known about it sooner, I think, maybe I would have been more interested in it," Hamilton said. "We know that the majority of the people that we serve in the Army are in poverty or low income and maybe have unstable households or unstable food sources, so these kids aren't really thinking about how to code something to play rock paper scissors. They are usually thinking about where their next meal comes from. So to give them something better or more fun to think about and really see that there's value in it and that they can do this for a living, I mean that's what Salvation Army is all about—giving people hope for a better future."
In the STEAM electives, these opportunities look like coding, photography, video editing, sculpture, dance and building structures out of knock-off Legos under the guidance of devoted mentors.
Territorial Youth Secretary Major Bob Louangamath experienced how the youth responded to the STEAM programming firsthand.
"This one kid had a hard time at the beginning. He had autism, and so then when they figured out how he was able to function, he was able to last the whole week," Louangamath said. "They set a table outside, had a counselor with him and his own computer and I'd never seen him laugh so hard, because he was enjoying it and he was loving it. So that really melted my heart."
He sees the potential for STEAM programming as a way for The Salvation Army to try something different, like it has in the Hawaiian and Pacific Islands and Guam Division.
HiPac first rolled out STEAM programming at its camps in 2015 after seeing a need when Hawaii's schools were ranked among the lowest scoring in those areas, and in the three summers of it, more than 1,000 children have received certification of completion for the Army's various summer-long STEAM programs, according to Captain Michael Stack, Divisional Youth Secretary.
"We believe camp has the opportunity to be the spark that exposes young people, staff included, to the very specific plans God has for their lives and our communities," Stack said. "In providing opportunities like these and many others, we're able to point campers to a God who made them with a purpose, who loves them and who desires for them to work with others around them to make his kingdom known by its love."