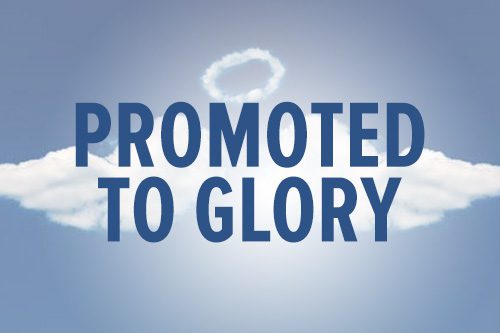 Captain John Purdell  
June 8, 1932–April 13, 2018
Captain John Purdell, 85, was promoted to Glory April 13 from his home in Rolla, Missouri.  
Purdell was born July 8, 1932, in London. He immigrated to the U.S. in January 1958. On July 1, he met his future wife, Arrie, at an Oscar's Drive-In restaurant in San Diego, where they both worked. The two were married on June 2, 1960; it was the second marriage for both.  
By 1967, the family included seven children—four from previous marriages and three of their own. John worked as vice-president of sales for a large insurance agency. A friend persuaded Arrie to attend a weekly Bible study and by year's end, Arrie and John had each accepted Jesus. They joined a small Community Bible Church in Glendale, California.
Twelve years later, their next door neighbor, a single mom with five daughters, invited the Purdells to watch a children's skit at The Salvation Army in Burbank. Unsure what kids had to do with "old clothes and broken refrigerators"—thrift stores being their only frame of reference—they attended and fell in love with the Army.
In November 1979, they offered to serve God full-time in The Salvation Army. Their age disqualified them from attending training school, so following two months' training at the Pasadena Tabernacle Corps, the Purdells went as Auxiliary Captains to their first appointment in command of the El Centro (California) Corps. They were transferred to the San Fernando Valley Corps in June 1981, where they served for nine years.  
In August 1990, the Purdells moved out of the Western Territory to the North East Ohio Division in the Eastern Territory, where Arrie was Senior Services Secretary and John the Divisional Evangelist. In 1992, the Purdells accepted an appointment as County Commanders in Tuscarawas County, Ohio, and Dover/New Philadelphia Corps Officers. Finally, in June 1995, the Purdells were transferred back to the West to the Santa Maria (California) Corps, where they served until their retirement in July 1997.
In 2011, Arrie was promoted to Glory.
In 2013, Judy Newman, whom the Purdells had known 55 years before, reached out to John not knowing that Arrie had died. After extensive correspondence, John moved to Rolla, and on April 7, 2017, John and Judy were married.
John is survived by his wife, Judy; and daughters: Arrie May Flowers, Penelope Wiedeman, Fiona Popadopoulou, Wendy and Kim May. He was predeceased by Arrie and by daughter, Michelle, in 2000, and son, John, in 2003.
At John's request there was no service.