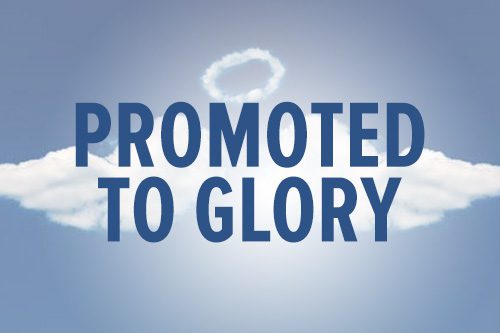 Captain Buenaventurada Opina
July 14, 1924–May 20, 2020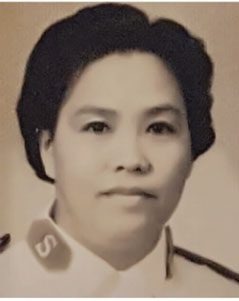 Captain Buenaventurada "Buena" Opina, 95, was promoted to Glory May 20 in Hemet, California. One of five children, she was born July 14, 1924, in Cebu, Philippines, to Fabio and Francisca (Alesna) Navarro. 
Buena grew up in Carcar, Cebu, and followed in the footsteps of her parents who pioneered The Salvation Army in the Philippines in the late 1930s. She accepted Christ at an early age, became a junior soldier at age 12, and subsequently a senior soldier. Buena's involvement in the Army continued through World War II, as the Navarro family conducted prayer meetings at camps during the occupation.  
After the war, she entered The Salvation Army Training Institute as a member of the King's Messengers Session, and was commissioned as a Salvation Army officer in 1948. In her first assignment as an assistant corps officer, she met her future husband, Cupertino Opina, who soon thereafter entered the Training Institute. Upon his completion, they wed in April 1953. Various appointments took them throughout the Philippine Islands as corps officers. They last served as Tondo Corps Officers, in Manila, in 1970.
In 1971, the family immigrated to the United States, and assisted at the Koloa (Hawaii) outpost. The following year, they moved to Oahu, Hawaii, where Buena worked in the hotel industry. In 1985, Buena moved to San Diego to be with her children and grandchildren. A few years later, Cupertino followed, and they devoted their time to helping care for their grandchildren. In 1994, the couple finally moved to their retirement home in Murrieta, California.
Buena was dedicated to Salvation Army ministry and lived a simple, spiritual life. After retirement, she remained active in several corps—Kauluwela Mission Corps in Honolulu, Kaneohe (Hawaii) Corps; San Diego Citadel Corps; Escondido (California) Corps and the Murrieta Corps. Buena enjoyed family gatherings, playing the piano, leading family devotions and cooking for her grandchildren. She loved sharing the Bible, always quoting her favorite Bible verse, John 3:16.
Buena Opina is survived by her husband of 67 years, Cupertino F. Opina, Sr.; son Rick Opina of Temecula, California; son Cupertino Opina, Jr. of Murrieta; daughter Kathleen Prokop of San Jacinto, California; nine grandchildren and eight great-grandchildren; brother Brengle Navarro of Hilo, Hawaii, and sister Jessie Folnsbee of Murrieta. She was preceded in death by her parents and sisters Claudia Begonia and Rafaela Quirionez.