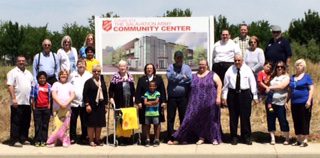 Campaign aims for new Boise facility
Community volunteers set $8.5 million goal in Treasure Valley.
A Building Futures campaign in Idaho's Treasure Valley aims to increase the capacity to serve the community.
The Boise Advisory Board recently launched the public phase of the campaign, hoping to raise at least $8.5 million for a new campus in west Boise that will offer education, recreation, arts, social and spiritual programs for youth, adults and seniors in one of Boise's most underserved areas. Anchoring the campus will be the new Booth Marian Pritchett School, tripling enrollment capacity. The second phase of the campus will be a building to support family services programs, a food pantry and thrift store operations.
"There are just times in life when everybody goes through a storm," said Jenifer Dellgard, board co-chair and community leader and retired banking executive, who is spearheading the campaign alongside co-chair Michael Ballantyne, managing partner of Thornton Oliver Keller Commercial Real Estate, and Jim Kissler, honorary chair and  CEO of Norco and Trustee of the Kissler Family Foundation. "Thankfully, The Salvation Army is there, ready to help families through to the other side. Since Boise's earliest days, the commitment to assisting people in need has been unwavering."
For Ballantyne, the work of The Salvation Army is personal. "I'm the son of a teenage mother, so this hits very close to home," he said. "I'm helping because I really believe in the mission of The Salvation Army. They're an organization that stays under the radar and they do fantastic work."
The Kissler Family Foundation and the J.A. and Kathryn Albertson Foundation have made gifts of $1 million each to the campaign. "What The Salvation Army is doing is helping people to lift themselves up by their own bootstraps," Kissler said. "This project will help multiple generations going forward. This is one of the most important projects underway in our community."
Roger Quarles, executive director of the J.A. and Kathryn Albertson Foundation, said the foundation's gift was motivated by the ability to help more teen mothers graduate from high school.  
Ballantyne acknowledged the two major gifts.
"These gifts speak volumes about the commitment of two of Idaho's leading foundations to helping at-risk youth and our neighbors in need," he said. "These foundations understand the essential role The Salvation Army plays in human services and education, and we are very humbled by their generosity."   
Dellgard noted that The Salvation Army is selling two existing properties in Boise to help fund the $11 million cost of the new campus. To date, the campaign has received $4 million in gifts and pledges.  
"Thanks to the generous gifts from The Salvation Army family and several families and philanthropic leaders, we are off to a fantastic start," Ballantyne said. "The generosity of our community is incredible—especially for the projects which help struggling families to help themselves."