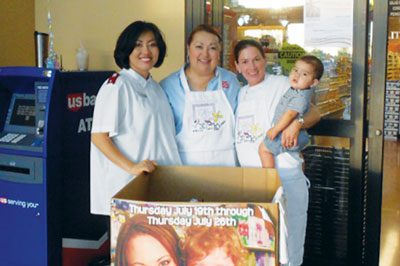 Caldwell's Baby Haven strengthens families
The program helps approximately 120 families each year.
By Vivian Gatica – 
The Salvation Army's Baby Haven has provided a resource for families in Caldwell, Idaho, for the past seven years. In March alone, the Caldwell Corps, led by Lts. Brent and Kristy Church, linked five new families to the program.
Baby Haven is an incentive-based two-year program that offers education, connections to local family resources and economic help for families with children under 2 years old.
"Due to the uncertain job market, many clients do not have the education, skills or transportation to find jobs within their community, which may cause stress that can lead to neglect and child abuse as well as domestic violence," said Rebeca Johnson, Baby Haven program director. "Baby Haven protects children from child abuse by helping to relieve some of the economic and financial stress caused by uncertainty in our communities."
Classes provided by the ministry are tailored to teach parents how to overcome obstacles that may come with parenting. They are taught in both English and Spanish, and guests occasionally speak on topics ranging from nutrition to budgeting. Childcare is provided so that parents can attend classes.
"The goal is to educate families on how to become self-sufficient and advocates for their children by giving them value and support," Johnson said.
Ashley Kate Whittaker, a parent enrolled in Baby Haven, is a single mother who works part-time at Sizzler and attends school full time. Since joining the program, she has become an advocate on creating healthy lifestyles for families in her community. When Whittaker graduates from the program this summer, she plans to mentor new moms and continue to volunteer.
"You [Baby Haven] are truly a godsend in my life," Whittaker said.
The program, created by previous Corps Officer Captain Ligia Ambriz, helps approximately 120 families yearly. As parents achieve their goals, they are rewarded with baby necessities, alleviating some of the economic stress.
"The goal is to help parents, including single moms and dads, become the best parent they can be," Johnson said, "and to encourage, empower and equip families through knowledge and community resources."