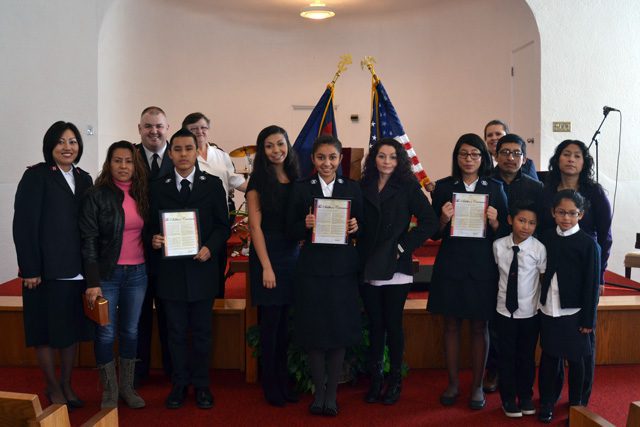 Caldwell Corps enrolls soldiers
Family and friends looked on as Corps Officers Lts. Brent and Kristy Church enrolled 13 soldiers Nov. 16 at The Salvation Army Caldwell, Idaho, corps.
New junior soldiers are Chris Audelo, Isaiah Audelo,  Angelique Salinas, Donte Salinas, Sergio Salinas Jr., Carlos Garcia, Cindy Garcia, Jaden Martinez, Joshua Martinez and Jacob Martinez; new senior soldiers are Luis Mancio, Amaya Ponce, and Jessica Martinez. Lt. Colonel Eda Hokom, former Cascade divisional commander,  and Tara Clemens were flag bearers.
The occasion was especially meaningful to the Churches.
"When we first arrived in Caldwell, we never thought this day would come," Brent Church said. "Yet, here we are, celebrating with new soldiers giving their lives to God and making a huge commitment in front of their loved ones.
They observed the impact the enrollment had on the corps' other young people.
"As other kids watched the ceremony enfold, they asked us when they could become junior soldiers," Church said. "The enthusiasm in their voices made this day even more special to us. We give all the glory to God and we are so grateful for his faithfulness in our ministry here."
The event was a perfect introduction to the Christmas season.
"As we enter into this holiday season, we have so many things to be thankful for," Kristy Church said. "We have been truly blessed by the overwhelming desire of our young people to serve God and to make the commitment to be faithful soldiers. Their example encourages others who see their dedication come full circle."