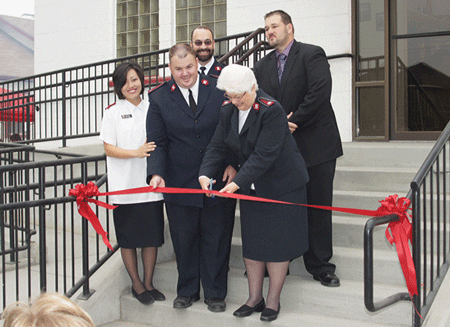 Caldwell Corps re-dedicated following renovations.
By Kristy Church, Lt.
The Salvation Army in Caldwell, Idaho, led by Corps Officers Lts. Brent and Kristy Church, celebrated completed renovations to its church and social services buildings with a grand reopening Sept. 23.
With new steps and ramps, a new roof and draining, indoor carpet, sod and sprinkler system, and a new parking lot, the Army in Caldwell—which fund-raised for the capital improvements—can better serve the community.
"This is not our building; it's the community's building," said Church. "We wanted a place for people in the community to feel that they're loved, that they're accepted no matter what."
Cascade Divisional Commander Lt. Colonel Judy Smith officially re-dedicated the corps, cutting the ribbon before an audience including Boise (Idaho) corps members, who joined Caldwell Salvationists for a united worship meeting. Other attendees included Caldwell Advisory Board members;Brandon Hixon, a candidate for Idaho's District 10 House of Representatives seat that covers the city of Caldwell; and representatives from ASC General Contractor, which completed the renovations and donated a built-in barbecue. A celebration lunch using the barbecue followed.
The renovations to the corps basement frees additional space for Baby Haven, a parenting class that began with 30 clients in 2007 and has grown to benefit 682 people.