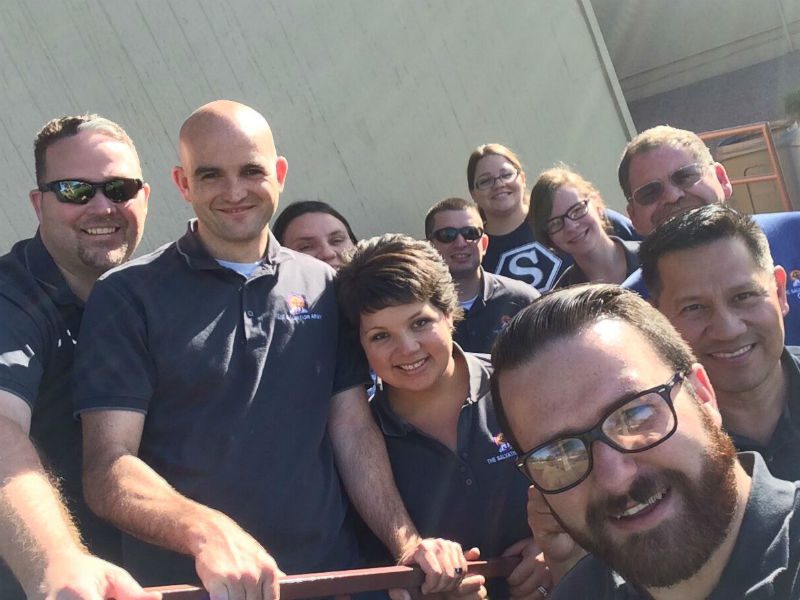 Cadets head to Southwest Division for Spring Campaigns
Training is put into practice as cadets serve in the field.
By Stephanie Pavlakis, Cadet –
[gss gallery ids="19108,19090,19089,19097,19088,19091,19092,19093,19094,19095,19096,19100,19106,19101,19107,19098,19099,19103,19104,19105,19102″]
Walking home one night in London, General William Booth witnessed homeless men sleeping on stones under bridges. Heartbroken and frustrated at seeing human beings living in such conditions, the General said to his son Bramwell, "Go and do something. Do something, Bramwell, do something!"
On April 16, cadets from The Salvation Army College for Officer Training at Crestmont set out to "do something" in the Southwest Division. After months of training, they had the opportunity they'd been waiting for–to put their lessons to work. The annual Spring Campaigns take cadets out of the classroom into the field, where they serve in corps and programs ministering to people, actively doing something.
Cadet brigades traveled to Albuquerque, N.M.; and to Apache Junction, Chandler, Glendale, Mesa, Phoenix, Prescott, Sun City, Tempe, and Tucson, Ariz. One brigade stayed at home, ministering to children residing at Crestmont and serving at nearby corps and programs.
For the cadets, "doing something" meant meeting physical needs and providing spiritual healing and emotional support. Ministry often took the form of a hot meal, a needed prayer or a welcome hug.
"Ministry can be the small things," said Cadet Steve Pavlakis, reflecting that the most meaningful moments did not necessarily occur during large program events, but instead by just being with people. "[It's the] little things that need to be done," he said. "They all matter to someone."
During their week in the Southwest, cadets hosted activities at senior centers, ran children's carnivals, participated in a walkathon, led youth programs, served the homeless, evangelized in neighborhoods, assisted in corps' tasks such as cleaning and organizing, and worshipped together on Sunday. The Home brigade and Aftershock brigade (Apache Junction) experienced prison ministry.
"We have been able to use talents, grow skills, and share the love of Jesus in many different ways, and in many different places," Cadet Leah Fowler said. "Our campaign has certainly been eventful, and spiritual war has been waged, but any attempts by the enemy to thwart our mission have been fought off with a passion."
Expecting to leave blessings through their service, the cadets themselves were the ones blessed.
"What an amazing [time] filled with love, grace, fellowship, and becoming part of a new family," Cadet Richard Larson said. "Our time here in Apache Junction definitely left a mark on our hearts."
Today the cadets of the College for Officer Training can say they did something, and they are ready to continue doing more.