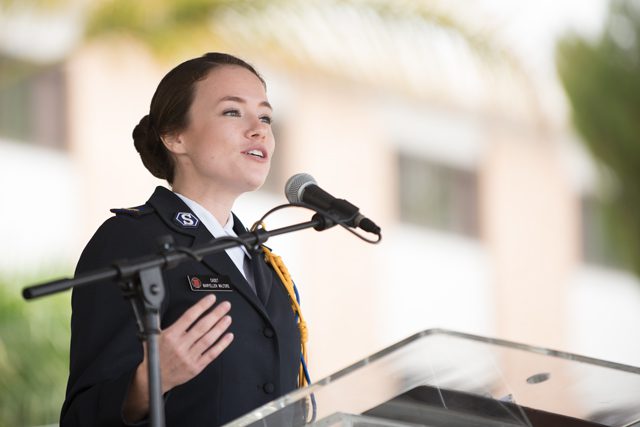 In the business of coming alongside
By Maryellen Walters, Cadet – 
There is a vivid moment in time that I will never forget. It was the moment when my Dad finally let me go in what felt like the deep end of the pool at the Aquarena in St. John's, Newfoundland, Canada. I spent many years whirling and flailing in that pool with my Dad by my side, and had he not come alongside me from the beginning I might have never stayed afloat. After many days of teaching me, lifting me up, and guiding me further and further from the shallow end, I was finally ready to face the reality of doing it on my own, and I did. Soon I could kick off from one side and swim to the other, but what I loved even more was swimming into his arms, all the while with a smile on my face and joy in my heart. Thanks, Dad!
Twenty-two short months ago a considerably quiet and quirky session arrived on campus here at the College for Officer's Training. They call us the Heralds of Grace. Many of us appeared like a deer in the headlights, others with degrees and years of experience. Yet, we were all well-aware of how much there was to learn, and how little time there was to do it. Times like these call for officers and staff that are willing to come alongside and teach, edify, and guide us even when we do not seem guidable. All of their hard work is meant to prepare us, if that's even possible, to serve in The Salvation Army as officers appointed by God and called by God to come alongside those entrusted into our care.
We've been equipped spiritually, academically and emotionally for the calling that God has placed on our lives.  We have been prepared to fight evil and injustice wherever and whenever. And we are grateful for the privilege to be discipled on such sacred grounds as this. Some of us may have felt like we were drowning in the workload and the pressures of becoming a leader, but thankfully we were not alone and are now ready for the deep end. Officers and staff of the College for Officer's Training, we cannot thank you enough. We will vividly remember these days, I promise you this.
In Isaiah 41:10 God tells us "Do not fear, for I am with you; do not be dismayed, for I am your God. I will strengthen you and help you; I will uphold you with my righteous right hand." You see, God is in the business of coming alongside others. In fact, Jesus is the walking-talking proof of this very truth. In Jesus the fullness of God dwelled, and in case you didn't know, Jesus made his home alongside us. Even in these two years, his Spirit has counseled us on how to be heralds of his truth, love, and grace.
As the graduating class of 2015, we pay tribute to those that have gone before us and those that will follow, but we know it is impossible without someone by our side. As we swim—or should I say, march—forth in victory, may we save souls, grow saints, and serve suffering humanity no matter how dark or deep the waters seem. For this is what it looks like to come alongside others in a lost and broken world, and this is our calling. What began as a quiet and quirky session has now become the band of men and women God needs on the front lines.