By his grace I was saved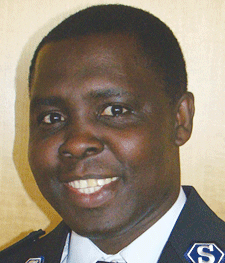 By Edward Oware, Cadet
Once I was lost in a life of darkness, but Jesus found me and gave me new life.
I was born in Ghana where all social expenses depend on one's parents. Mine could not afford the high demand of their nine children, so when I was 6 years old they gave me to my grandmother.
We lived in a remote village where basic needs like electricity and clean drinking water were hard to come by. When I was 11, my grandmother was promoted to Glory, and I was given to another family member. Meanwhile, my parents still lived 300 miles away in the city.
I felt rejected, deprived and abandoned. The only way to pay back my parents, I thought, was to rebel against them. I refused to show any interest in my education—of utmost importance to them—and only went to school when it was soccer season. That was the only way my voice could be heard. I wanted them to feel the pain I was going through.
After years of rebelling and disobeying my parents, I found myself in the city. I thought,  "Now I am free; I am with my parents in the city and everything will be OK." Two years later one of my sisters died, and my mother decided to go back to our village. She gave me to my senior brother, but he was not interested in taking care of me. Life became harder and seemed hopeless, and my heart was full of sorrow.
It was then that I started to seek God. I contacted a friend who was a devoted Christian, and he introduced me to a Bible study program. Through the program, I accepted Christ. I started anew as a believer in Christ, but I did not want any commitment.
In 2000, I applied for a job at a construction site. The day of my appointment for the new job, my boss at my old job kept me busy so that I could not attend. When I went the next day to explain why I could not make the appointment, they told me I was not serious about the position, so they had given it to someone else.
Several days later, there was a severe rainfall and flood. The whole five-story building where I would have been working collapsed and killed all the workers. For me this was a final lesson.
In Psalm 91:14-16, I learned that when we give our love to God and acknowledge him, he will be with us even in times of trouble. When I accepted Christ, there was still sin in my heart—a sin of arrogance, dictating to God what I wanted and what I did not. I asked myself where I would have gone if I had lost my life that day. God began to show me that he was in charge. By his grace I was saved and alive.
I joined a ministry called Youth with a Mission (YWAM). We traveled around the world, and I shared my testimony. In Denmark, I met my wife, who attended The Salvation Army there. Now I am learning that there is joy, hope and peace through salvation, as long as we give up our rights and allow God to be in full control.
Many months ago, we were asked if we were interested in coming to the U.S. to attend officers' training. We worried about the long process of visa applications since it was short notice. However, again, God had a plan for us, and now my family and I are here at Crestmont, and God is continuing the good work he has started in my life.
The Owares will return to Denmark to serve in The Salvation Army after completing their training here in 2014 as part of the "Disciples of the Cross" Session.