Burgers retire from active service
Couple recognized during chapel service at Territorial Headquarters
Commissioners Kurt and Alicia Burger celebrated their retirement from active duty in The Salvation Army—with a combined total of more than 70 years—at a chapel service held at Western Territorial Headquarters Oct. 14. They officially retired in September as territorial leaders of the Switzerland, Austria and Hungary Territory.
Fellow officers, family, friends and employees gathered to wish them well at the meeting, themed "Faith Connection." Their wish was that the meeting not be centered on them, but on the loving and faithful God who guided them in service for 35 years. "It's not about us; it's about God," they said.
Lt. Colonel Ron Strickland, who presided over the meeting with his wife, Pam, read a letter of appreciation to the Burgers from General Linda Bond. Alicia Burger then gave her testimony, wondering "what if" she had not responded to the call of Jesus when she was 19 years old. She examined the connection between faith and service, declaring that she was "not saved to serve, but saved to be his," and she explored all she learned in her years as an officer, summing it up with, "Stay close to the source; stay close to Jesus Christ."
In a testimony spiced with his characteristic humor, Kurt Burger said that he wanted to avoid the trap of "the older I get, the better I was." He expressed gratitude to God for his faithfulness through his years of service. He also spoke of his gratitude to and for his family, to Alicia for her partnership, friendship and support, and to The Salvation Army for the opportunities and variety of service and for his mentors and friends.
Commissioners Bill and Gwen Luttrell conducted the retirement ceremony, sharing memories before presenting the certificates. Gwen Luttrell described Alicia Burger as a "can do" person, with an energetic and dynamic personality, who has reached countless people around the world for Jesus Christ.
In characterizing Kurt Burger, Bill Luttrell said, "Change was never a problem for you; you didn't fear change." He spoke of Burger's commitment to progress and his sense of humor.
The Burgers accepted the gift of a wall hanging, a tapestry of 100 pieces assembled to represent their blending of gifts.
In his devotional message, Bill Luttrell spoke on finding and accepting God's call, referencing Paul in 1 Timothy 3:13, For those who have served well gain for themselves a good standing, and great boldness in the faith which is in Christ Jesus. He reflected on the connection between servant work and faith. So what is our calling? It is to serve in faith—to grow in faith for the glory of God.
The Burgers served in the Switzerland, Austria and Hungary Territory from September 2007 until their retirement, Kurt Burger as territorial commander and Alicia as territorial president of women's ministries. Prior to their overseas service, Kurt Burger was territorial secretary for business administration. During this time, Alicia Burger ministered at the College for Officer Training as vice-provost for cross-cultural studies, inter-cultural director and assistant training principal. She also served as territorial secretary for multicultural ministries. Previously, the Burgers were Cascade divisional leaders. Before their marriage, they served in individual appointments throughout the Western Territory.
The Burgers will make their retirement home in Lynnwood, Wash.
Majors Peter and Estelle Clack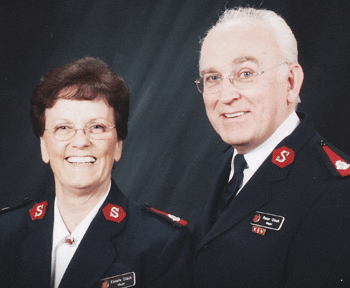 Majors Peter and Estelle Clack officially retired as Salvation Army officers on Oct. 1.
They served more than 44 years as corps officers in England (Hexham, Leytonstone, Leeds Central and Sutton) and in the U.S. (Seattle and Tucson), on staff at the East Midlands Division in England and the Southwest Division in Phoenix, Ariz., and in the Bahamas, Jamaica and Pakistan.
Commissioner Alex Hughes officiated at a retirement service Sept. 10 at Upper Norwood Corps, London, with family and friends, including General Shaw Clifton (Ret.) in attendance. A highlight was a song in their honor written by longtime friends Peter Cooke, Terry Camsey and Ivor Bosanko, sung by Peter's sister, Ruth Dalton.
The Clacks served in the U.S. Western Territory from 2001-2011. They enjoyed a farewell service at the Phoenix Citadel Corps as well as a chapel service at divisional headquarters. Divisional Commander Lt. Colonel Joe Posillico presented their retirement certificates and a book of letters from friends and fellow officers around the world.
The couple will make their retirement home in Bethel, Ohio.
Majors Peter and Estelle Clack wish to thank friends, colleagues and family for their congratulations on their retirement.