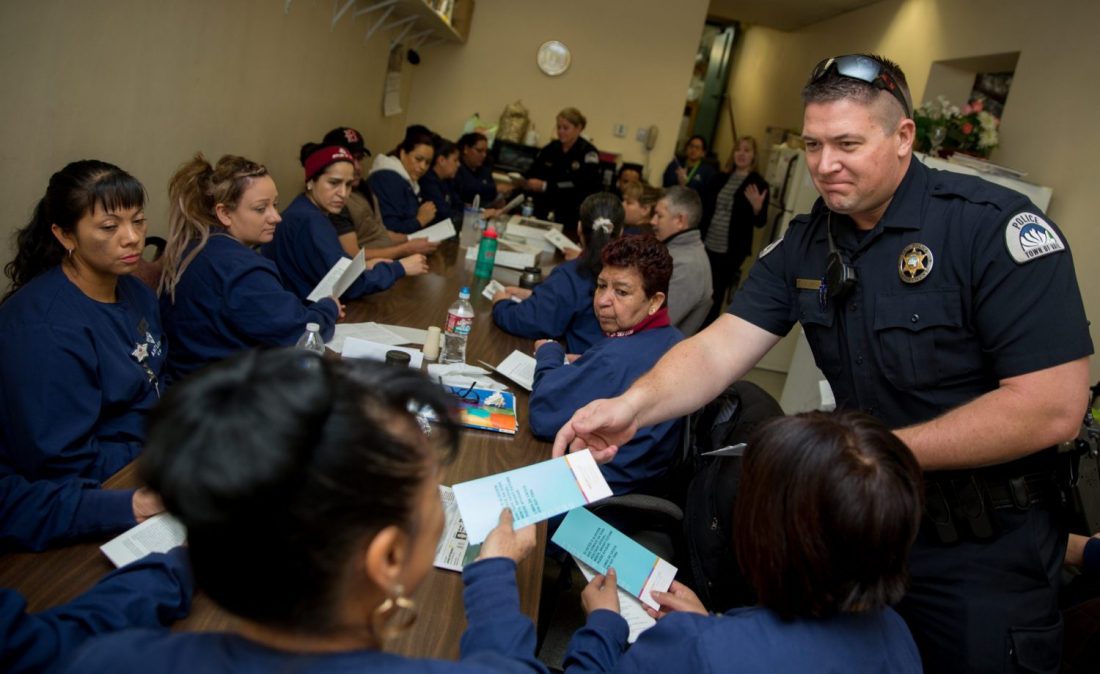 Building trust, lowering crime
The Eagle County Law Enforcement Immigrant Advisory Committee was recently included in the President's Task Force on 21st Century Policing.
Six years after its inception, the Eagle County Law Enforcement Immigrant Advisory Committee in Eagle County, Colo., has successfully built a level of trust between the police and immigrant community, resulting in increased crime reporting and reduced victimization—as well as national attention.
The 20-member committee comprises local law enforcement heads, an immigration attorney, representatives from the Eagle County Victim Services, Catholic Charities, The Salvation Army, and leaders from within the immigrant community. The group meets each month in Eagle County, where the Spanish speaking community accounts for up to one-third of the population.   
Since 2010, the committee has evolved to meet the community's changing needs, according to Megan McGee Bonta, the community services coordinator for Catholic Charities, who co-founded the program with Police Chief Dwight Henninger of the Vail Police Department.
"When we started, we were trying to build basic level trust," said Bonta, who would regularly find immigrant clients standing outside her office door in the morning when she came to work.
"They'd say 'I was a victim of a crime last week. What do I do?'" she said.
People were fearful to report crimes to law enforcement, a fact which in turn encouraged more victimization in immigrant community, Henninger said.
"Often times it might be a domestic violence incident, or a labor issue where employers were refusing to pay immigrants and threatening to call immigration if they continued to press their case," he said.
Language barriers also prevented immigrants—who didn't want to talk about their domestic violence dispute via a co-worker, neighbor or their child—from reporting crimes directly, Bonta said.
So early on, the committee worked to train volunteer Spanish interpreters to arrive on scene and assist police officers. Patricia Pierce, a community caseworker for the Vail Valley Salvation Army, sits on the committee and is one of the volunteer interpreters.
"We can bring a unique perspective to the committee about what we see within the Hispanic community," said Pierce, who helps with the committee's community coat drive and also partners with local law enforcement on its annual food drive.
If the committee needs feedback from the immigrant community, Pierce and Tsu Wolin-Brown, the Army's Vail Valley center coordinator, might issue a survey to their clients. Sometimes they'll help distribute information along with food from the food pantry to clients, and they post and distribute information, such as brochures in Spanish with frequently asked questions—"What happens if you get pulled over, or are a victim of a crime?"—and contact numbers for law enforcement and committee members, Bonta said.
"[The Vail Valley Salvation Army] is such a contact point within the community, providing direct services," Bonta said. "They're on the front lines of hearing the community's concerns."
The committee has helped the local police departments recruit Spanish speakers on staff by holding four Latino citizen police academies.
"We have 60 graduates who have gone through the academy, some of whom are coming back as committee members and some who have been hired on at police departments because they decided they wanted careers in law enforcement," Bonta said.
Over the years, the program's challenges have shifted, Bonta said. The cost of living has continued to increase in Colorado's High Country, which leads to more families living together—sometimes as many as 14 people in one trailer, Bonta said.
"That stress causes domestic violence to go up, and mental health issues are a major concern," she said.
Access to resources, such as Spanish-speaking counselors in the county, of which there are very few, is a current problem.
Another challenge is also one of the program's greatest strengths—the word-of-mouth communication system entrenched in the immigrant community, which can quickly transmit misinformation, but has also helped the committee in some ways, too.
"We're able to access that system and if there are rumors, let people know they can come to a committee member or directly to law enforcement to get the right info," she said.
Lately, Bonta and other committee members have been dealing with a major scam wherein people book up all of the available appointment times through the Department of Motor Vehicles (DMV) and sell them back to immigrants attempting to get ID cards. In turn, the committee has issued bulletins letting people know they should never pay for an appointment time and encouraging them to report those behind the scams so the DMV can investigate.
"We're also helping the law enforcement side to understand even if these people have access to IDs now, the system isn't working right and then getting the police chiefs to put pressure on the state to address the broken system," she said.
Trailer fraud is also prevalent in Eagle County, so Bonta and the committee partner with Colorado Legal Services and the County Assessor's Office to put on outreach events encouraging people to find out who the original owner of the trailer is before they enter into a purchase agreement. The events help educate people on how to get the title for their trailer.
"There are always new and creative ways of victimizing people, and we use the community leaders to get info out to the immigrants," Bonta said.
In all, the committee has had a measurable impact on crime rates in Eagle County.
"We saw an initial increase in reporting, which then has led to a decrease in arrested parties from the immigrant community," Henninger said.
"The community is saying, 'We won't let ourselves be victimized anymore,' which makes a huge impact," Bonta said.
The committee's success has drawn interest from other communities, including neighboring Pitkin and Garfield counties, where Bonta helps coordinate a similar program, as well as from much bigger cities, such as New York and San Diego.
"We were in the President's Task Force on 21st Century Policing," Bonta said. "That got us attention and lots of phone calls. Especially in this current national climate, where there's a lot of tension between law enforcement and the community, everyone is interested to see why this works and why it's working so well."
And why is it working? It comes down to communication, Bonta said.
"Instead of law enforcement and the immigrant community talking at each other," she said,  it's them coming together as one group and saying, 'How are we going to address these needs together, as a group?'"