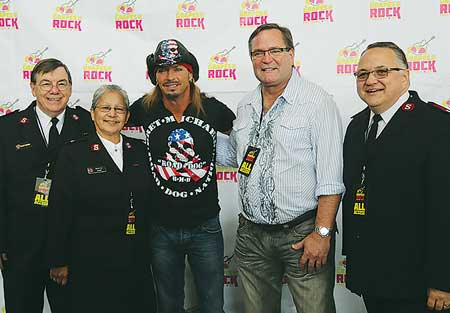 Bret Michaels headlines Grapes of Rock
Concert raises money for the Santa Rosa Corps and San Francisco Command.
 By Laine Hendricks and Sydney Fong
"Every rose has its thorn…"
More than 4,000 fans sang along with rocker Bret Michaels at a concert at the Fort Mason Festival Pavilion in San Francisco on Nov. 3. The former Poison frontman used that song to close out Grapes of Rock, a concert benefitting the Santa Rosa Corps and San Francisco Command.
Wayne Rowlands, vice chairman of the Santa Rosa Salvation Army Advisory Board, spearheaded the idea for an "out-of-the-box" fundraiser for The Salvation Army, which was originally slated to take place in Sonoma County in early June.
"We felt the need to find different and fun ways to raise money," Rowlands said. "Knowing our area, we thought, 'Hey, why not do a half-marathon and a concert?'"
Rowlands hired Project Sport, a sports and event management company, to organize the race, concert and marketing. Soon, they finalized a deal to have Michaels as the headlining act.
"Everything was going well, and then we ran into some speed bumps," Rowlands said. "There were issues getting the proper permits to hold the Grapes of Rock in the area."
Project Sport then suggested an alternative plan.
"They're well connected in San Francisco and quickly said we have something for you," Rowlands said.
Project Sport combined the U.S. Half Marathon in San Francisco with Grapes of Rock and found a venue for the concert. With the new location and date set, Michaels still agreed to headline.
"A lot of people were happy and had fun," said Major Joseph Murray, Santa Rosa corps officer. "We've tapped into a group of people that we were not able to reach before. Now they know a little bit about The Salvation Army, and that's a good thing."
Rowlands hopes to reestablish Grapes of Rock in Santa Rosa next year, but at a different venue.
"It's a private area, so we won't have those same problems," he said.  "We hope Grapes of Rock can grow and maybe establish itself in other cities where there is a Salvation Army. It's all about supporting the Army."