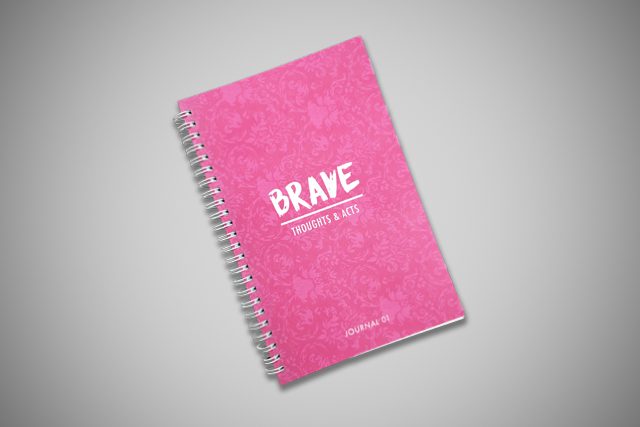 'Brave'
A replicable program to share community with girls in foster care
By Lisa Barnes, Captain –
This June my second book was released, but it's not a book book. Let me explain.
I partnered with Danielle Strickland and some amazing women from The Church on 7th Street in Long Beach, Calif. The women from this church have been doing this event—"Brave"—and Danielle came in and did one of the things The Salvation Army does best: create a foundational framework so this amazing, catalytic event can be replicated in other places.
It starts with a one-day gathering, similar to a high school youth meeting, specifically for girls in foster care. We know that many of the prostituted women in America come from "the system," especially as foster kids "age out" of care and there is no one there to help navigate the perplexing and challenging realities of life.
This event is meant to be a catalyst for connections and conversation, a celebration of these girls to show them that they have worth and value, and that there are people in their communities who want to join with them in some capacity.
The Western Territory Social Justice Department worked with the Brave originators to develop a manual that outlines how to produce the event from start to finish, from timelines to how to start an advisory board, what to pray about, how to connect into the foster care system, how to recruit volunteers, and how to fundraise.
If these girls are in foster care, that means they are on someone's caseload. They are known. They can be loved. We can intervene before someone tries to hurt or abuse them.
The goal is that those who volunteer at the event will start holding small groups in foster and group homes—maybe a cooking class or a crochet group. Maybe he or she will go and play basketball. Anything. The goal is to do something to show up and show these girls that they are worth spending time with that isn't dependent on what they can do for you.
The small groups are really important for follow up care and relationship building, but as a companion to the small groups, I wrote a guided journal for the girls' self exploration, some big dreams, healing, and even some life skills.
The Brave journal can be a jumping off point for conversation. You're leading a small group, but not sure what to say? Ask about their journals and if they have read or written or drawn anything they want to share.
Worst case scenario: a girl comes to this event, but doesn't get connected into a small group. The journal provides a chance for some self-guided healing, dreaming, learning, and exploration into a larger world.
The big goal is that I will write one journal a year for five years to grow with these girls—to be a constant in their journey and to help them see that if someone does try to traffic them, or take advantage of them, they can stand up for themselves. They will have the knowledge that they cannot be exploited because that is what you do to an oppressed person, and they are free.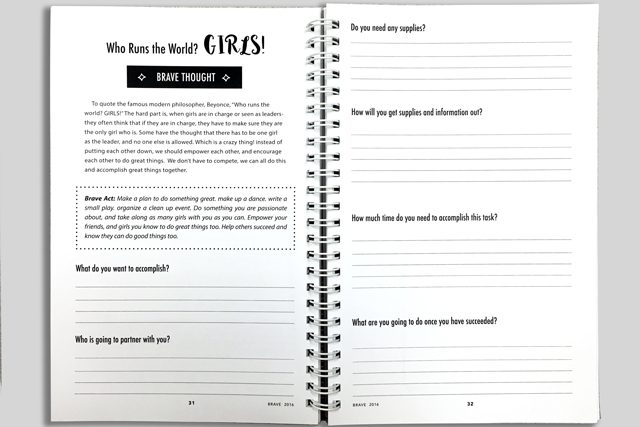 Pray for this program to catch on and for leaders who are willing to invest in this kind of justice.
Pray for the girls in foster care who feel alone and abandoned, that they would be safe and loved.
Pray for the girls that have already been exploited; it's never too late to heal and learn and grow.
Will you be brave?
Spread the word.