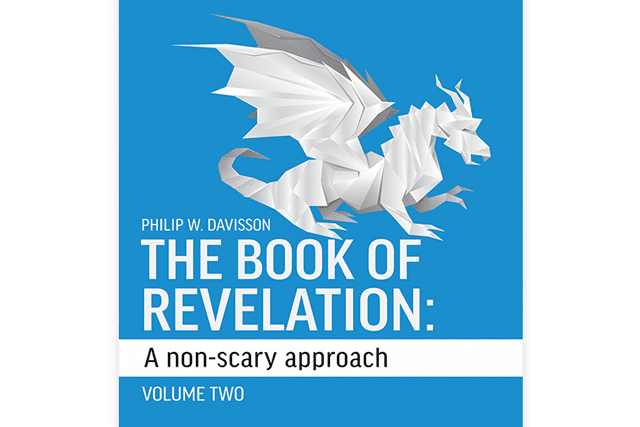 Book review: 'The Book of Revelation: A Non-Scary Approach, Vol. 2'
By Christopher Doughty –
Be not afeard; the isle is full of noises,

Sounds and sweet airs, that give delight and hurt not.

– Caliban, The Tempest
The revelation revealed to the apostle John during his exile on the island of Patmos has long served as fuel for the imagination, inspiring everything from book series to conspiracy theories. In this second volume of his commentary on the Book of Revelation (covering Rev. 8:6–16:21), Major Philip Davisson continues to unpack and demystify the seemingly cryptic contents of this quirky entry in the biblical canon.
"The many apocalyptic images and symbols that John uses are not a code to be cracked, as if there were an obscure hidden message to be discovered," Davisson writes. "John's original audience understood them…We also can learn to understand John's meaning with a little practice and help from our guides."
These guides are the literary devices that saturate the work, as well as the collective consciousness of John's original audience. Throughout the book, Davisson employs each guide at one point or another, and directs the reader as to which ones are most helpful for understanding specific passages.
Refreshingly, Davisson often reinforces Revelation's more positive themes, asserting that, "The overall message of the book of Revelation is good news for Christian believers: Immanuel, God is with us. With this truth in hand, John is urging his audience-readers to stand firm in the faith, because God's strengthening power will help them to endure many things during difficult and tragic times."
On the other hand, some of Davisson's observations prompt critical inquiry about Christian complicity with social systems that may or may not safeguard life and creation as they ought—the church included.
"These chapters of Revelation have been quite vivid and dramatic, yet we often take their meaning to apply to either far-off timelines or external political machinations and anti-Christian conspiracies," Davisson writes. "All the while, the message has been pointing squarely at the Christian community… Revelation asks, via vision and metaphor, about the level of our participation and support of systemic evil."
Since the series covers the Book of Revelation chapter by chapter, this volume enters more controversial territory than the previous one, which covered Rev. 1:1–8:5. Some of the most sensationalized portions of Revelation (and perhaps all of Scripture) are herein explored, including the two witnesses, the beast and his mark, the woman and the dragon, and the 144,000 servants sealed by God. Davisson's interpretation brings in other Biblical and historical figures, including Moses, Elijah, Nero, and Rome itself.
With all of the imposing concepts and mystical symbols under consideration, it can be easy to forget that the tagline of the title is "a non-scary approach," but throughout the text, Davisson reaffirms his commitment to a "no-fear" reading experience that makes the book accessible and inviting to all.
For those who missed volume one, Davisson begins this volume with a summary of the first. He also provides explanations of words that may be unfamiliar.
Filled with diagrams, definitions, contemporary analogies, and practical applications, Davisson continuously takes densely compacted phrases and partializes them out into more manageable and relatable pieces. In addition, he concludes each chapter with a set of questions that touches upon modern applications of principles identified in the text, making it great for both small groups or independent study.
So take a break from your normal regimen of end-times fantasy novels, dust off that Bible, pick up a copy of "The Book of Revelation: A Non-Scary Approach, Vol. 2," and start learning the untold story of Revelation that's been hiding in plain sight all along.
To get a print copy or a free digital copy, go to frontierpress.org.