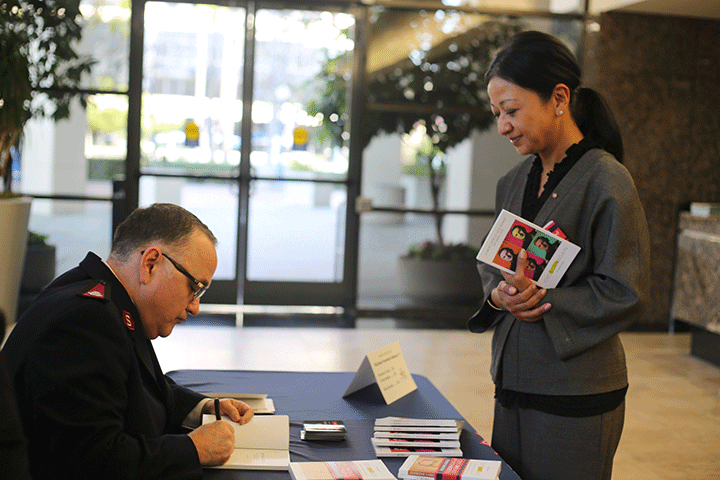 Birks debuts 'Someone Cared'
Author's second work based on poetry of John Gowans
Major Rob Birks, Golden State divisional general secretary and two-time Frontier Press author, read excerpts from and signed copies of his new book "Someone Cared" (Frontier Press, 2015) at a territorial headquarters launch today.
Birks' second published work boasts a compilation of poetry, Scripture, spiritual reflections and humor based on the poetry of General John Gowans (Ret.), whom Birks knew growing up.
Birks said he hopes readers can extract something valuable from "Someone Cared," regardless of their familiarity with Gowans's work.
"They're just really accessible lyrics or poems," he said. "What I've done is just one or two page devotional thought on either drawing from a news event or a historical event."
Birks corrals Bob Dylan songs and "Fiddler on the Roof" to provide cultural context on each topic, then relating it back to Gowans's words.
His previous work, "Orsbornagain" (Frontier Press, 2013), likewise revived the work of General Albert Orsborn, whom he calls the first poet-General.
"I didn't want Orsborn's words to fade away," he said. "I wanted some way to preserve them and champion them."
"I was talking to people in their 80s that grew up with those words having the same impact as me so we have this cross generation thing going on…Both General Orsborn and General Gowans, as a kid, were guys I looked up to because of their writing. Lyrics and poetry have always spoken to me in ways that were really meaningful and impactful."
While the two share certain qualities, Birks notes subtle contrasts.
"Gowans's work is more accessible, not less theological, but it's more accessible because it really centers on just the unmerited and unending love of God forever," he said.
"I hope what I've tried to do is make it just as easily if not more easily accessible for people who might not even know who he is," Birks said. "Hopefully they'll be able to find something in there that will show them that someone cares for them."
Frontier Press is offering a promotional bundle of "Someone Cared" and "Orsbornagain" for just $14.