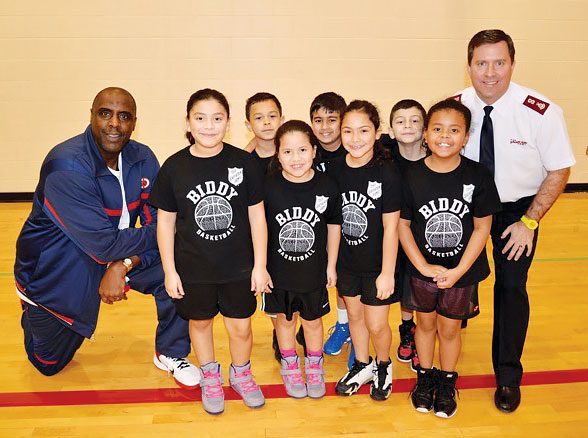 Biddy Basketball
New program teaches team building
By Raymond Erickson-King – 
The Seattle White Center Corps created "Biddy Basketball" as a way to attract a previously unreached population of young kids in the community.
Led by Guy Williams, corps director and former NBA player, the coed program teaches basketball fundamentals, teamwork and sportsmanship to children ages 5-8 for six weeks at a cost of $30 a player.
It started in November 2013 with a free, two-day Drills and Skills camp designed to gauge how many kids in the targeted age group would be interested in playing basketball. After an overwhelming response from the community, the league enrolled 60 kids and created two divisions by age.
Official league play began in January with practices on Mondays and games on Wednesdays.
"Being involved as a coach for Biddy Basketball with the kids at Salvation Army was especially uplifting for me," said coach Dawn Lui. "Seeing the young smiling faces and the energy that each child exhibited during the season was a joy. I notice so much growth from each child I coached; from the beginning when we did the clinics to the last game, their confidence and understanding of the rules and overall enjoyment really showed as the season progressed."
Parents have said they are impressed with the staff and organization of the program, but more so by the positive impact on the children's social and educational development.
"They needed an outlet, something for them to do with other kids their age," said Carmen McRoy, mother of participants Kyndall and Kyliah. "I have seen my children's confidence skyrocket after being involved with Biddy Basketball at the White Center Salvation Army. The staff and coaches are great with the kids and really show a genuine concern for each child's well-being and overall skill development."
Megan Johnson, a single mother, brings her 6-year-old son to Biddy Basketball.
"I enrolled my son because I wanted him to begin an active lifestyle through sports and to develop his self-esteem, which will hopefully translate to better attention in school," Johnson said. "I was most impressed with the organization and attention to detail by the staff and the willingness to work individually with my child."