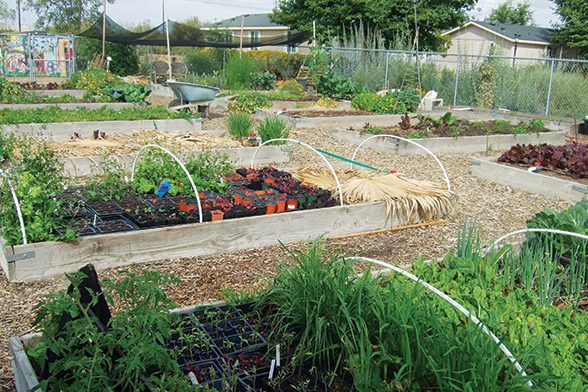 'Growing good' at Bell Shelter
Urban garden has produced 500 pounds of fresh produce this year.
By Lizeth Beltran – 
A seed was planted in Brad Pregerson's mind.
He wanted to grow organic produce for the residents of The Salvation Army Bell Shelter, where he'd been serving in the facility's kitchen. After finding a plot of land, Pregerson and friends came together and created GrowGood, a non­profit that uses urban agriculture to improve underserved communities.
The urban garden, located across from the shelter, originally launched in 2010, but it has gained significant momentum over the past year.
Run by roughly 20 volunteers and two paid staffers, the garden mostly grows greens such as arugula, swiss chard, spinach, lettuce, kale, and collard greens but also boasts an orchard, a small greenhouse and a native plant garden. It utilizes a drip system, an emerging water conservation method as California navigates through its worst drought ever. GrowGood also gives 100 percent of its produce to the shelter, producing 30 percent of the produce used by the shelter's kitchen.
Santiago Fernandez, project manager for GrowGood, has been on staff at the garden for the past three months.
"We run a workshop for our volunteers twice a week on all different types of topics surrounding farming and sustainability," Fernandez said. "This year alone since January, we've produced 500 pounds of fresh produce."
Resident, Dillion Toscano, first arrived at the shelter five months ago and has been volunteering at the garden for the past three months.
"You had to be on a waiting list to work here in the garden and somehow I got in the first day I asked," Toscano said. "When it came to sobriety, I just thought, 'that's it, that's all I need' but Bell Shelter showed me that recovery is the path to a successful life after addiction and that is a huge piece for me."
Toscano completes his six-month program at the shelter in June, but will continue on in the shelter for another six months voluntarily.
"The stuff that I'd been gathering my whole life, just now seems like I'm able to put it to work here being a volunteer," Toscano said. "To see this whole thing is a Godsend…I'm in the right place at this time in my life."
For intern Julia Kleemann, a junior at California State Polytechnic University, Pomona, working at the garden is a ministry tool.
"It's really relaxing, and I love being outside," Kleemann said. "I also like interacting with the residents. They have really interesting stories. Hearing about their lives and how through the garden they can find peace is really cool."
Steve Lytle, director at Bell Shelter, said they are planning to build a large greenhouse, which will allow for expanded production and more food for the kitchen. Leftovers will be sold for profit, which will allow the shelter to pay the greenhouse manager and start a vocational program, which will teach residents how to garden.
The garden has also set up a chicken coop and plans to plant more vegetables in the newly plowed fields. The more the garden expands, the more that volunteers want to help spread the word.
"I would really like to see The Salvation Army expand its involvement with things like this," Kleemann said. "To really expand the scope of agriculture with The Salvation Army, it's such an invaluable resource that's not being tapped into."