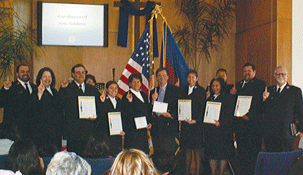 Behold, I am doing a new thing…
Santa Maria Corps celebrates new commitments.
By Jennifer Swain, Lieutenant
Isaiah 43 declares that the Lord is doing a new thing. The last few years have contained a number of "new things" in my life: marriage, ordination, first appointment (with all the firsts that entails) and a child. Each has brought its share of nerves and joy, challenges and hope. One of the greatest new things in this life, however, is sharing what God is doing in the lives of others. In our short time at the Santa Maria Corps, we have reveled in the new things God is doing in the hearts and minds of the people in our congregation.
We began the New Year with the hope of bringing new members into our fold—soldiers and adherents. Our first Sunday of soldiership classes we hoped for eight to 10 people and prepared for 12; 14 attended. Upon completion of classes, eight committed, to God and The Salvation Army to make the Army their home church. They determined that the Santa Maria Corps would be where they gave of their time, talent and treasure in service to God. Each decision was made with considerable thought and prayer. God is certainly doing a "new thing" in the lives of our congregants.
Thank you, Ariana, Margie, Ruth, Yared, Warren, Patrick and Glen, for allowing us to be part of this new thing in your life!